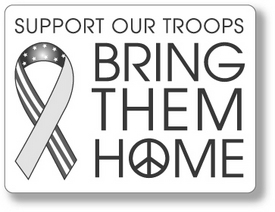 Veterans and military families are planning dramatic actions in the nation's capital in late January to appeal to ordinary Americans to speak out for an end to the Iraq war.
David Cline, a Vietnam vet who is president of Veterans for Peace, recalled the 1971 "Dewey Canyon III" antiwar protest when Vietnam veterans publicly "returned" their medals on the steps of the Capitol. "When veterans stood up that encouraged other people to stand up," he said.
Now, Vietnam and Iraq veterans and families of soldiers serving or who lost their lives in Iraq believe their actions can light a similar spark among broad sections of the American public, Cline said. Their actions will take place just before the Jan. 27 march for peace being organized by the national coalition United for Peace and Justice.
As debate continues over the Iraq Study Group report and what's really needed to get the U.S. out of Iraq, many peace activists say its main significance is the open declaration by influential Republicans and Democrats that the Bush war policy is a failure.
"The U.S. occupation is down the toilet. It's just a matter of time before the U.S. has to leave," said Cline.
It's not what the ISG report says, but how people see it that is resonating, said Cline. The recommendations are "almost stay-the-course," but because the American people are sick and tired of the war, the report amounts to "a challenge to what Bush has been saying all along," Cline said. "That's why the Bush administration has been so freaked out about it. They are worried about it being a signal from Congress to get out."
Noting that the ISG was created by Congress, Cline said it could be seen as "a first feeble attempt … to stand up to the administration." He added, "It's a baby step in trying to break the [pro-war] consensus. It's sort of like the middle-of-the-road way to do it. Sometimes that's how you have to do it."
Celeste Zappala, whose son Sherwood Baker was killed in Iraq, said she found it "frightening … shocking" that it took nearly four years to get a report in which "the reality was sort of presented, not an optimistic analysis, yet still, after almost four years, this administration asks for assessments and gets answers and they don't want those answers." She exclaimed, "Here's a statement with Republicans saying the situation is 'grave and deteriorating,' and they don't want that answer." Instead, "Bush is trying to keep doing the same thing but make it look different."
Zappala, an advisory board member of Gold Star Families Speak Out, said the ISG report "strikes me as a way to give him cover to leave — an attempt to find a graceful exit." The report's recommendation that the U.S. has to engage Iraq's neighbors is "so basic, it's shocking," she said. "We in the peace movement have been saying this for a long time."
Zappala will be marching in Washington Jan. 27. She said her organization will be putting "all our energy into getting Congress to call a halt to the war."
George Martin, program director for Peace Action Wisconsin and a national co-chair of UFPJ, saw the ISG report as "a platform for discussion." He said its recommendation for regional diplomacy "goes against this cowboy mentality in Washington that 'we don't talk to our enemies,'" and is a rejection of the politics of labeling countries an "axis of evil." Pointing to Bush's free-fall in public opinion polls, Martin said "the resistance of Bush to anything to do with withdrawal is becoming a negative in the public eye."
"It is important to continue to grab hold of the momentum coming out of the elections, to continue to pressure this new Congress," Martin said. "We decided to make this call to march on Congress this Jan. 27 to support those Congress members who have opposed the war, put pressure on the new ones and shout out to those who are stuck on this stupid war policy."
He stressed that, in addition to the Saturday march, the weekend will include training for all-important lobbying to take place Monday, Jan. 29.
"We're calling to everyone who can: come by plane, bus, car to join us," he said.
Martin, who is African American and a longtime Milwaukee activist, said people of color are "the ones most affected by war. They end up being the ones most recruited or enlisting because of lack of jobs. And it takes away resources from our communities. Last year we had to close two schools and a bookmobile in our community."
Cline, Zappala and Martin all said a big focus will be getting Congress not to approve any more funds for war. They emphasized that it is possible to cut funding for war while providing funds to ensure that all the troops come home in a safe and orderly way.
The new Congress has to "take the responsibility we gave them and carry it out," Zappala said. "It takes a political will to say 'it's over now.'"
suewebb @ pww.org