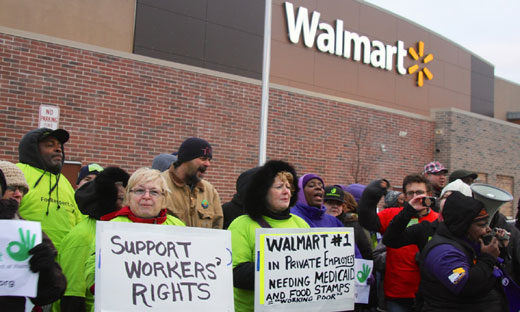 This year on "Black Friday" over 1,000 demonstrations and picket lines took place at Walmart stores all over the country in virtually every state. Hundreds of Walmart workers were joined by thousands of supporters to protest Walmart's anti-worker, anti-union treatment of its employees.
Actions ranged from picket lines to in-store actions. These included giving Walmart workers on the job a turkey sandwich in sympathy because they had to work on the Thanksgiving holiday. They also got a leaflet explaining to them their rights to organize and bargain for better wages, working conditions and benefits. Many shoppers were greeted with smiles and leaflets outlining Walmart's terrible labor record and mistreatment of what Walmart calls their "associates."
In Chicago, large groups of demonstrators converged on several area Walmart stores and got a great response from shoppers (video below).
Walmart Black Friday Chicago from Scott Marshall on Vimeo.
Big retail businesses started calling the Friday after Thanksgiving "Black Friday." This is supposed to be their biggest shopping day of the holiday season. They advertise and hype Black Friday; they promote all kinds of "bargains" and "deals." Walmart especially treasures news stories about all the pushing and shoving to get in the doors of their stores for the "big deals."
Black refers to black ink. In pre-computer age accounting "black ink" meant profits or pluses and "red ink" meant losses or minuses. Some retailers expect to do a full 40% of their yearly sales from Black Friday through the end of the year, in little over a month. So yeah, Black Friday is a big deal for Walmart.
Walmart workers and supporters are feeling momentum building in the fight for workers' rights on the job. The demonstrations are shedding a lot of publicity on Walmart's ill treatment of their workers. OUR Walmart (Organization United for Respect at Walmart) made up of Walmart workers, is growing across the country. OUR Walmart is a grassroots shop based organization of workers who are building solidarity and setting the stage for a union at Walmart.
Photo: PW/Scott Marshall