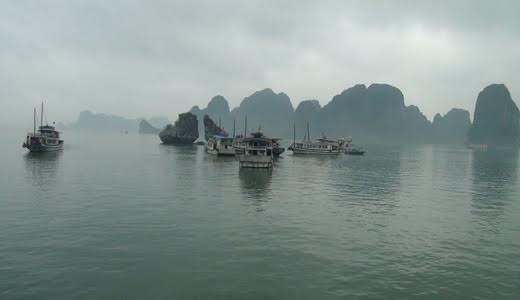 How has the Vietnam government confronted the issues of inflation, low productivity, economic mismanagement, the increased income gap and decreased foreign aid from other countries? The answer is Doi Moi.
The Vietnamese government under the current leadership introduced Doi Moi, a new policy of economic reforms. This set of economic reforms, initiated in 1986 , in part opens up the country to foreign trade and investment. It legalized and encouraged private entrepreneurship in a range of enterprises; dismantles agricultural collectives and returns the land to families to farm; and deals with interest rates and currency. There is much more to Doi Moi as the major economic reform policy for Vietnam.
These decisions regarding reforms haven't been made overnight. In fact the Vietnam government as early as 1980 recognized the difficult economic situation it faced. In response, the government introduced modest market-oriented reforms, mostly in agriculture. Vietnam has since become an agricultural powerhouse. Today it is the world's second largest exporter of rice, and one of the world's leading exporters of coffee, pepper, rubber, and other agricultural commodities.
Following a period of strategic planning, today the Vietnamese government is moving forward under Doi Moi with a set of decisively free-market reforms with a "socialist orientation."
Vietnam Tourism
In addition to this important economic reform, Vietnam has moved forward with increased tourism under the direction of the Ministry of Culture, Sports, and Tourism.
One excellent example of this cultural activity in Vietnam's is the famous Water Puppetry show that our U.S. delegation had to opportunity to see while in Hanoi.
The women puppeteers are highly skilled and talented. They wear traditional white Ao Dai Vietnamese clothing while playing a folk music composition opening the Traditional Water Puppetry Show. A group of these eminent artists are part of the Thang Long Puppet Theatre.
The evening began with a woman playing a Dan Bau, a Vietnamese monochord, a traditional one-string musical instrument.. It created a very soothing and relaxing sound that was used to introduce the Water Puppetry show. Water Puppetry dates back to the 11th century.
The water puppetry performance includes 17 acts, including; Thang Long festival drumming, Dragon's dance, Buffalo-boy playing a flute, catching frogs, chasing the fox, unicorn's dance and four sacred animals' dance.
The highlight was a performance depicting Le Loi, a national hero and leader of the resistance against foreign invasion in the 15th century. The legend is that Le Loi was granted a sword by deities. After his victory over the invaders Le Loi was fishing on a lake in Hanoi, a golden tortoise god appeared to claim back the sword. Le Loi understood that the sword was only meant to be kept for a short time. The sword was given back and the golden tortoise descended into the lake.
This lake is now called Ho Guom (Sword Lake). It is located in the center of Hanoi.
Other performers included singers telling the stories, and musicians playing traditional instruments: the four-string lute, drum cymbals, two sided drum known as trong con (the rice drum), flutes, and gongs. These are all used to help tell the stories acted out by the puppets surrounded by water.
This is just is one type of cultural activity that the Vietnam Ministry of Culture, Sports and Tourism (MCST) helps to promotes. Our delegation understood that the Ministry of Culture, Sport and Tourism is responsible for the state's management of culture, family, sports, and tourism and for the management of public services in these fields under Vietnamese law.
Tourism is an important component of Vietnam's economy. Last year, nearly 8 million tourists visited the country. The country has diverse natural resources, beautiful landscapes, cultural historical relics, and domestic tourist markets. Vietnamese tourism is continuing to grow; recent areas of growth include hotels, restaurants and tourist sites. One area that MCST hopes to expand on is bringing the foreign film industry further into Vietnam. There have been a few movie companies filming in Vietnam, but the government hopes to attract more filming.
The U.S. delegation had the opportunity to visit Halong Bay in the Gulf of Tonkin. This is one of world's most beautiful locations, covered with over 1,600 islands where limestone mountain towers seem to touch the soft blue sky and isolated beaches remain pristine as the ocean slowly washes up on the sand. This entire area is recognized as a world heritage area by UNESCO.
Photo: Halong Bay, Vietnam. John Bachtell PW. Our tour also took us into one of the many caves which have hollowed out the rock formations, complete with stalactites and stalagmites. Our delegation was graciously hosted by the Communist Party of Vietnam. Facebook.