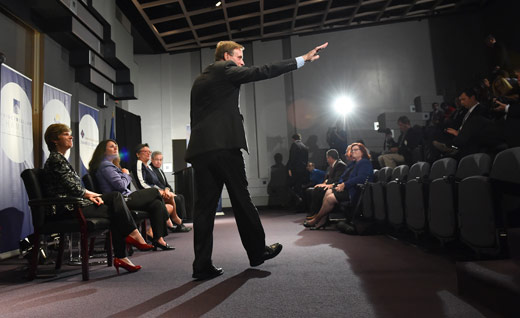 Virginia has been a key swing state in several recent national elections. In 2008, it went with Obama and elected three new Democratic congresspersons (it has 11 congressional districts). In the 2010 congressional midterms, the Republicans gained back three House seats. The difference could mostly be explained by the lower turnout in 2010 among the Democratic Party's base demographic of workers, minorities, women, young people and lower income people-demographics that turned out en masse in 2008 and stayed home in 2010.
So in this year's November 4 midterms, the question is once more whether the Democrats can turn out enough voters.
The 10th district may flip from the Republicans to the Democrats. The incumbent, Republican Frank Wolf, was first elected in 1980. In 2012 he beat Democrat Kristin Cabral by 58 percent to 39 percent. Wolf had been right wing on all issues including abortion, which he thinks should be illegal, and birth control. He has been a shrill critic of the People's Republic of China, to the extent of making a fool of himself by claiming that human fetuses are a delicacy in China. Evidently he fell for an Internet hoax.
After a hot internal fight, the Republicans chose Barbara Comstock, currently a member of Virginia's lower house, as their candidate. Comstock is a political hack who got her start investigating Hillary Clinton.
The Democrats chose as their candidate John Foust. Of working-class origin, Foust put himself through college by working in steel mills and railways. Eventually he earned a law degree, and was elected to a local government body.
The 10th Congressional District has been gradually changing with the entry of more minorities into the area. Naturalized citizens are likely to want to punish the Republican Party and Barbara Comstock for their harshly anti-immigrant positions. In recent elections, Democratic Party candidates for other offices have beaten the GOP in the 10th Congressional District, while Wolf's opponents have generally been trounced. And the number of minority and naturalized citizen voters in the district is now substantial.
Comstock comes across as hard right. A couple of years ago she supported legislation in the Virginia House of Delegates that would have required all women seeking an abortion to undergo a vaginal probe. This created a national-level scandal, and eventually a milder bill was passed. When asked why she had voted against a transportation bill that was supported by both Republicans and Democrats, she explained that it had language in it that implied expansion of Medicaid. Comstock is an opponent of the ACA ("Obamacare").
Foust has been cautiously progressive in his campaign positions and statements, but on basic issues such as women's rights, immigrants' rights, the economy, the environment and health care, he has clearly distinguished himself from Comstock. For this reason, Foust can boast of a list of candidacy endorsements that start with the AFL-CIO and include most major unions as well as organizations concerned with reproductive rights.
Comstock is backed by the usual Republican and Conservative PACs. A major contributor is Elliot Associates, a hedge fund you have read about on these pages because of their aggressive campaign against Argentina. Her endorsements are mostly from Republican politicians and officials, as well as right-wing notables like Sean Hannity and Tim Phillips, the president of Americans for Prosperity.
Three of the state's 11 House districts are currently held by Democrats, the other eight by Republicans. Both U.S. senators are Democrats, and one of them, Mark Warner, is up for reelection. Polls show Warner 22 percentage points ahead of his Republican opponent, Ed Gillespie, who has been an advisor to George W. Bush and Mitt Romney.
One incumbent House Republican, Eric Cantor of Virginia's 7th District, lost his primary to a tea party hotshot, David Brat. The Democratic Party candidate, Jack Trammel, will have an uphill struggle to win in this conservative district.
Two incumbents are stepping down: Jim Moran, a Democrat, who represents the overwhelmingly Democratic 8th District which includes the Washington, D.C., suburb of Arlington, and Frank Wolf, R, who represents the 10th, which is roughly divided between Fairfax and Loudon counties in Northern Virginia.
In the 8th District primaries, the Democrats elected Ed Beyer, a former ambassador, to replace Moran, and the Republicans chose small businessman Micah Edmunds. Beyer is heavily favored.
The last day to register to vote in Virginia is Tuesday, October 14. Voters should be aware that there are new rules on acceptable voter ID on Election Day in Virginia. You can consult the website of the Virginia Department of Elections here to check your voter registration, find your polling place and find out what kind of ID to bring. Since turnout is key, voters should not take the chance of delaying looking into these things.
Photo: Sen. Mark Warner, D-Va., waves to the audience at the conclusion of the 2014 U.S. Senate Candidates Battleground Forum, Sept 19, in Herndon, Va. Ricky Carioti/The Washington Post/AP