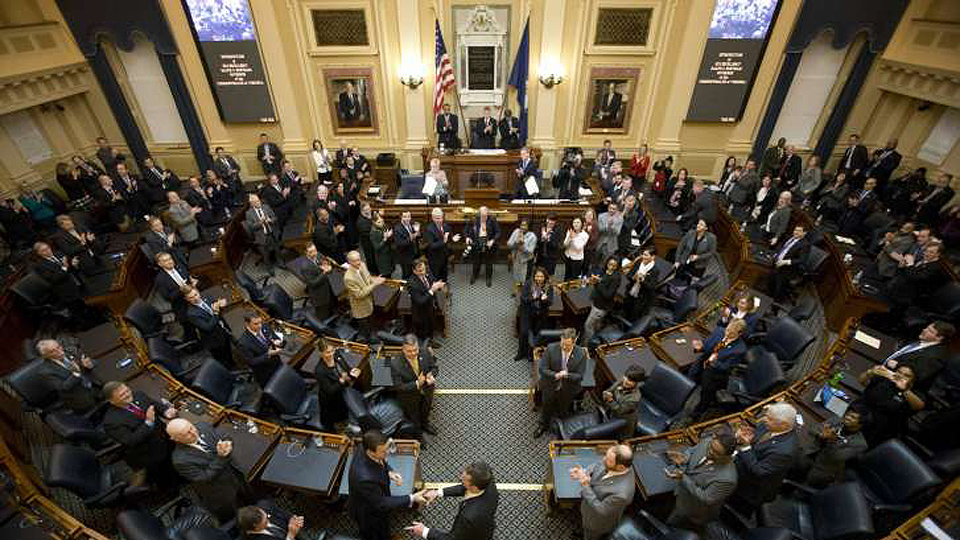 Last year's legislative elections to the Virginia House of Delegates, the General Assembly's lower house, produced a stunning result. From a huge Republican majority (66 Republicans and 34 Democrats), the body ended up being almost, but not quite, tied. After the vote in two districts was settled in favor of the Republicans, the Democrats got 49 seats to the Republicans' 51.
If it were not for gerrymandered districts, a notorious problem in this "purple" state, it is very likely that the Democrats would have taken control of the House. A total of 1,306,384 Virginians voted "Democrat" and 1,075,206 voted "Republican." So the fight to end gerrymandering will be a continued priority for Virginia labor, progressives and the Democrats themselves. They are looking at ending the Republican majority in the Virginia Senate and also the House in 2019, when both houses are up for election. This year, it is hoped that the Republicans can be ousted from at least one of the seven federal House seats they currently hold. The Democrats currently hold four of the state's eleven seats.
This massive change was effectuated by greatly increased voter turnout since the last election to the House of Delegates. This bucks the trend for low turnout in years when there is no federal election. At least in some Virginia districts, this was achieved by more effective mobilization by grassroots activists. In Northern Virginia, for example (where this writer lives) the mobilization brought in an increased representation of women and minorities, with many younger candidates elected. This has helped to inspire efforts to pass progressive legislation that had no chance before. It also has blunted efforts by the Republican right to pass extremist reactionary legislation, such as new restrictions on the foreign born or the kind of "bathroom bill" that has been pushed elsewhere, including in North Carolina.
But in spite of their paper thin majority, the Republicans, who still control the committee structures, have managed to kill the majority of bills that the Democrats have presented this year. Even an effort to sign Virginia on to the Equal Rights Amendment was blocked, in spite of the salience of the issue of women's rights this year pointed up by the massive national issue of sexual abuses by powerful men—including the occupant of the White House.
A small amount of progress was made on the definition of felony theft. Up to now, Virginia law has stated that theft of more than $200 is a felony; below that figure it is a misdemeanor. This is one of the lowest thresholds for defining felony theft in the country. Delegate Jennifer Carroll Foy from Northern Virginia, a newly elected African-American and a former public defender, introduced legislation in the House to raise the threshold to $1000. That was not achieved, but the threshold was raised a little bit, to $500, in both houses.
Bills to deal with abuses by the state's biggest electrical monopoly, Dominion Energy, known for its outrageous campaign contributions, did not achieve much progress. Nor was it possible to pass a bill allowing local governments to remove Confederate statues and monuments, or change street names like "Jefferson Davis Highway," an issue that has become hot button since the violent right wing protests in Charlottesville last year. The state legislature still has to approve any changes to such monuments, since the legislation was killed in the senate. Very little progress was made on legislative redistricting.
But some progress has been achieved is that of Medicaid expansion. This has been a central goal for the Democrats and for labor and progressive groups in Virginia for several years. They have been calling for Virginia to authorize such expansion under the federal Patient Protection and Affordable Care Act, or "Obamacare", which would provide health care coverage for an additional 300,000 people with incomes under 138 percent of the federal poverty line.
Authorization by the General Assembly would access $2.9 billion in federal funds which at the outset would cover 93 per cent of the additional costs at the beginning, going down to 90 percent in subsequent years. Proponents of the change point out that at any rate, state and local governments end up paying a lot for providing health care to the very poor, and Medicaid expansion would free up state funds for other crucial needs such as schools and infrastructure. So even in fiscal terms, this would be a net gain for Virginia.
However, there is ideological and political opposition. President Trump has repeatedly expressed himself against not only Medicaid expansion in Virginia or elsewhere, but the whole Medicaid program as well as "Obamacare" itself. The ideological right sees it as a giveaway to the undeserving poor. Opponents of the idea have spread false information that it would bankrupt the state, even though the state treasury would be a massive net winner.
But in some Republican-held districts, poor working class people, including whites who voted for Trump in 2016, are in severe trouble over the issue of health care costs. So supporters of Medicaid expansion have seen a chance to win enough Republican votes to get a bill passed in the House and Senate.
In the House, it was possible to pass a budget bill including funds for the state's share of the cost of Medicaid expansion, with a whopping 68-32 vote. To get nineteen Republicans on board, the bill's sponsors added a work requirement for participation in the program.
Work requirements like this are wrong on principle for those who believe that health care is a human right. Furthermore, such things are intended to undercut the position of labor and the working class. A worker who is on Medicaid may have to think twice about quitting her job, protesting pay and working conditions or going on strike when such requirements exist, because doing so may mean loss not only of pay but of access to health care also. But Republicans need to prove to their campaign donors, ultra-right supporters and themselves that they are not giving away taxpayers' money to lazy people, so that was the price they exacted. At any rate, the work requirement that was included in the bill was not considered very onerous by supporters of Medicaid expansion; most of the people on Medicaid are working poor anyway, and the bill includes a lot of "outs" for people who want to go to school instead of working, or who have conditions which prevent them from working, as well as other things.
However, in the Senate, a parallel bill was not passed. On Tuesday February 13, the "crossover" period in the General Assembly began, which means that bills passed in one house have to be considered and voted on in the other. The problem with Medicaid expansion was that the Senate had already passed a budget in which funds for Medicare expansion were not included. So this is being fought over in the crossover period, which is supposed to be over by Saturday March 10 (although it would not be impossible to extend that deadline). Various kinds of maneuvers are being tried by the Democrats, and by Democratic governor Ralph Norham who supports the legislation. The Senate is presided over by Democratic Lt. Gov. Justin Fairfax, who cannot vote on budgetary legislation but can introduce amendments.
On March 1, a lively demonstration was held in front of the Virginia Capitol Building in downtown Richmond, demanding that Medicare expansion be authorized by the Senate. Scores of different organizations participated, as did Gov. Northam, Lt. Gov. Fairfax, Virginia Atty. Gen. Mark Herring and other political leaders. After the rally, participants went into the Capitol to lobby their legislators. At writing, the outcome is not yet known.
One thing is certain: If Medicaid expansion is not passed this year, it will remain a hot button issue for the future. If it is passed, Trump's approval for the work requirement will be needed, which will be a whole other battle.