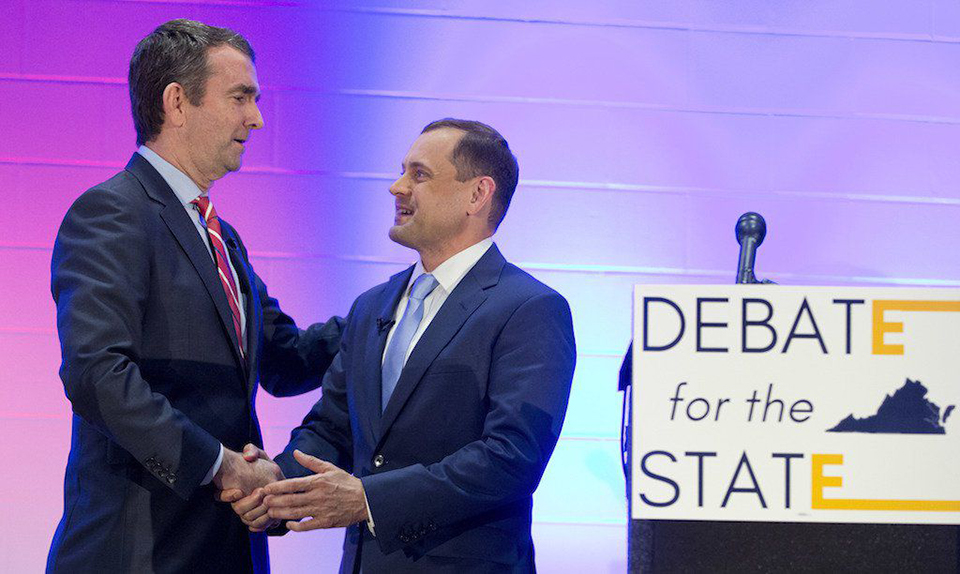 On Tuesday, June 13, Virginia held primary elections for the positions of Governor, Lieutenant Governor, State Attorney General and the 100-member House of Delegates, which is the lower house of the General Assembly, or state legislature. There were interesting races involving both Democratic and Republican candidates.
It wasn't a good day for progressives in the state who were hoping that former Rep. Tom Perriello would win (the current Democratic Governor Terry McAuliffe is not allowed to succeed himself).   Instead of Perriello, incumbent Lieutenant Governor Ralph Northam, an Army veteran and moderate democrat, defeated Perriello by 303,846 votes to 239,505, according to unofficial reports.
Perriello had jumped into the race at the beginning of the year and ran an aggressive campaign that could tout the support of Senator Bernie Sanders.
Northam had the backing of Virginia's Democratic establishment.   He was supported by Virginia's two U.S. senators (both of whom are Democrats), all four Democratic members of the U.S. House of Representatives and almost all of the Democratic members of the General Assembly, plus a cash-filled bank account that spent millions on TV ads to blunt Perriello.
The Northam campaign didn't let Perriello outflank them on the left. They pivoted and doubled down on their attacks on Trump. This is out of character for Northam, Virginia's current lieutenant governor, who comes across as a mild mannered patrician who admitted he voted for George W. Bush for president in 2000 and 2004.
Northam went after Donald Trump with unexpected fervor as he watched Perriello scoring points attacking Trump early in the campaign. Northam called Trump a "narcissistic maniac" during the race. Perriello tried to attract African-American votes by featuring former President Barack Obama in his campaign commercials. But Northam did better than expected with African-American voters and he worked hard behind the scenes to keep Obama out of the race. He went so far as to call former Attorney General Eric Holder, noting that he supported Obama in 2008 and 2012.
Perriello carried his home territory in southeastern Virginia plus a middle portion of Virginia running from the North Carolina to the Maryland borders. That wasn't enough to stop Northam who carried voter rich areas in northern Virginia, the metropolitan area of the state capital, Richmond, and the Tidewater area in the far Southeast by wide margins. The race had been viewed as coming down to the wire, but Northam ended up winning by a margin of 12 percentage points. Northam's endorsement by the Washington Post could have tipped the race in his favor. Perriello's internal polls showed his numbers dropping quickly after the Post endorsement editorial was published.
In November, Northam will take on Republican candidate Ed Gillespie, a former chairman of the Republican National Committee, who eked out a tiny margin of victory over Corey Stewart, a far right winger who is the chairman of the Prince William County Board of Supervisors in Northern Virginia. A recount is possible in the Republican gubernatorial primary because the vote margin between Gillespie and Stewart was only 1 percent.
Gillespie ran as an establishment Republican while Stewart mimicked Trump by railing against immigrants, political correctness, and the removal of Civil War era statues of Confederate heroes. Stewart beat Gillespie in many rural counties. Gillespie did better in cities and suburban areas.
Democrats nominated an African-American former federal prosecutor, Justin Fairfax, as their candidate for lieutenant governor. Fairfax defeated Susan Platt, who campaigned against Trump and expressed her support for the removal of the Confederate monuments. Progressive Democratic Attorney General Mark Herring ran unopposed.   In November Fairfax will face the Republican candidate, State Senator Jill Vogel, who squeaked by Bryce Reeves.
What does this mean for progressives? Virginia Democrats are energized. Primary turnout of Democratic Party voters increased significantly. For now the Democratic gubernatorial nominee, Northam, appears to have the advantage. Governor McAuliffe's stock went up due to his backing of Northam. Could McAuliffe run for president in 2018? Wait and see. U.S. Senator Tim Kaine might be breathing easier as 2018 approaches, when he is up for re-election.
The Republicans have to be re-evaluating. Gillespie was expected to win by 20 percentage points. He was almost taken out by an extreme right wing candidate, however. Remember Eric Cantor, the major Republican establishment Congressman and House majority leader who was taken out by a similar right wing extremist, David Bratt, in the 2014 elections?