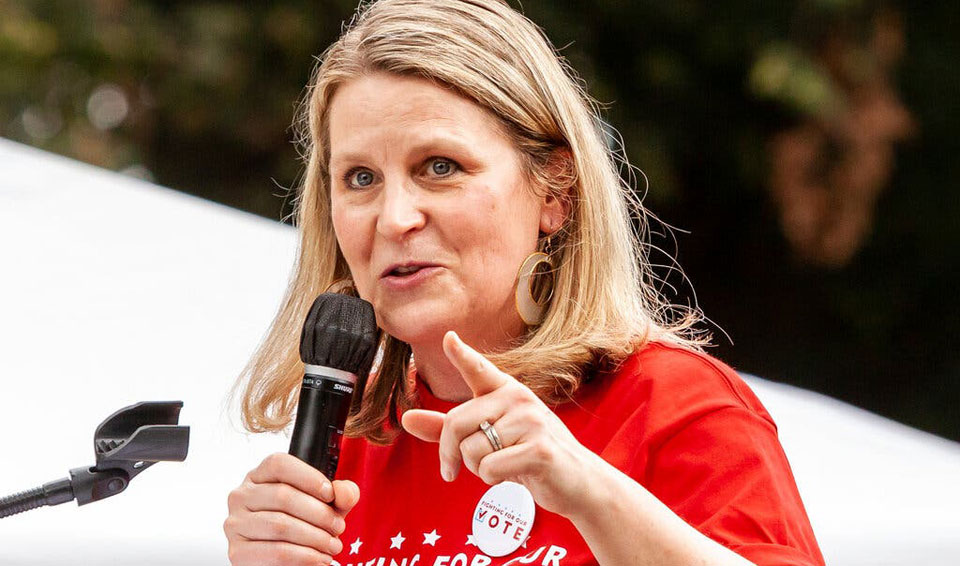 WASHINGTON—Union membership declined by 241,000 nationwide in 2021, to 14.012 million, compared to the year before, the Bureau of Labor Statistics reported. But it also cautioned the coronavirus pandemic skewed the statistics, compiled from a survey of 60,000 households nationwide.
And, as usual, unionists' median weekly earnings were far ahead of those of their non-union colleagues. And the "wage gap" between union men and union women was 10%, while it was 17% for their non-union colleagues.
The survey said 30% of all unionists live in just two states, California and New York.  Union density was high, as usual, in the Northeast, around the Great Lakes, and in Pacific Coast states, including Nevada. Hawaii edged New York for #1 in density.
Union contracts also covered—and protected—another 1.7 million non-members last year. In right-to-work states, those people are considered "free riders" able to get union wages and use union services without paying one red cent for them.
One aim of the Protect The Right To Organize (PRO) Act, labor's #1 legislative priority, is to abolish the federal OK for right-to-work laws, a racist relic crafted in the 1940s to split Black and white workers.
Some 10.3% of all workers were unionists last year, down from 10.8% in 2020. That includes 6.2% of private-sector workers and 34% of public-sector workers. In absolute numbers, private-sector workers still outnumbered public sector workers by 48,000.
BLS added the 2021 union membership figures should be properly compared with 2019, the last year before the coronavirus pandemic hit, throwing millions of people out of work, many for a year or more. In 2019, the BLS survey calculated unions had 14.574 million members, and the union density was 10.3%.
"Comparisons with union membership measures for 2020, including the membership rate and median usual weekly earnings, should be interpreted with caution," BLS said.
"The onset of the pandemic in 2020 led to an increase in the unionization rate due to a disproportionately large decline in the number of nonunion workers compared with the decline in the number of union members. The decrease in the rate in 2021 reflects a large gain in the number of nonunion workers and a decrease in the number of union workers."
Median weekly earnings for all union workers—the point where half the group is above the figure and half below—reached $1,169 last year, up $25 a week from 2020's figure, $1,144. The median for non-unionists also rose, but only by $17 weekly, from $958 to $975.
Union women, who were 46.4% of all unionists in 2021, did even better in their pay envelopes. Their median rose from $1,067 in 2020 to $1,104 in 2021. Union women still have an 11% pay gap with union men, whose median was $1,227 last year. The pay gap between non-union men ($1,069 in 2021) and women ($884) was 17%.
But in absolute numbers, unions lost 182,000 women in 2021, compared to 2020, three times the losses among men, the survey showed.
As usual, unionists were concentrated in the Northeast, around the Great Lakes, and in the Pacific Coast states, including Nevada. The largest absolute increase in union numbers, BLS calculated, was in Washington state. Its unions added 72,000 members, reaching 729,000 and 19% of the state's workforce.
The largest absolute numbers of union members were in California (2.468 million, up 27,000, with 16% density), New York (1,729 million, +68,000, 22.2%), Illinois (752,000, +13,000, 13.9%), Washington state, Pennsylvania (698,000, -24,000, 12.9%), New Jersey (608,000, +8,000, 16.2%), Ohio (596,000, -41,000, 12%) and Michigan (540,000, -64,000, 13.3%). Hawaii's #1 union share was 22.4% of its workers. Washington is now up to third.
Union density was, as usual, low in the South, and unionists practically disappeared in the cradle of the Confederacy, South Carolina. The Palmetto State finished dead last in density (1.7%) in 2021, and had 34,000 unionists, BLS calculated. That's down 25,000 in a year.
AFL-CIO President Liz Shuler said the numbers do not reflect increasing organizing and workers seeking unions last year, as a result of bosses' mistreatment during the pandemic. The lag is due to broken labor laws, she added.
"In 2021, workers forcefully rejected low-wage, thankless jobs after a year of being called essential. In light of the pandemic, it is clearer now than ever that our labor laws are designed to make joining a union as difficult as possible. Across this country, workers are organizing for a voice on the job and millions of Americans are standing in solidarity with union members on strike. If everyone who wanted to join a union was able to do so, membership would skyrocket. The PRO Act and the Public Service Freedom to Negotiate Act are how we get there," she said.