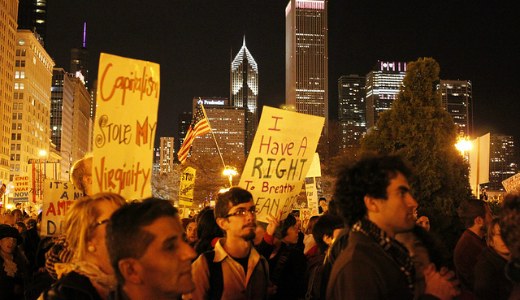 CHICAGO – Until recently, Chicago's Loop, known for its skyscrapers, corporate headquarters and high-powered law firms, was typically silent on weekends.
But lately this financial district that includes the Federal Reserve Bank of Chicago, the Chicago Board of Trade and Bank of America has been anything but silent.
On a recent Saturday, demonstrators were beating drums, holding up signs and chanting, while cars drove by honking their horns in support.
Throughout the day over 350 demonstrators had gathered to protest corporate greed and government policies favoring the rich.
The crowd was a direct representation of Chicago's multiracial makeup. Among them, a group of African Americans, Latinos and whites held "Occupy the Hood" signs. Occupy the Hood was formed to increase participation by people of color in the Occupy movement.
Mike Schostok sat playing his guitar – mostly songs by Rage Against the Machine and his own band, Voeur. He is a high school senior and believes Occupy Chicago is great but needs to be bigger.
"I'm here because I'm fed up with our plutocracy," Schostok said.
Tyson Baker, a broadcasting major at the Illinois Center of Broadcasting, said he sees an urgency in demonstrating to ensure that when he graduates he was a job waiting for him.
"I'm here partly because I know it's going to be hard to get a job," he said. "There are so many people with college educations who can use solidarity."
"There are all kinds out here looking feverishly for a job," Baker said. "We can all agree that the system is broken, that it doesn't work for 80 percent of the country. We need a new economy to support one another with our resources and our love, you know … We're not powered by violence or hate."
Aaron, a University of Chicago student who did not want to give his last name, was doing chemistry homework at the rally. He came out of a sense of curiosity, he said.
"There are a lot of good things about this, but because of the wide variety of messages, it's hard. For example, I just had a conversation with this Ron Paul libertarian who is against the Federal Reserve, and then, you know, people with hammer and sickle signs. The diversity of arguments is ultimately good, I think, though, and healthy," he said.
Angela Koon, who teach humanities part-time at a suburban community college, is part of the movement that has already graduated from university but cannot find full-time employment. Koon makes $17,000 a year and has $50,000 in student loan debt.
"I did what I was supposed to do," Koon said. "I graduated in 2008 with a master's degree in women's studies and I still haven't been able to find full-time employment. I'm 36 years old and have no health care."
Sarah Vance from South Chicagoland brought her 13-year-old daughter Kiah. There are many reasons Vance said there are many reasons why she came out to Occupy Chicago, but the most important inspiration for her is her daughter.
"There are a lot of American suffering because they don't have health care," Vance said. "My 21-year-old niece is with multiple sclerosis [and] cannot get health insurance to pay for her meds. This is crazy. It shouldn't be happening in the richest country on earth."
"I'm a single mom who can't find a job, she continued. "I'm two years into my schooling and I can't afford to go to school … Even if I could find a full-time job at minimum wage, I couldn't make it. The minimum wage is a poverty wage."
Protesters held homemade signs which read: "Medicare for All," "Troops Home Now," "We are the 99%," "Human need not corporate greed," "It's about real people vs. really rich people" and "This is not for us. This is for our children."
Joanne Becker, Eugene Blum, Pedro Conceicao, Luis Rivas and Tim Steinhelfer contributed to this story.
Photo: PW/Luis Rivas