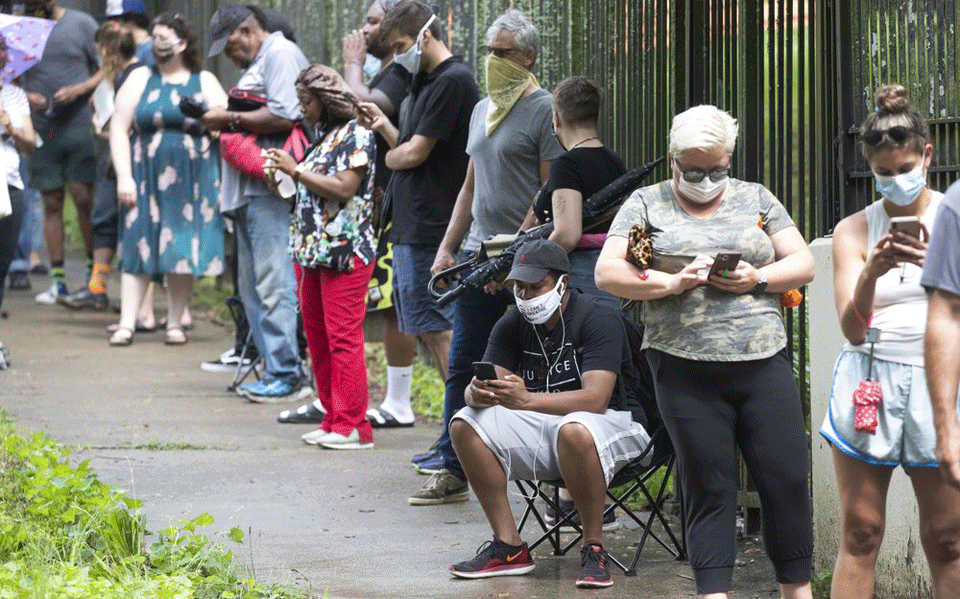 ATLANTA—The big story in the political party primaries on June 9 wasn't who won or lost, but voter suppression in Georgia – and what that could mean for November's balloting.
That Georgia mess – a toxic brew of few voting machines, especially in African-American areas, breakdowns of a new voting system and lack of trained poll workers — drew national notice as a potential precursor of nationwide election problems in November.
The result in Georgia, and especially Atlanta, which is majority-minority, was lines so long that voters in one African-American precinct in Union City reported finally leaving the polls at, no kidding, 12:36 a.m. By contrast, a white voter in Atlanta's northern Fulton County suburbs tweeted voting took only 20 minutes in her precinct.
"We only have a few months left until voters around the nation head to the polls again, and efforts should begin immediately to ensure that every Georgian — and every American — is able to safely exercise their right to vote," Rachana Desai Martin, director of voter protection for former Vice President Joe Biden, said in a statement. Biden now has enough Democratic Convention delegates to officially be the party's nominee this fall.
Biden himself called the chaos "unacceptable."
And Stacey Abrams, the African-American former state legislative leader who narrowly lost the 2018 gubernatorial race to GOP nominee Brian Kemp, tweeted "Georgians deserve better." Abrams now runs Fair Fight, a prominent voting rights and voter protection non-profit. She's on Biden's short list for the vice-presidential nomination.
"From Jasper to Fulton to Coffee & Chatham, long lines, inoperable machines & under-resourced communities are being hurt," Abrams tweeted. And current GOP Secretary of State Brad Raffensperger, who is now Georgia's top elections official, "owns this disaster."
As Georgia Secretary of State before beating Abrams, Kemp had purged voting rolls of hundreds of thousands of people, 80% of them Black. But some 700,000 new voters have registered since the purge, races have tightened, and Georgia is now up for grabs up and down the ballot.
Biden's campaign "will be fully engaged" in protecting voters, Martin added. It says something about worries about election repression and manipulation that Biden's campaign had to name a director of voter protection in the first place.
They were forced to do so because the GOP-named majority on the U.S. Supreme Court tossed out prior protections against voter repression, intimidation, and manipulation – not to mention gerrymandering people of color out of the political process.
The justices deleted the key enforcement section of the 1965 federal Voting Rights Act several years ago, thus letting partisan poll workers and law enforcement officials – such as a GOP sheriff in rural Texas in the film Rigged — again intimidate voters of color.
Rank and file voters reported on the Georgia mess via twitter.
"I come over to this side of town, and white folks are strolling in. On my side of town, we brought stadium chairs," LaTosha Brown tweeted. Added Lauren Groh-Wargo: "As we are seeing today in GA, NV, SC: Black & Latino Americans face longer wait times than white voters. In the past, long wait times were disruptive and disenfranchising. In a pandemic, they could also be deadly."
Predictably, Kemp and Raffensperger blamed local election officials in Fulton and DeKalb Counties, which cover Atlanta. Those counties' officials promptly pointed out Raffensperger's responsibility.
When some Atlanta polls didn't open at the scheduled starting time of 7 a.m., city Mayor Keisha Lance Bottoms (D), retorted in a tweet: "This seems to be happening throughout Atlanta and perhaps throughout the county."
"We're hearing reports of voting machines down, long lines, and few polling locations across the metro-Atlanta area, and wanted to reach out to you," the Atlanta-North Georgia Central Labor Council tweeted during the day. After informing voters of a hotline, and telling those aged 75 or older or who are disabled they could legally jump to the front of the line, the CLC added:  "If you are standing in line by 7 p.m., you can still cast your vote in the election. If you are in line, stay in line."
The CLC later tweeted a list of counties where local judges extended voting hours. "You and your families' safety is paramount, but we can never forget that our vote is our voice. The ongoing crisis cannot be an excuse used to silence workers' voices in this election, or else we risk losing what protections we fight for every day," the CLC's tweet concluded.
"We must vote, in every election, all the way down the ballot," the Georgia AFL-CIO urged. "Vote for judges, for sheriffs and for district attorneys who will protect black lives. Vote for state representatives who will empower workers, expand access to healthcare, and protect education funding."
"Vote for public service commissioners who will protect families from exploitative utility bills. Each position on the ballot is important and has an influence on every part of our lives."
Biden wasn't the only national political figure to blow the whistle on the mess in Georgia. So did Reps. Alexandria Ocasio-Cortez, D-N.Y., House Progressive Caucus Co-Chair Pramila Jayapal, D-Wash., and Sen. Kamala Harris, D-Calif., who is also on Biden's short potential-VP list. And even basketball superstar LeBron James got into the debate.
"Voting machines down. Limited provisional ballots. Hours-long lines. #VoterSuppression is happening right now across Georgia, particularly in Black communities. We can't let this happen in November. Congress must immediately pass my VoteSafe Act," Harris tweeted.
"This is by design, and it's their test run for November," Ocasio-Cortez, a Democratic Socialist, tweeted about the GOP. "Republicans don't want vote by mail because it chips away at their ability to do exactly this: Target and disenfranchise black voters and people of color. These scenes are specifically happening in black communities, not white ones."
"This is no accident," Jayapal tweeted. "Black and brown people have been kept out of our elections—100% on purpose and by design. We must end racist voter suppression efforts, restore, and expand voting rights, and build a democracy that ensures every voice is heard."
"Everyone talking about 'How do we fix this?' They say 'Go out and vote?' What about asking if how we vote is also structurally racist?" James tweeted.
While Georgia Republicans blamed Fulton and DeKalb Democratic officials, many of them black, for the mess, other national Republicans shut up. The GOP as a party opposes expanding the electorate and has brought other Supreme Court cases limiting voting nationwide.
The mess in Georgia, and similar tales in Nevada's Clark County (Las Vegas) for congressional and legislative primaries, overshadowed actual results – including another indication of how voting could get messed up this fall if officials and voters don't prepare for long lines and tons of absentee ballots due to the coronavirus pandemic.
That's what happened in the Baltimore, Md., Democratic mayoral primary,  tantamount to election in Charm City. AP called it at 9:45 p.m. on June 9, a week after the voting. Thousands of last-minute mail ballots, postmarked in time, trickled in. They overwhelmingly went for insurgent city council member Brandon Scott, 36, over corrupt former Mayor Sheila Dixon, 68. There were 110,000 mail-in ballots, compared to 44,000 actually cast at polling places. Scott won by 2,000 votes.
The most notable June 9 result was also in Georgia. John Ossoff, who narrowly lost a 2018 special election for a vacant U.S. House seat in the Atlanta suburbs – while running on a very progressive platform – was just short of the absolute 50%+1 majority he needed to outright win the Democratic U.S. Senate nomination against GOP incumbent David Perdue. Both Georgia U.S. Senate seats are up this fall, and both GOP incumbents are considered vulnerable.
And in the West Virginia Democratic gubernatorial primary, progressive community organizer Steve Smith lost to the establishment candidate, Ben Salango, 39%-33%, with other candidates trailing far behind. Almost all of Salango's overall 10,461-vote margin came in Kanawha County, including the state capital of Charleston. He beat Smith there, 15,288-6,551.
Salango will face multibillionaire GOP Gov. Jim Justice, a coal mine owner who's beset by both financial scandals and a racial uproar against him in deep-red and overwhelmingly white West Virginia.
Like free stuff? So do we. Here at People's World, we believe strongly in the mission of keeping the labor and democratic movements informed so they are prepared for the struggle. But we need your help. While our content is free for readers (something we are proud of) it takes money — a lot of it — to produce and cover the stories you see in our pages. Only you, our readers and supporters, can keep us going. Only you can make sure we keep the news that matters free of paywalls and advertisements. If you enjoy reading People's World and the stories we bring you, support our work by becoming a $5 monthly sustainer today.