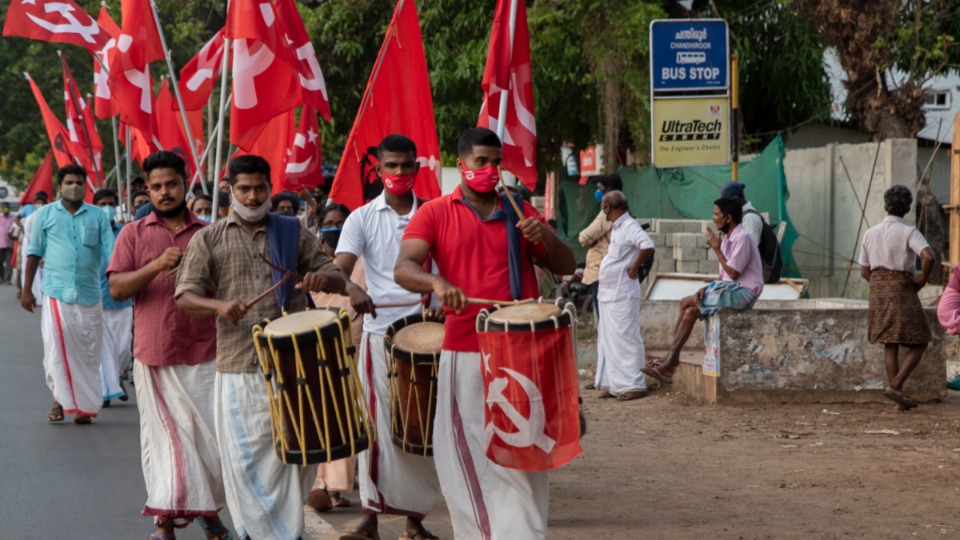 The Communist Party of India-Marxist (CPI-M) hailed a "historic victory" as the Left Democratic Front (LDF) won in Kerala with an increased majority in Sunday's legislative assembly elections.
The LDF, a coalition of left-wing parties including the CPI-M, the Communist Party of India, and the Indian National League, stormed to victory, leading in 98 seats in the 140 seat assembly, up from the 91 elected in 2016.
CPI-M General Secretary Sitaram Yechury said the victory showed that people had faith in the LDF "in an unprecedented manner" with the previous government having risen to the challenges Kerala has faced.
He paid tribute to those who have lost their lives to the "preventable scourge of the [coronavirus] pandemic," saying that the Kerala model was an example to the world on how to handle the crisis. Yechury's own son died last month from COVID-19.
Prakash Karat hailed the result as "a significant victory" with no previous government elected in Kerala for a second successive term.
"This shows that the people of Kerala have appreciated the performance of the … government and the way it tackled floods in the state, the COVID-19 pandemic, and remained committed to working for the people," he said.
Karat said he was sure that the incoming LDF government would "fulfil the aspirations of the people" of the west Indian state.
Some 5,536 people have died from COVID-19 in Kerala out of a total of more than 216,000 nationally as India struggles to cope with a devastating second wave of the pandemic.
Its success has been attributed to years of investment in pubic services, community and neighborhood outreach teams, and acting early with the swift implementation of contact tracing and other measures.
The devolving of power right down to village councils has also allowed citizens to receive new information and advice quickly.
Morning Star
Read more:

> India's Communist-governed Kerala state is beating COVID-19

> Communist teacher turned health minister leads pandemic fight in India

> Communists sweep local government elections in India's Kerala state