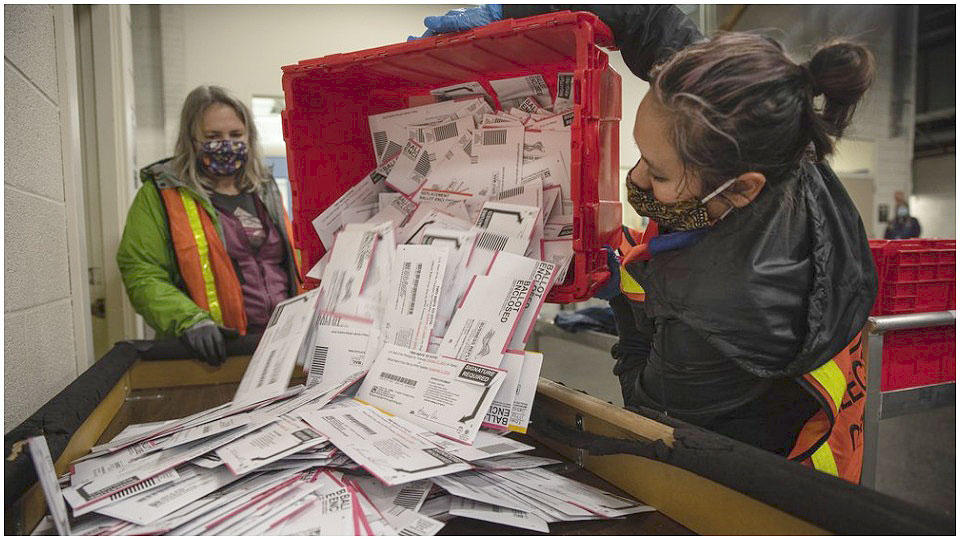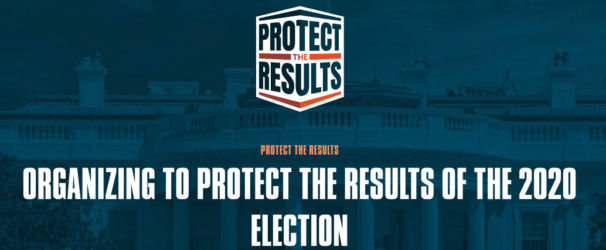 President Trump is falsely claiming victory in his race for re-election even as Democratic candidate Joe Biden is pulling ahead in several of the key states not yet fully counted.
Trump, at a mini-rally at the White House early this morning, with no authority to do so, demanded a halt to the counting of millions of votes that seem to be coming in for Biden.
He said he was taking his demands to the Supreme Court of the United States.
The national popular vote already shows a clear win for Biden, so Trump's only hope to hold onto the White House is to engineer enough Electoral College votes to overcome the American people's decision.
His absurd claims aside, the final results will come down to what the people say in Nevada, Wisconsin, Michigan, Pennsylvania, Georgia, and North Carolina.
In Pennsylvania, where the president is ahead by 600,000, there are more than 1 million uncounted ballots from the Philadelphia area that are expected to be overwhelmingly Biden votes. Pennsylvania Lt. Gov. John Fetterman said this morning that Trump "is no better than an internet troll when he claims he has won Pennsylvania."
When Biden addressed the nation early this morning, he reiterated that "it is not me or Trump who will decide who wins this, it is the American people."
In both Michigan and Wisconsin, Biden has pulled ahead of Trump slightly with only small amounts of votes yet to be counted and those are votes from heavily Democratic areas.
Biden has pulled ahead in Nevada, too, and if those states hold, he wins 270 electoral votes even without Pennsylvania.
Meanwhile, thousands of voters are pouring into the streets in major U.S. cities coast to coast today to demand that the results be protected and that every last vote be counted. They are determined to block any efforts by Trump to steal the election.
Nevertheless, the false victory claims by Trump are testing democracy in the U.S. in a way they have never been tested by a sitting U.S. president.
Democrat Tom Wolfe, the governor of Pennsylvania, went on national television this morning to assure the nation that the vote and democracy itself will be protected in his state. He called Trump's claim of victory "a partisan attack on Pennsylvania's elections, our votes, and our democracy." He vowed to resist any attempt to halt the ballot counting.
Kathy Boockvar, the Pennsylvania Secretary of State, said the election went smoothly in her state and that everyone can rest assured there will be accurate totals from the state as soon as possible.
It is clear that Trump's call to stop the counting of votes and disrupt the election is directed at Black voters in states like Pennsylvania, Michigan, and Wisconsin, because those are the overwhelming majority of the outstanding votes. In Wisconsin, the Republicans specifically decided to count mail-in votes last because they, too, were largely the votes of Black voters.
The Biden campaign's reliance on safe mail-in voting during a pandemic is something the GOP wanted to disrupt from the beginning, starting with the push by Trump's Postmaster DeJoy to cripple mail delivery at the USPS by removing processing machines and mailboxes and by slashing work hours for staff.
Trump also falsely claimed he'd won Georgia even as ballots are still being counted in some of that state's largest and most Democratic counties.
The president also falsely claimed victory in North Carolina, which is still listed as a toss-up.
"They can't catch us," the president falsely stated about Democrats' chances.
Votes are still being counted in all these states, so it is premature for either candidate to declare victory in the nationwide race.
"We want all voting to stop. We don't want them to find any ballots at 4:00 in the morning and add them to the list, OK?" Trump declared. He claimed to be "solidly" leading in many key states, implying his early advantage was "magically disappearing" because of supposed "surprise ballot dumps." There have been no such ballot dumps; rather, his lead has shrunk simply because more votes were being counted.
The demonstrations across the country today are being fueled by Trump's expected but nevertheless outrageous attacks on the right of the people to determine who occupies the White House.
At a press briefing this morning, the Biden campaign expressed confidence that it is on a path to victory. Democratic lawyers said that Trump will be on his way to the most embarrassing defeat in history for a U.S. president if he tries to go to the Supreme Court to block vote counting.