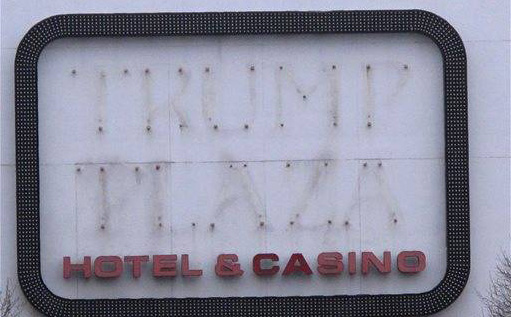 If Donald Trump's recent slide in the polls isn't yet enough to worry the billionaire real estate mogul, then the latest traffic numbers out of the Trump entertainment properties might just start to hit him where it hurts – in his ego-driven brand. And if the Trump brand is suffering, that means the Trump wallet will eventually feel the effect too.
Since he began his run for the White House last summer, the number of people visiting the array of Trump hotels, casinos, and golf courses has been on a pretty steady decline, according to data released by the location-tracking app Foursquare. Looking at the lodging and entertainment choices made by its more than 50 million users, the company released a report Thursday showing that June 2016 saw a 17 percent drop in market share for Trump properties compared to the same month a year ago. It gets worse when you look at market share in blue states and among women.
While the tech company goes out of its way to say that it makes no political statement with its report, the pattern they highlight is confirmed by other travel-related firms as well. A trend is emerging: people are voting with their feet.
Whether it appears on a ballot or on the front of a building, Trump's name is a turn-off for increasing numbers of Americans.
The numbers
When it comes to gathering foot traffic intelligence in the consumer market, Foursquare has some solid credentials. This is the same company that predicted Apple iPhone 6s sales numbers before the manufacturer itself, knew ahead of time that burrito lovers were not yet over the Chipotle E. coli scare in the spring, and forecast the success of all-day breakfast at McDonald's. If big data on market share is what you're looking for, Foursquare's got it.
So when they say something is afoot at Trump properties, it's probably worth looking at. Their analysis is centered on market share, or the amount of traffic going to Trump's branded locations compared to the amount visiting competing properties in the same area. That means it's a reflection of the choices participating consumers are making, regardless of the macro trends of overall spending in the lodging/entertainment sector.
Trump announced his candidacy for the White House in June of 2015. Before that time, the traffic to his branded properties was relatively steady year-over-year and was even growing a bit. But the usual bump from the summer travel season didn't happen for his destinations last year. And when the presidential primaries really heated up in March 2016, putting Trump on television constantly, losses accelerated again. Another expected vacation season bounce failed to materialize.
Some properties were harder hit than others, with those in blue states suffering the most. New York's Trump SoHo, the Trump International Hotel and Tower in Chicago, and Atlantic City's Trump Taj Mahal all saw absolute traffic declines as high as 24 percent. In blue states overall, July 2016 saw a 20 percent year-over-year market share drop.
Women driving the drop-off
Dig a little deeper into the data and you find a fact which really shouldn't be all that surprising: women are driving the drop-off in market share for Trump properties. At Trump sites in blue states, the share of women visiting last month sunk almost 30 percent. Given that seven in ten American women have an unfavorable opinion of the Republican nominee, it makes perfect sense that they would be leading the way in shifting their dollars away from any business with the Trump name plastered across it.
It's not just Foursquare that is reporting such dismal numbers for Trump properties, though. Another firm, Priceonomics, which owns a hotel-booking search engine, says that in the first quarter of 2016, room reservations at Trump hotels were down by an astonishing 59 percent. This at a time when bookings for hotels overall were up. Trump properties are actually bucking the positive trend for the hotel sector.
Worst hit were the Trump hotels in New York (down 74 percent), Las Vegas (down 71 percent), Chicago (down 31 percent), and Atlantic City (down 17 percent). North of the border, Canadians and foreign tourists also appeared to be snubbing Trump, with his Toronto hotel seeing a 47 percent decline in bookings.
The significance
While we are still three months from Election Day and a lot can happen between now and then, these numbers are still important indicators of emerging cultural and political trends. The way people choose to spend their money on products so explicitly connected to a particular candidate is a peek into how they relate to the political identity associated with him.
There is of course no automatic correlation between the market share of Trump travel destinations and the number of votes he will get in November. But if his name is becoming increasingly toxic in the entertainment market, it's not that big of a stretch to assume his brand might face a similar problem in the electoral market.
News also broke Thursday that the owner of Trump Taj Mahal in Atlantic City, the GOP nominee's billionaire friend Carl Icahn, was closing the casino permanently at the end of summer and eliminating 3,000 jobs with it.
Icahn's managers blamed the striking workers of UNITE-HERE Local 54 for the casino's failure. The numbers discussed above, however, suggest that the real problems go straight to the top – all the way to the name on the sign.
Photo: The outline of the letters that once spelled "Trump Plaza" remain visible on the facade of the shuttered Trump Plaza casino in Atlantic City, NJ; January 14, 2015. | AP