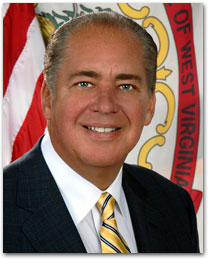 HARPERS FERRY, W. Va. – West Virginia acting governor Earl Ray Tomblin, a Democrat, beat back Oct. 4 a nationally financed Republican attempt to unseat him in a special election. The previous governor, Joe Manchin vacated the seat when he succeeded longtime Sen. Robert Byrd, D-W. Va., a year ago
The tally in the low turnout election was just under 50 percent for Tomblin, 47.5 percent for Republican drilling executive Bill Maloney, with the remainder going for Mountain Party candidate Bob Babar.
The Republican attack machine was full throttle, with only one message – Tomlin equals Obama – playing on a frankly large "racial dialog" in the state that runs under several covers: "Obama is a Muslim" (nearly 30 percent of the state believes this, according to polls); "Obama is a radical socialist"; Obama is a Kenyan; etc. Obama carried only 46 percent of the vote in 2008 in this state with a long and troubled segregationist history, despite the Democratic Party's two-to-one majority in party registration. Religious conservatism of the most ignorant, anti-scientific kinds also plays a role. Attack ads with gross distortions of the president's health care, environmental and jobs plans swamped the airwaves.
Earl Ray Tomblin, a longtime State Senator and President of the Senate, became acting governor a year ago after Senator Byrd died. He too ran away from Obama on the environment, since he is 100 percent pro-coal. He hails from Logan County in the heart of coal country. Thanks to the coal "severance tax," which supplies nearly 12 percent of state tax revenues, West Virginia has a budget surplus. Although coal employs less than half a percent of the West Virginia workforce, production is booming with strong international demand due to the "efficiencies" of mountain top removal mining. This offsets some domestic declines due to fears about the carbon damage coal-fired energy plants inflict on the climate.
Like Joe Manchin's campaign for the Senate, Tomblin distanced himself from Obama, but did not turn his back on health care and jobs legislation, which West Virginia sorely needs, with the sickest and oldest population of any state and over 9 percent unemployment. It has great natural resource wealth – but its people are among the poorest in the nation, ranking 48th in per capita personal income.
The election proves that even conservative, confused, frustrated and angry people can manage to see through some of the right-wing talking points poisoning the waters across the land – like a leaky fracking operation emitting a very large silent but deadly stink and then blaming their adversaries for it. West Virginia is considered atypical in its composition and voting patterns – but one of the lessons of recent contests is that nothing will be typical in the 2012 electoral season. Every victory will be hard one, and the "thing won" sometimes may only be the consolation of not being pushed even further backwards.
Tomblin's biggest weakness is the lack of grassroots energy and momentum. And – it's not over for him. The special election only leaves him in office until the next regular election for governor 14 months from now.
Photo: Gov. Tomblin, via the West Virginia Governor's Office.