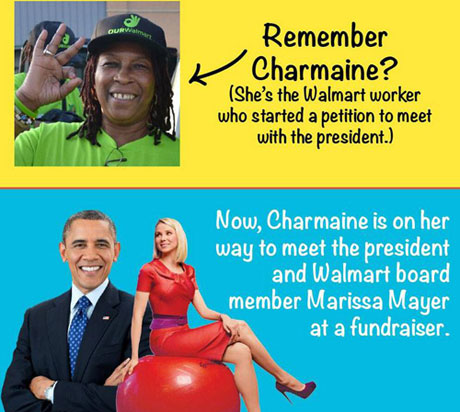 CHICAGO – Taking up President Obama's call to address income inequality as the "defining challenge of our time" are hundreds of workers most affected by that inequality – Walmart employees who are themselves planning a rally tomorrow at a Walmart outlet in Mountain View, California where the president will be visiting.
The workers will call on the president to challenge the world's largest private employer to support a minimum wage increase. Among the wide variety of groups backing the workers are environmentalist groups. The support from environmentalists so excited the Walmart workers, in fact, that they have added reduction of greenhouse gases to the list of things they are demanding from Walmart.
"When I heard President Obama was visiting my store, I wanted to tell him what income inequality really looks like – right here at a company that made $17 billion last year," said Pam Ramos, who has worked at the Mountain View store for four years. "I bring home $400 every two weeks. That isn't enough to cover the bills, and all I can afford to eat for lunch is a cup of coffee and a bag of potato chips."
Charmaine Givens-Thomas, 60, has worked at the Walmart in Evergreen Park, Ill. for eight years but must rely on food pantries to feed her family. She will hand deliver an online petition she started – that now has 200,000 signatures – asking the president to meet with Walmart workers to hear first hand about the constant financial struggle Walmart is creating for hundreds of thousands of families.
"I've had my gas turned off because I had to make difficult choices," she said. " "Either you are going to keep your gas on or your lights on, not both. You shouldn't have to make choices like that in America today."
Born and brought up in Chicago, Givens-Thomas, at the age of 15, marched with Martin Luther King Jr.
Six years ago – when president Obama was elected – she said she was filled with joy. "I felt like we were closer to realizing King's dreams of good jobs and freedom," she wrote on the petition. "However, Walmart is helping to hold America back from that dream. I can't promise my grandchildren that they will have a brighter future than I have."
Groups backing the petition campaign and tomorrow's rally include OUR Walmart, an advocacy group supported by the United Food and Commercial Workers Union, MoveOn, Credo, Sum of Us, Firedog Lake and others.
Photo: OURWalmart Facebook page