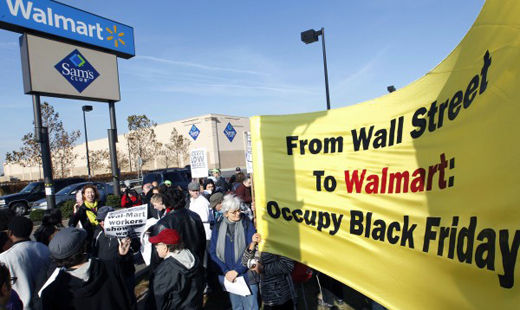 Walmart workers – part of OUR Walmart-announced key cities today where they plan to strike on Black Friday in protest of the company's illegal silencing of workers who have stood up for better jobs. As workers and their supporters finalize plans for the biggest Black Friday mobilization ever, they said the largest strikes and protests will be in Baker, La.; Chicago, Il.; Dallas, Texas; Los Angeles, Calif.; Tampa, Fla; Minneapolis, Minn.; Bay Area, Calif.; Sacramento, Calif.; Tampa, Fla.; Washington, DC; and Denver, Colo.
"The fight against income inequality in this country starts at Walmart," said Brooke Anderson of Movement Generation Justice & Ecology Project. "As climate justice organizations, we are proud to stand with Walmart workers this Black Friday to speak out for the fair pay and the respect workers deserve and for a sustainable economy that protects the environment and supports working families."
Supporters – representing millions of Americans – announced a letter from 226 organizations sent to company chairman and owner Rob Walton this morning. The letter calls for Walmart to raise pay to $15 an hour and provide consistent, full-time work for its workers; provide working women with good jobs with decent wages; and create a workplace that fosters inclusivity, appreciation and understanding.
Citing Walmart's $16 billion in annual profits and Walmart's owners-the Waltons-$150 billion in wealth, supporters say the Waltons can choose to pay workers enough to cover their groceries. The majority of Walmart workers are paid less than $25,000 a year.
Walmart workers began speaking out this week about the severe hunger issues that many of them are facing because they can't afford groceries. A group of workers started sharing their stories on Walmart Hunger Games Tumblr this morning after reading about their co-workers struggles in a new analysis about Walmart's role in reinforcing the hunger crisis in America.
The report, Walmart's Hunger Games – How America's Largest Employer and Richest Family Worsen the Hunger Crisis, illustrates the role companies like Walmart have in reinforcing low pay and forced part-time work that keeps working families from being able to afford groceries. The report comes days after Oxfam America released a new report that finds millions of working families struggling to provide enough food for their households, due to persistent low wages.
"When I have no money left over for food I have to dig through my cabinets looking for old, non-perishable items just so I can eat something, anything," said Walmart worker Cantare Davunt of Apple Valley, Minn., who just applied for food stamps. "I dream of being able to fill my refrigerator with fresh fruits and vegetables and eating hot, healthy dinners. But I go to bed hungry sometimes."
As workers walked off the job yesterday in Ohio, community members brought food for the strikers and called the Waltons' low pay shameful. Walmart worker La'Randa Jackson of Cincinnati, Ohio sent Walmart heiress Alice Walton a letter this morning explaining the severity of her hunger issues and rejected the family's charity efforts.
She writes:
"I skip a lot of meals. The most important thing is food for the babies, then my younger brothers. Then, if there's enough, my mom and I can eat…Ms. Walton, my co-workers and I don't want your food bins. We work hard and we don't want your charity. We want you and your family to improve pay and hours for Walmart workers like me so that we can buy our own groceries."
The Walton family, which controls the Walmart empire, is the richest family in the U.S.-with the wealth of 43 percent of American families combined. While many Walmart workers are unable to feed and clothe their families, the Walton family takes in $8.6 million a day in Walmart dividends alone to build on its $150 billion in wealth. Walmart brings in $16 billion in annual profits.
To date, workers at more than 2,100 Walmart stores nationwide have signed a petition calling on Walmart and the Waltons to publicly commit to paying $15 an hour and providing consistent, full-time hours.
Growing pressure on the company to raise pay and provide full-time work comes as an increasing number of Americans and Walmart workers point to OUR Walmart as making significant changes at the country's largest retailer. Most recently, after public calls from OUR Walmart, the company committed to raise wages for its lowest paid workers and rolled out a new scheduling system that allows workers to sign up for open shifts.
Photo: Mel Evans/AP