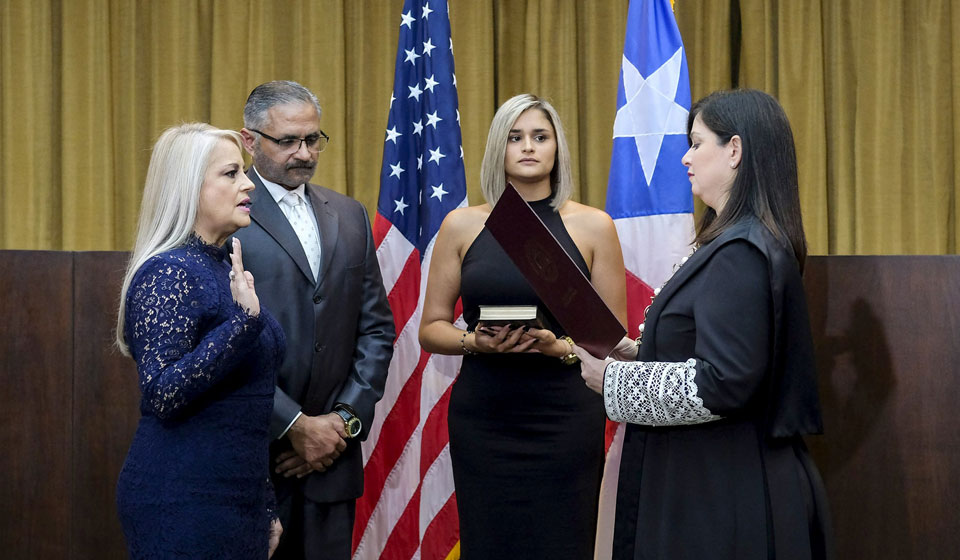 After public outcry and protests brought on the resignation of Governor Ricardo Rosselló, Puerto Rico received its third governor in less than a week. Rosselló's initial successor, Pedro Pierluisi, was forced to step down after Puerto Rico Supreme Court unanimously decided that an appointment as governor without Senate confirmation was unconstitutional. Now, the former secretary of justice, Wanda Vázquez has taken the mantle and was sworn in on Wednesday.
Many Puerto Ricans have expressed doubt about her leadership too, with Vázquez sporting a widely unpopular record with many working-class people on the island. Vazquez previously expressed via twitter that she actually hoped the former governor, Ricardo Rossello, would nominate a different successor, and that she had no interest in taking the governor's position.
Furthermore, Vásquez is linked to a number of the previous administration's corrupt practices. She was tried, and acquitted, while in office, for illegal intervention in a court case involving her family members. She was similarly accused of ignoring investigations into alleged mismanagement of hurricane aid, and of possible ethics violations.
People's World also previously reported on Vásquez's tense relationship with union members. The Office and Professional Employees have waged a long organizing campaign among Vásquez's workers, primarily its social workers and workers on its helpline for women in crisis. Because of this, many OPEIU and CWA communications unionists also, were vocally against her appointment.
Despite having claimed she did not want the governor's job, Vasquez is now accepting her the position and protests, which have been going on for months, are continuing.
Talks of a potential fourth governor are in the works.
According to Associated Press, Senate President Thomas Rivera Schatz has publicly backed Jenniffer González — Puerto Rico's non-voting representative in Congress — to be secretary of state, which would put her first in line to become governor if the office should be vacated again. José Meléndez of the New Progressive Party said, "The leadership … basically agrees that Jenniffer should be the governor."
But "Jenniffer is the consensus person," he added. "This should happen quickly, but it depends on what the governor says. … The key to breaking the bottleneck lies with Wanda Vázquez."
For González to become governor, she would have to be nominated to the open secretary of state position and confirmed. Then Vázquez would have to resign – something the new governor said she did not intend to do, despite her previous comments about not wanting the position.
Despite how seemingly unpopular Vásquez might be, there is no plan yet by the standing governor to vacate her position. The island is bracing for more economic instability, as the public continues to challenge the government's questionable practices and deep-seated corruption.