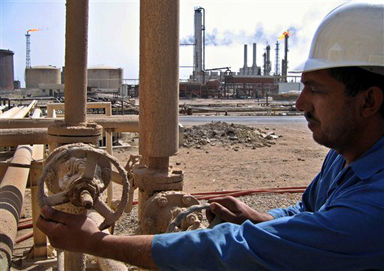 Oil tycoon T. Boone Pickens feels entitled to Iraq's oil.
Pickens told Congress yesterday that U.S. energy companies are "entitled" to some of Iraq's oil because of the large number of American troops who lost their lives there and the U.S. taxpayer money spent in the process.
Speaking to the newly formed Congressional Natural Gas Caucus, Pickens complained that the Iraqi government has awarded contracts to foreign companies, particularly Chinese firms, to develop Iraq's vast reserves while U.S. companies have mostly been shut out.
Pickens, a corporate raider with an estimated net worth of about $3 billion, is ranked by Forbes as the 117th richest person in the U.S. and 369th richest in the world. A major financial backer of George W. Bush's presidential campaigns, Pickens gave $2 million to finance the notorious Swift Boat attack against John Kerry during the 2004 campaign.
Recently Pickens has proclaimed himself an advocate of alternative energy such as wind and solar power. But he apparently hasn't kicked an addiction to oil – Iraq's oil.
"They're opening them [oil fields] up to other companies all over the world … We're entitled to it," Pickens said of Iraq's oil. "Heck, we even lost 5,000 of our people, 65,000 injured and a trillion, five hundred billion dollars."
"We leave there with the Chinese getting the oil," Pickens said, referring to the scheduled withdrawal of U.S. troops over the next two years.
In fact, a number of foreign companies are investing in rebuilding Iraq's oil industry. Rather than being "shut out," U.S. oil giants like Exxon Mobil have balked at Iraq's efforts to keep control over its oil and retain the lion's share of the revenues. But firms from other countries seem to be willing to strike a bargain on Iraq's terms. These include not only China, but also the UK, Italy, Russia and others.
China, in a consortium with the British oil giant BP, is about to finalize an agreement to develop Iraq's largest oil field, Rumaila.
But also, this month a consortium led by the Italian firm Eni was awarded a license for development of the giant Zubair oil field, which like Rumaila is in southern Iraq. The consortium actually includes a U.S. firm, Occidental Petroleum, along with South Korea's Kogas (Korea Gas Corp.). Iraq's state-owned Southern Oil Co. will hold a 25 percent share in the project.
Zubair currently produces 195,000 barrels of oil per day. Under the Italian-led project, production is expected to reach 1.125 million barrels per day in the next seven years.
The 20-year service agreement includes drilling more than 200 wells, construction of new facilities, and refurbishment of existing ones.
Japan's Nippon Corp. is reportedly close to finalizing a deal to develop the Nassiriya oil field also in the south of Iraq.
Contrary to a recent disparaging assessment of Iraq's oil situation in The New York Times, Salam Ali, the Iraqi Communist Party's international representative, pointed to the flurry of foreign investment and said he believes oil production will rise next year.
Ninety-five percent of Iraq's revenues come from oil, making it the main source for funding the state's budget and providing for the country's enormous needs for reconstruction and economic revival.
With a desperate need for advanced technology to rehabilitate its oil industry and increase production, it can make sense for Iraq to get help from foreign companies, the party's newspaper Tareeq al-Shaab editorialized earlier this year. But, the editorial warned, "this should be done based on conditions and controls that ensure Iraqi national interests and preserve the people's right to own the oil wealth and control its destiny."
As Iraq gradually emerges from decades of economic sanctions, isolation and war, it has the possibility of regaining its status as a key player in OPEC, the Organization of Petroleum Exporting Countries, Ali said.
Photo: An Iraqi worker at the Rumaila oil field. (AP /Nabil Al-Jurani)