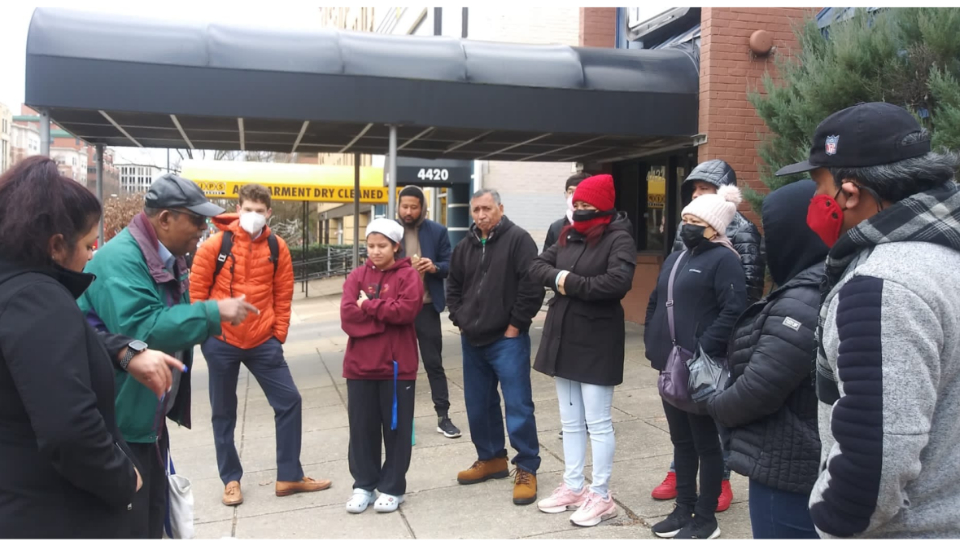 WASHINGTON—On New Year's Eve, the oldest and last Burger King location in D.C. closed its doors to the public, firing its entire staff in the process. The location was on upper Connecticut Ave. NW, just a few blocks from the University of the District of Columbia, and had existed for several decades at the same location.
This area has been targeted for housing and business development by local politicians and developers in recent years, leading to increased cost of rents and longtime neighborhood businesses shutting down.
The 22 employees that worked at this Burger King location were of Latino and African descent, including immigrant workers from Central America and Morocco, and a majority were women.
Lidia Melchor, who worked at this location for 17 years making minimum wage the entire time, was stunned. "Where will I get the money to pay my rent?" she asked. Lidia, who was Breakfast Manager, worries about her colleagues, including Don Alfonso, who worked at this location for 18 years.
The franchise owner, Potomac Foods—which brings in multi-million dollar profits—did not notify the employees in advance or offer job transfer opportunities at other Burger King locations, according to the workers. A company spokesperson told DCist/WAMU in an email that "affected staff have offers at other Burger King locations," but workers say otherwise.
Justin Calix, manager of the shuttered store, told the workers who were on duty Dec. 31 that they would receive a check in the mail, in a week, to cover December's wages, plus an additional check for one week of work—nothing more.
Ingrid Contreras, Assistant Manager at the store, stated that she was stunned to hear the news. "I worked for years without any benefits—no sick leave or vacation pay—and now they fired us without any advance notice."
According to a press release written by the workers and longtime D.C. anti-wage theft activist Arturo Griffiths, "The Christmas holidays were the wrong time to fire staff, especially men and women who work for minimum wage and depend on their weekly paycheck to make ends meet."
Workers and community allies rallied in front of the now-closed Burger King on the morning of Thursday, Jan. 6, with basic demands of severance pay based on the number of years employed at this Burger King site and to be relocated to another Burger King location.
They also demanded fair treatment as workers and reference letters to apply for other jobs since they are now unemployed. Workers spoke of their experiences at this store during the rally and how they dedicated themselves to the work.
Representatives from newly sworn-in Ward 3 Councilmember Matt Frumin's office, the Claudia Jones School for Political Education, D.C. for Democracy, and the D.C. Chapter of the Domestic Workers Alliance all attended and showed solidarity with the workers of the store.
The rally then continued to Gaithersburg, Md., where the workers visited the offices of Potomac Foods. The workers brought their demands and waited to speak with a representative but were denied and eventually confronted by the police.
The workers have finally started receiving their last paychecks in the mail. One worker noted that while getting their check, the manager was laughing in their faces telling them that they're in "trouble" for protesting their employment situation.
These Burger King workers are now advancing their fight for severance pay and job relocation, and they ask for more community support and involvement in what is not only a working class struggle, but an immigrant rights struggle, a women's struggle, a racial equality struggle, and so much more.