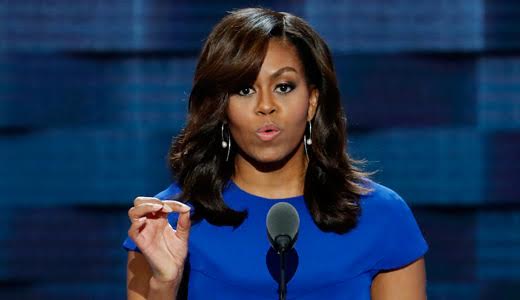 This article is part of a series on the Democratic National Convention.
First Lady Michelle Obama delivered such a powerful speech at the Democratic National Convention July 25 in Philadelphia that it caused aftershocks for hours on social media. Calls for Obama to run for office echoed throughout millions of Facebook and Twitter timelines.
It was a speech that delivered an eloquent and profound truth about the stakes of the presidential outcome. "In this election, and every election, it is about who will have the power to shape our children for the next four to eight years of their lives, and I am here tonight because in this election there is only one person I trust with that responsibility, only one person who I believe is truly qualified to be president of the United States, and that is our friend Hillary Clinton," Obama said to deafening cheers and chants of "We love you."
Obama expertly painted a contemporary and historic American portrait that recognized the nation's beauty, hope, unity, struggle and progress embedded in the national identity. Mentioning protesters and police in Dallas "who all desperately want to keep our children safe," people lining up to donate blood in Orlando "because it could have been their son, their daughter in that club," and the service of leaders like vice presidential pick Tim Kaine "who show our kids what decency and devotion look like" and Clinton who "has the guts and the grace to keep coming back and putting those cracks in that highest and hardest glass ceiling until she finally breaks through, lifting all of us along with her."
"That is the story of this country, the story that has brought me to this stage tonight, the story of generations of people who felt the lash of bondage, the shame of servitude, the sting of segregation, but who kept on striving and hoping and doing what needed to be done so that today I wake up every morning in a house that was built by slaves."
Without airbrushing out any brutal or ugly truths of today and yesterday, Obama gave a forthright appeal to our better angels by telling how she and President Barack Obama explain to their daughters how to respond to the nonstop and toxic attacks on the president and others.
"We challenge them to ignore those who challenge their father's citizenship or faith. How we insist that the hateful language from public figures on television does not represent the true nature of this country. How we explain when someone is cruel or act like a bully, you don't stoop to that level," Obama said. "No, our motto is: When they go low, we go high."
It is a speech that should not be missed.
Photo: First Lady Michelle Obama speaks during the first day of the Democratic National Convention in Philadelphia, July 25. (J. Scott Applewhite/AP)