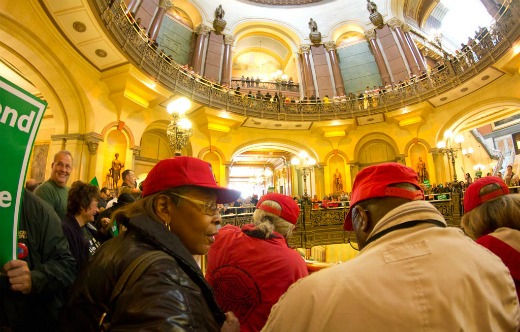 SPRINGFIELD, Ill. – Thousands of union members overflowed the Illinois Statehouse here, October 26, to defend their pensions and collective bargaining rights. Although Democrats are in the majority, many Illinois legislators are pushing Senate Bill 512. They are using "Illinois is broke" as an excuse to cut pensions and destroy state pension systems.
The worker-lobbyists were teachers, firefighters, police officers, clerks and other public workers as part of a coalition called "We Are One Illinois." The roar of their slogans filled the Capitol dome and reached the ears of state legislators who were in session.
Taking inspiration from Wisconsin's fightback, the Illinois public workers chanted, "What does democracy look like? This is what democracy looks like!" Another popular slogan was "We are the 99 percent!" Under this chant, the activists allied themselves with occupiers of Wall Street and Chicago, and thousands of protestors in other cites.
Several unions participated in the action including AFSCME (American Federation of State, County, Municipal Employees) IFT (Illinois Federation of Teachers), IEA (Illinois Education Association), SEIU (Service Employees International Union), FOP (Fraternal Order of Police) and IAFF (International Association of Fire Fighters).
The bill, SB 512, was strongly opposed at the rally. The Civic Committee of the Commercial Club of Chicago, a group of millionaire CEOs, developed it. The bill creates a three-tier pension system. Tier 1 is for current employees. Their pension contributions would go up from 9 percent to 12 percent of each paycheck. For newly hired, Tier 2 would pay 7 percent for a reduced pension and they would have to work until 67. Or they could choose tier 3 and opt out of the pension system entirely for a 403b stock-market based plan.
Many newly hired workers are short of cash. They would choose tier 3, leaving few to pay the pension fund for those already retired.
Jackson Potter, staff coordinator with the Chicago Teachers Union (CTU), explained that teachers are not eligible for Social Security. They depend entirely on their pension when they retire. CTU is also opposing other anti-labor bills. For example, HB 3827 would take away teachers' right to elect the majority of Pension Board Trustees. Instead, Chicago Mayor Rahm Emanuel would gain control by appointing the majority of the Trustees.
Chicago Firefighter Union Local 2 expressed the strong unity among the unions present. Even though SB 512 does not include firefighters and police in the proposed pension cuts, their newsletter recently stated, "We stood in solidarity with our own. Our presence was definitely noticed and very, very much appreciated by other 'WE ARE ONE' Illinois Union Brothers and Sisters."
Photo: Union members enter the Illinois state Capitol to lobby lawmakers on pensions. (Howard Heath/Chicago Teachers Union)