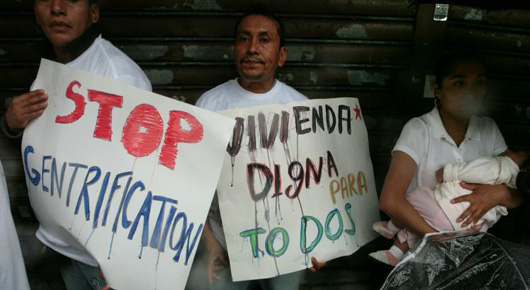 "Pipers Glen will have the benefit of a private community within a very public neighborhood setting," says the publicity touting the new townhouses and condos going up at 7048 Germantown Avenue in Mount Airy, just outside Philadelphia.
Just what we need—more condos and townhouses— starting at $450,000 and $315,000, respectively, while affordable housing needs and Section #8 units (which have a two year waiting list) continue to get short shrift.
And just think, those who can afford such units don't even have to write letters to the editor or demonstrate outside a politician's office to get their housing desires met. The units just appear "like magic" by developers who want to make enough to get their beach condo at the shore.
This is not particular to Germantown or Philadelphia. Housing needs for the "less-to-do" v. the well-to-do continues to be in short supply all over the nation.
But some of those in need of affordable housing are no longer taking this quietly.
In March, community activists in Oakland, Calif., shut down the Chamber of Commerce's Economic Development Summit about "real estate opportunities" with demands such as ,"Housing is Human Right! That is why we have to fight." This occurred only after the city ignored a year of traditional protests for affordable housing, approving instead a luxury development overlooking a scenic lake.
As one activist said, "there is a time to write letters, a time to meet, and when all else fails, a time to take to the streets."
Photo: Bebeto Matthews/AP