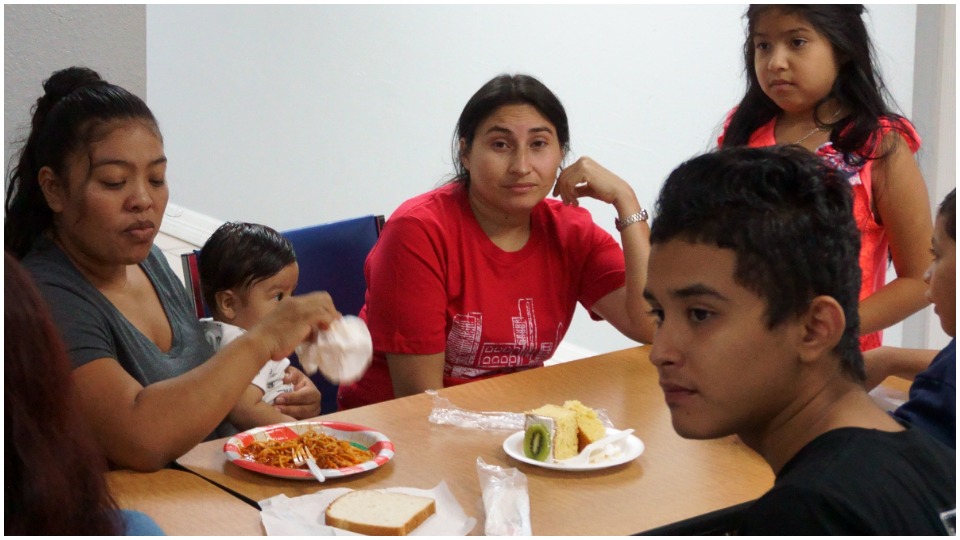 This article is part of the People's World "On the Border Series," which won a first place prize in the Best Series category at the 2020 Labor Media Awards, presented by the International Labor Communications Association.
People's World correspondent Al Neal is in the field reporting from sites all along the U.S.-Mexico border. In his dispatches, you will get a view of the towns and people caught up in Trump's "border crisis." You will see the women, men, and children impacted by the administration's immigration policies as well as U.S. foreign policy in Latin America. Other installments in the series can be read here.
BROWNSVILLE, Texas—The little boy jumped up and down excitedly on the two-person trampoline without a care in the world—forgetting, if only for a moment, the horrors faced while held in the Customs and Border Patrol detention center.
His father stood still, watching silently, exhaustion and desperation upon his face. He carried a clear plastic rucksack containing a single manila envelope filled with legal paperwork—his only worldly possessions.
After walking hundreds of miles, this father and son—both searching for asylum's salvation, were detained and separated for several days.
Now they are only separated by a few feet and a mesh safety net.
As I watched this scene unfold, I couldn't even begin to imagine the nightmares this father experienced, and the thoughts he must have had of never seeing his only child again.
"No one deserves this…," I whispered to myself. "No parent should ever have to see their children in cages."
His story, his journey, and his detention at the border are, tragically, not unique. With every day—and tweet—that passes, hundreds of migrant and refugee families come to our border seeking open arms, only to find closed fists and rage spewed at them.
And somewhere along the line, we, as a nation, lost our humanity as we dehumanize those most in need. There are no numbers, or statistics at our southern border, only daughters, sons, mothers, fathers, brothers, sisters…people.
"Of the people we see, I would say 100 percent have a traumatic story to tell," said Gabriella Zavalas, Iglesia Bautista West Brownsville mission coordinator. "Many have complex compound trauma, which means they were traumatized in their home countries, on the trip over here, by their treatment at the border by immigration…. It's constant and many people are in a flight or fight mood—many have seen murders, kidnappings, and sexual assaults on the road to asylum."
She continued: "But we have a purpose here, we have an opportunity to impact migrant and refugee families in a positive way, they feel loved when they leave and we give them a basic toolset before they go off alone into American society—we are their last point of contact, and we will not let them fall into the dark cracks of our society.
This is where we begin….
"For I was hungry, and you gave me food, I was thirsty, and you gave me drink, I was a stranger and you welcomed me." Matthew 25:35
The palm tree-lined residential streets of West Brownsville lay quiet. Almost too quiet. The only real sound was that of a warm, soggy breeze rustling tree leaves.
As I walked closer towards the intersection of West 9th St. and West St. Charles St., looking around at all the single-story, chainlink-fenced family homes dotting the landscape, the faint sounds of children's laughter and whispered conversations came over the air. I had reached my first stop, or at least I thought I had. The overflow parking lot of the Iglesia Bautista (Baptist Church) West Brownsville confirmed it.
There, tucked quietly between family homes, was a modestly built church. A large blue crucifix met your eyes at the front entrance, to your left a signpost welcomed you to the religious community in both Spanish and English. And with their engines running, SUVs emblazoned with the church's logo and the words "Outreach Mission" waited patiently in the pickup/drop off zone for its cargo to be unloaded—food, blankets, clothing, shoes, and hygiene products.
Friendly smiles and bilingual pleasantries were exchanged as I made my way inside.
"Are you Samuel?" I asked the volunteer who guided me into the pastor's office. I had spoken with Samuel early in the morning to set up my visit to the center.
"No, no, I'm Iram," he replied, "Samuel is out to lunch."
At the reception desk, I introduced myself in English and took a seat. A few moments later, I was greeted warmly by Pastor Carlos Navarro, casually dressed in blue trousers and a light blue, short-sleeve button-up shirt—a stark contrast from the traditional pastoral garments one would expect to see.
"I hear someone speaking in English, and I knew I had to come out and investigate," he said laughing, as he took my hand in a firm handshake.
"It's true, I was the one speaking English," I said, "but don't be fooled, también puedo hablar español" (I can also speak Spanish).
As we walked back into his open, un-walled office, Pastor Navarro asked where I came down from, and when I told him I was from St. Louis, he made it a point to discuss the greatness of St. Louis Cardinals baseball—Ozzie Smith, in particular, was his favorite player in the '80s.
We took a seat, and he said, "Well, let's get down to business."
The border town of Brownsville, Texas, is found on the western Gulf Coast and is adjacent to Matamoros, Mexico. It's the 16th-largest city in Texas and suffers from one of the highest poverty rates nationwide.
In recent months, the city has experienced a surge of undocumented asylum seekers being released from Immigration and Customs Enforcement detention centers and left to fend for themselves.
As many as 50 to 300 migrant refugees are dropped off every day at the local Greyhound bus station—countless others are turned away at the border's points of entry, a new Customs and Border Patrol tactic encouraged by the Trump administration.
As a response to the growing crisis, Pastor Navarro and his church's congregation decided to convert half of the building into a respite center for recently released migrants and refugees.
Why? Because he was once one of them.
"I'm a migrant myself," said Navarro. "I came to this country in the same situation that many of these families are facing. My father was from Honduras, my mother from Guatemala—where I was born, and the place I left 37 years ago."
Navarro left Guatemala in 1982, right at the start of the Guatemalan civil war, which saw the U.S. supporting a military coup. Navarro landed in San Francisco, Calif., and began building a new life, eventually leading him to Brownsville.
"Myself being a migrant, it's not the number one reason why we (the church) are doing this," he continued. "It is in a way, but more importantly, I am doing this because I believe if Jesus Christ were here he'd be doing the same, helping the needy.
"When I left, it was easier to come to the States…. I cannot forget where I come from, I can't forget my roots, and that's why we do this work—because I see myself in them every day."
Navarro said his church opened its doors as a respite center in April of this year and, as of Monday, had served and cared for over 2,500 migrants.
As we continued speaking, he took a short pause, his eyebrows turning down momentarily while contemplating a serious thought.
"I want to be clear, I'm not ok with how they (migrants) got here. Yes, they violated a law, and there are consequences, but the people we help are already here. I'm not supporting the caravan or bringing people over. My job as a pastor is to show them compassion and treat them as human beings."
We took a short break. And as I sat there looking over my notes, I realized the potential political repercussions this church faced if found to be doing more than just providing basic care to migrant refugee families. I could only equate it to the fear individuals must have felt when hiding Jewish families from Nazi persecution. How far have we fallen?
We continued our conversation walking through the center, visiting with families, meeting volunteers.
Navarro stepped away for a few moments, and the tour was continued by a new set of volunteers, a couple from Arlington, Texas (whose names are being withheld for privacy). They decided to take a vacation and drive down to help migrant families, to see the human truth of the border crisis.
"We got tired of just listening to the news," they said. "We wanted to find out for ourselves what was going on, and so far, it's been an eye-opening experience…. These are human beings in desperate need of help, not just numbers and statistics."
As we walked to the backyard of the church, I was shown the brand-new mobile trailer brought down from the Lakewood Baptist Church of Temple, Texas, which was filled with washer/dryer units and showers for families to use when they arrived.
As I stepped down and back outside, I was met by Rita and Dan, two volunteers who had come down from Temple with the mobile wash unit. Both retired, they chose to spend their days not in relaxation but in the service of others. They were too humble to speak of their deeds or have their photo taken, but said they were proud of being able to go to any area hit by a natural disaster or other crisis and offer help.
"I'm 72 years old, retired from the telephone company, and now spend my days cutting down trees from power lines after hurricanes and hooking up running water for these mobile showers," said Dan.
Rita, his wife, laughed, saying in a deep Texan drawl, "People see him up there, turn to me, and say, 'What the hell is he doing?'"
Navarro came and called me in from outside. He pointed at the chapel area and told me to go talk to a mother who had just been dropped off at the center.
Rosa (real name withheld) had just been released from detention, and in between her breathtaking sobs, she recounted how she and her husband, along with their two-year-old daughter, had walked from Guatemala to the Rio Grande crossing. As they presented themselves at the border, they were detained and separated. She is all alone now with her child and does not know where her husband is being held, or if he is still in the States.
As she cried, a volunteer came forward and walked with her away from the general reception area. I didn't see her again.
"We need to do better…" Navarro's words cut through the silence. I asked what he meant.
"I don't pay attention or care one bit about the political situation. I'm a pastor, my job is to care for those in need," he continued. "But politicians can do better…they have families and I can't imagine what they would do if it was their families being detained.
"For us, the church, it is our minute of fame, but our country has a chance to truly show that we are a Christian nation by aiding these families—we all can do something, according to our capacity. We don't have to rely on the government, we can act.
"Our city may be divided by this issue, with long-term residents not happy with the way we do things here. Along with what the government is doing, we have many groups protecting their interests and saying, 'America first' in no uncertain terms."
I sat quietly for over three hours, observing the work of volunteers as they reviewed the lengthy and detailed legal documents migrants needed to be filled out, helping children and adults find the right-sized clothing, sharing laughs, hardships—all united in the cause of doing better for themselves and their families in our so-called land of opportunity.
And it was true, while many faces entered the sanctuary dejected, most left with a cheeky smile.
As I said my goodbyes, these final words from Navarro stuck with me: "People here need to remember that our countries (in Latin America) are being invaded by earthquakes, corruption, (U.S.-backed) military and political coups—we go from one extreme to another. And fleeing is often the only option left for these families."