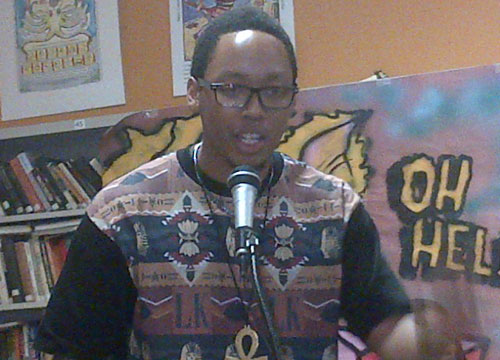 OAKLAND, Calif. – The Oscars may be coming up this week, but in Oakland, People's World and Mamas 4 Obamas hosted an equally dramatic Feb. 22 event: "We Tell Our Stories." The Black History Month event honored the stories of hard work and victories of local workers, activists and grassroots community leaders.
"We Tell Our Stories" garnered a packed house, listening to the personal stories of the honorees with active enthusiasm. Those honored spanned several generations, the youngest being a young lady in first grade, who brought down the house with her spirited tribute to the late Nelson Mandela.
The crowd opened with a rendition of the Black National Anthem, "Lift Every Voice and Sing." Juan Lopez then took to the podium to briefly highlight the 90th anniversary of the People's World, whose ongoing mission continues to be telling readers, "Yes, people do matter," in a country where the motto is generally "corporate profit before people," Lopez said.
Program emcee Cassie Lopez said that everyone in the room was deserving of an award, whether they received a certificate or not, for the hard work of taking care of jobs and family and bringing positive change to lives around them. "We can end all the bondage upon on our minds, our spirits and our souls," she said, "when we understand that we have a commonality as human beings on the face of this planet, that we do matter."
Among those honored first was Lorrain Taylor, founder of 1,000 Mothers to Prevent Violence. In 2000, Taylor lost her twin sons, Bade and Obadiah, to homicide, both young men killed while they were working on fixing a car together. After several years of grief, Taylor created an organization to give voice to parents and families who have lost loved ones to violence.
Denise Curtis of Community Works was recognized for her organization's visionary work in restorative justice conferences, a revolutionary way of keeping young people who have committed crimes out of the justice system, and also helping communities before a pattern of retribution for crimes escalates. Instead of sending a young person to jail, a plan is created for real justice with input from the victim, law enforcement and family and also a real plan for the child to succeed in life in the future.
Representing one of the newer generations of community leaders was Dominic Ware, of OURWalmart. Originally starting at Walmart as a holiday hire, Ware hoped that hard work and trust in such a profitable company would be his ticket out of a brush with the criminal justice system and into a home and a job where he could support a family. Instead, Ware found his hours cut after the holiday crunch time and, with more time to talk to fellow employees who had been with Walmart longer, quickly realized that he wasn't the only one facing unsatisfactory working conditions.
These problems were coupled with a lack of respect from superiors who did not deign to greet employees on the floor, but would instead bark orders to them over the loudspeakers at the store. Ware brought these issues to a manager using Walmart's vaunted "open door policy," which the company touts in lieu of accepting a union in the workplace.
"I'm 27, I didn't know nothing about a union," said Ware of the experience. Joining the workers' organization OURWalmart, Ware "learned how being a worker, even the 8-hour shift was fought for … people have been fighting for years for worker rights!"
Shortly after joining OURWalmart, Ware was fired for striking for a day from the San Leandro store. Recently Ware and other Walmart strikers won a ruling from the federal government that the firings had been in violation of labor law and that the workers are entitled to get their jobs back.
Among the many leaders also honored at "We Tell Our Stories" were representatives from local groups ACCE, EBASE, Allen Temple AIDS Foundation, REVIVE Oakland, the Black Organizing Project, and Peacemakers. Attendees, both younger and older, also performed poetry and songs.
"We Tell Our Stories" will also go on to be developed into a film project. Artists and activists will collaborate with people in the community to bring stories like the ones told at the event to the screen, highlighting the work being done in the Bay Area to bring change.
Toussaint, one of the drummers performing for the crowd, captured the spirit of the night, saying, "We're here to celebrate Black History Month, but black history is made 365 days of the year… We're making history here tonight."
Photo: Marilyn Bechtel/PW