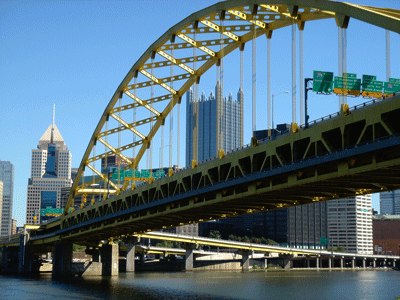 Labor history will be made in Pittsburgh next month.
We're sending a top-notch team of writers, photographers, podcasters and videographers to bring you on-the-spot coverage. Every day online you will be able to see, hear and read first-hand accounts of the AFL-CIO, Pride At Work and International Labor Communications Association national conventions. Then, the following week, we'll be bringing you instant online coverage of the critical G20 economic summit and labor's protests, also taking place in Pittsburgh.
We'll be asking the questions that you want asked of the labor leaders and activists gathered from all over the country and around the world during those electrifying two weeks.
You can help us make this kind of coverage happen.
First we need you to dig deep and send us the most generous contribution you can afford. We are so excited about all of our new online capabilities, including the launch of our new web site in September. We can't wait to try them out in Pittsburgh at what is sure to be a historic turning point for labor and working people. And we don't have to tell you, it all costs money.
Second, we want to ask the questions that you want asked. Along with your contribution, send us your questions that you want answered in Pittsburgh. In this way you'll be joining us in Pittsburgh as co-producers and co-reporters.
And if you are actually going to be in Pittsburgh in person for these important events, then drop by our hospitality suite. We'd love to see you and get your take. Stay tuned to the People's World, www.pww.org, for details.
Tell us the questions you want us to ask:
E-mail your Pittsburgh questions to
or drop us a note to our Chicago editorial office:
People's Weekly World
3339 S. Halsted St.
Chicago, IL 60608.
DONATE:
• online with credit card:
• by phone with credit card: 646-437-5355
• by mail with check or money order to our New York business office: People's Weekly World, 235 W. 23 St., New York NY 10011
Thank you!