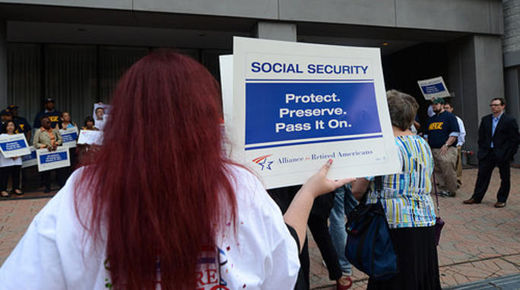 Last month Republican House members went after Social Security on their very first day at work. Some 11 million people who receive Social Security disability benefits could see their benefits cut by 20 percent in 2016 and cuts to Social Security retirement benefits for everyone could also be in store. Here's what some other folks have to say about that and other attacks Republicans may launch against Social Security.
The coalition Social Security Works says last month's action barring transfer of funds from the Social Security Retirement Trust Funds to the Social Security disability program-known as reallocation-unless taxes are raised or benefits are cut is "stealth attack on America's working families."
Like other stealth attacks against the American people's Social Security, the groundwork is being laid in advance. It will suddenly explode sometime in the next two years. The rule change would prohibit a simple reallocation! It will require more significant and complex changes to Social Security. In other words, the Republican rule will allow Social Security to be held hostage….Hostage-taking to force changes that the American people do not want to a vital program like Social Security is no way to run the United States of America.
Kathy Ruffing of the Center on Budget and Policy Priorities says:
"By barring the House from approving a "clean" reallocation in 2016, the rule will strengthen the hand of lawmakers who seek to attach harsh conditions (such as sharp cuts in eligibility or benefit amounts) to such a measure."
Max Richtman, president of the National Committee to Preserve Social Security and Medicare, said:
"It is hard to believe that there is any purpose to this unprecedented change to House rules, other than to cut benefits for Americans who have worked hard all their lives, paid into Social Security and rely on their Social Security benefits, including Disability Insurance, in order to survive."
Richard Eskow of the Campaign for America's Future asks on Huffington Post, "Why are they doing this?"
Undoubtedly, one reason is to please campaign contributors. Wealthy individuals, like conservative billionaire hedge-funder Pete Peterson, are committed to gutting the program. Many defense contractors and Wall Street firms are involved in the campaign to cut Social Security through a group called 'Fix the Debt,' despite the fact that Social Security doesn't contribute to the federal debt. (Ironically, all of these firms have benefited greatly from public expenditures.) What's their motivation? Among other things, Social Security cuts would ensure that they're not asked to pay more in taxes.
And then there's this scary reminder from Eric Laursen at AlterNet, "Rep. Paul Ryan (R-Wis.) is now chair of the House Ways and Means Committee.
This makes him an even bigger force on Social Security policy than he was as Budget Committee chair, when he repeatedly called for hobbling the program….With Ryan heading up their response, the Republicans are more likely to insist on drastic changes to the entire program."
Looks like they've already started.
The above article appeared in the AFL-CIO Now Blog.