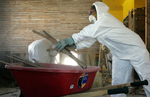 Resisting war
The National Youth and Student Peace Coalition sponsored a "Day of Resistance" March 16 in communities across the country. Open mikes, concerts, marches and other events were organized to provide places "where our generation can raise our voices against the Bush administration's reckless policies of greed and destruction." In New York, students at LaGuardia High School did counter-recruitment work inside their school. The coalition noted that members of Congress would be in their districts, "your neighborhoods," and urged students to speak up and influence them.
MySpace postings provoke suspensions
Students are being monitored and in some cases illegally suspended from their schools because of postings they made on web sites like MySpace or Facebook.com.
According to an article in Paly Voice, published by students at Palo Alto (Calif.) High School, a student in Littleton, Colo., was threatened with suspension for posting negative comments about his school until the American Civil Liberties Union intervened. At East Grand Rapids (Mich.) H.S., about 20 students were suspended from sporting events and school parties for posting pictures of themselves drinking.
Maggie Thompson, author of the Paly Voice article, said schools should not suspend students for activities that happen outside school or spy on their Internet accounts.
College students flock to NOLA
Spring Break is usually associated with sun-drenched fun in Daytona Beach, Fla. But this year thousands of youth are using their holiday to fill in the gap left by federal neglect, by helping in the Katrina-devastated Gulf Coast. They have been organized by community, religious and political organizations, including Common Ground, a progressive New Orleans-based group, churches and an organization led by former Sen. John Edwards.
Basketball star's manifesto
Adam Morrison, the star forward for Gonzaga University, is a hero for many. The leading college scorer in the country is a diabetic and a free-thinking guy. News reports ate it up when Morrison said he hung a poster of Karl Marx on his dorm wall, and read "The Communist Manifesto." Morrison said he reads "a lot of stuff," and that his interest in Marx started when he read the Manifesto in high school. "Ever since," he said, "I was interested in the whole thing." Gonzaga won its first two NCAA tournament games, earning a "Sweet Sixteen" spot.