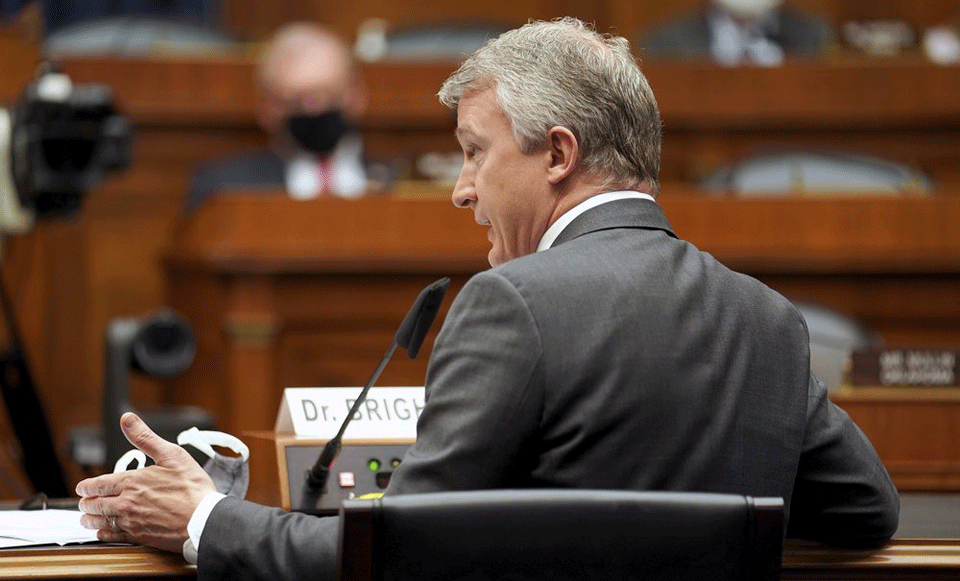 Dr. Rick Bright, the top Health and Human Services official dumped by Trump for blowing the whistle on the administration's disastrous response to the coronavirus pandemic, testified to Congress Thursday that essentially everything the president is saying about his administration's response to the pandemic is a lie.
One of the most damaging of those lies, Bright said, is that a vaccine is just around the corner. It's a much longer way off, he said, and there is no plan to get the vaccine out to the public in any kind of fair and equitable manner.
Bright also said he had warned the administration about shortages of personal protective equipment, and he blamed Trump for minimizing the disease early on with deadly consequences.
"I believe Americans need to be told the truth," he declared. "We did not forewarn people. We did not train people. We did not educate them on social distancing and wearing a mask as we should have in January and February. All those forewarnings, all those educational opportunities for the American public, could have had an impact in further slowing this outbreak and saving more lives."
Presenting the possible consequences of that lost time and misinformation, Bright said, "If you can imagine the scenario this fall or winter, maybe even early next spring, when the vaccine becomes available, there's no one company that can produce enough for our country or for the world. It's going to be limited supplies.
"We need to have a strategy and plan in place now to make sure that we can not only fill that vaccine, make it, distribute it, but administer it in a fair and equitable plan. We do not have that yet, and it is a significant concern," he said. Even if a vaccine is eventually found to be effective and approved for use, Bright said the U.S. has not been preparing for its distribution—only in the month of May have orders been placed for syringes and needles.
What Bright did not remind the lawmakers about was that as he was testifying, experts from all over the world are meeting in London, under the auspices of the World Health Organization, to both develop and plan for distribution of a vaccine. Because Trump has pulled out of participating in WHO, the U.S., the country much of the world expects to lead the international effort, is not even present. That absence can only harm efforts to protect Americans. An outbreak anywhere in the world can continue to threaten the health of people everywhere, Americans included.
Bright testified that he raised red flags about the lack of protective equipment in the national stockpile in January. Because of the shortages, he said, "lives were endangered, and I believe lives were lost.
"Not only that, but we were also forced to procure the supplies from other countries without the right quality standards, so even our doctors and nurses in the hospitals today are wearing N95-marked masks from other countries that are not providing the sufficient protection that a U.S.-standard N95 mask would provide them," he said.
Again, he did not mention that pharmacies, hardware stores, and even dollar stores across the country are selling such masks marked "N95" that are not true N95s by CDC standards.
Bright testified that when he said there would not be enough masks, he was told that if that problem developed the CDC could just change its guidance and tell people not to wear masks because they are needed by health professionals. "I could not believe they could say something like this with a straight face," Bright said to the lawmakers.
Bright's testimony came as days have passed since Americans last heard from health officials and scientists. Trump has replaced presentations by them with presentations from himself. Medical doctors who are part of the national Coronavirus Task Force at the White House have been pulled off the stage, and for two days now Trump has broken publicly with Dr. Anthony Fauci, calling his warnings about opening states too early "unacceptable" and accusing him of "wanting to play both sides."
Bright said that what is needed is a "well-implemented national response plan" heading into the fall. "Without one," he said, the coronavirus outbreak could combine with the seasonal flu later this year to create "the darkest winter in modern history."
Health and Human Services Secretary Alex Azar, who Bright says ignored his warnings about the country's readiness, said Bright's testimony was "outdated."
"Everything he's complaining about was achieved. Everything he talked about was done," Azar said angrily on the White House South Lawn Thursday afternoon. "Every single thing." His remarks delivered almost as a tantrum, left no doubt about whose pocket he is residing in, killing any and all earlier speculation that he might be at least partially independent of Trump.
Azar was standing next to Trump, who called Bright "an angry, disgruntled employee who, frankly, according to some people, didn't do a very good job." There is not a single doctor or scientist now for whom the president has had any kind words.
Bright has impressive credentials, unlike Trump's son-in-law Jared Kushner, an example of the type of person upon whom Trump does rely for advice.
Bright was deputy assistant secretary of health and human services for preparedness and response, as well as director of the Biomedical Advanced Research and Development Authority.
One of his allegations is that he was pushed out of his positions because he opposed "efforts to fund potentially dangerous drugs promoted by those with political connections."
Some Republican lawmakers at the congressional hearing yesterday continued to push anecdotal stories and unfounded reports about the efficacy of hydroxychloroquine, a malaria drug pushed by Trump. Legitimate double-blind studies have already found the drug to be dangerous in treating COVID-19 patients, causing heart problems in many of them.
Given the opportunity to hear from a scientist about inadequacies in the U.S. response to the virus and a chance to begin fixing the problems, GOP lawmakers chose instead to push conspiracy theories and defend Trump's discredited claims. One Republican representative used his time to question whether Bright had enough paid sick leave to take off from work to testify yesterday.
Trump didn't wait to hear Bright's testimony before he called him a "disgruntled employee" Twitter Thursday morning.
"I don't know the so-called Whistleblower Rick Bright, never met him or even heard of him, but to me, he is a disgruntled employee, not liked or respected by people I spoke to and who, with his attitude, should no longer be working for our government!"
Happily for the country, Dr. Bright is a public career official whom the president does not have the right to fire.