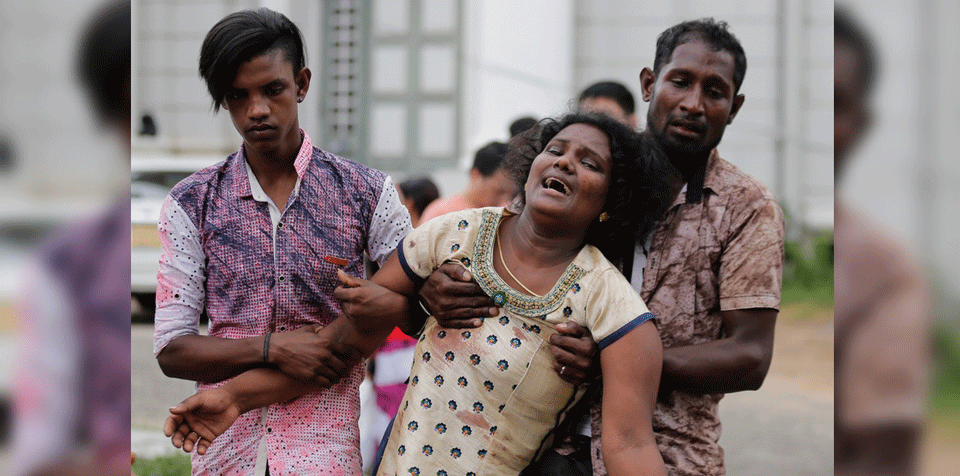 The horrific wave of bombings that rocked Sri Lanka on Easter Sunday is a watershed moment in the island's troubled history.
Hundreds have died and many of the victims are still unidentified.
There is also a race to understand who was behind the slaughter — and how they were able to carry it out.
The choice of targets — simultaneous suicide bombs at churches and luxury hotels — is reminiscent of an al-Qaida or Isis attack.
The idea that Islamist extremists are responsible is certainly a narrative that some Sri Lankan officials are pushing.
Today a local Muslim group, National Thowheed Jama'ath, was being blamed — allegedly in cahoots with shadowy foreign backers.
There are certainly some Muslims in Sri Lanka who may exhibit extremist tendencies. Not far from the bombing at Batticaloa on the island's east coast lies the town of Kattankudy, where many of the local Muslim community are influenced by Saudi-style Islam.
Much has been written about the "Wahhabi invasion" on the island's once moderate Sufi Muslims, and it would be easy to blame conservative Islam as the incubator for these atrocities.
But there is also plenty of evidence that points in other directions, and at the time of writing some 24 hours after the explosions, no group has claimed responsibility.
The confusion is evident just by watching the rolling news channels, which yesterday were struggling to put out a neat linear narrative.
Many British media platforms pulled their correspondents out of Sri Lanka when the civil war between the Tamil Tigers and government forces ended a decade ago, leaving news anchors struggling to understand the complex patchwork of Sri Lanka's ethnic and religious make-up.
The well-trodden "war on terror" grand narrative, a clash of civilizations between Muslims and Christians in a 21st-century crusade, makes little sense in Sri Lanka where both these religious groups are minorities — and have often been persecuted by the majority Sinhala Buddhist community.
In one case, the Sri Lankan air force bombed a Catholic church in Jaffna, St James, killing scores of civilians in 1993.
A British Tamil journalist, Thusiyan Nandakumar, bravely tried to make this point in a BBC interview yesterday — that historically Tamil Christians are more likely to have been massacred by the Sri Lankan military than Islamist extremists.
Such is the nature of Sri Lankan politics that Nandakumar, a Tamil, was then trolled by patriotic Sinhala keyboard warriors for making this historically accurate point.
He received thousands of hate-filled messages that left him fearing for his safety.
The backlash rather underlines the point that Sinhalese Buddhist groups in Sri Lanka do have a history of religious intolerance, which can either be exercised through their presence in state structures or in street movements.
Last March saw some of the worst anti-Muslim rioting in Sri Lanka, which was led by Sinhala Buddhist mobs, fueled by Islamophobic rumors circulating on social media — and crucially given support by riot police who seemed to evaporate in several locations, allowing mobs to move in.
If the Muslim community in Sri Lanka was feeling vengeful, then an attack on Buddhists would have been more predictable than this assault on Christians at Easter.
When Muslims have resorted to political violence in Sri Lanka before, it has not taken on an anti-Christian dimension.
Indeed, a "Christian identity" holds little political traction in Sri Lanka, where the larger communities tend to identify along ethnic lines.
The Tamil Tigers, a secular movement, were composed mainly of Tamil speakers who were Hindu or Christian. In their early years, their ranks also included Tamil-speaking Muslims.
The Sri Lankan military recognized the threat posed by a pan-Tamil alliance, and from 1985 took deliberate steps to drive a wedge between Tamil Muslims and non-Muslim Tamils in the Eastern province.
The security forces aided and abetted Muslim attacks on the village of Karaitivu, which soured Tamil-Muslim relations for decades to come.
There is now a real risk that after yesterday's bombing at the Zion Church in Batticaloa, those old tensions in the Eastern province could reignite into anti-Muslim riots.
Such a scenario would benefit Sri Lanka's deep state Sinhala Buddhist structures, as it would see further division among the Tamil-speaking people in the east.
It would also allow the security forces to intervene, unusually, on the side of the non-Muslim Tamils — at a time when military leaders are facing international sanction for war crimes they committed against this same group a decade ago.
Political figures like the country's former defense secretary Gotabhaya Rajapaksa, who was recently served with a war crimes suit while traveling abroad, is running for president — and will cast himself as the anti-terror candidate.
He could also absolve himself internationally if the terror threat was now from Islamist extremists, rather than the Tamil Tigers, who never neatly fitted the "war on terror" mold as much as he tried.
This "who benefits" question has even led some to speculate that Gotabhaya himself may have had a hand in Sunday's bombings.
Sections of the military apparatus are still loyal to his family and would have the capability to pull off such an attack — or at least ensure a blind eye was turned.
There are already reports that warnings on the attacks were ignored, raising questions about why these attacks weren't stopped.
Sri Lanka is such a heavily militarized society, it is hard to imagine how a plot like this went undetected.
The attackers' ability to strike simultaneously at three of the country's most luxurious hotels, where security is tightest, is almost incomprehensible.
As is the news that a pipe bomb was found, unexploded, outside the international airport, which is also a high-security military base.
But even this elaborate deep-state scenario ultimately does not add up. The bombing of hotels will have almost destroyed Sri Lanka's tourism industry for the foreseeable future, an industry in which the military has a large stake — its personnel run numerous resorts.
And so we may never know who was really responsible. Sri Lankan police say dozens of suspects have been taken into custody, but this is a police force with a proclivity to torture — a tactic which will irrevocably tarnish the testimony of those they interrogate.
What will matter is the perception of who was responsible, and how those with power will be able to play this to their advantage. The careful inter-faith work that the clergy in Batticaloa has done over the years will now be more vital than ever to prevent a spiral of violence.
This article was reposted from Morning Star.