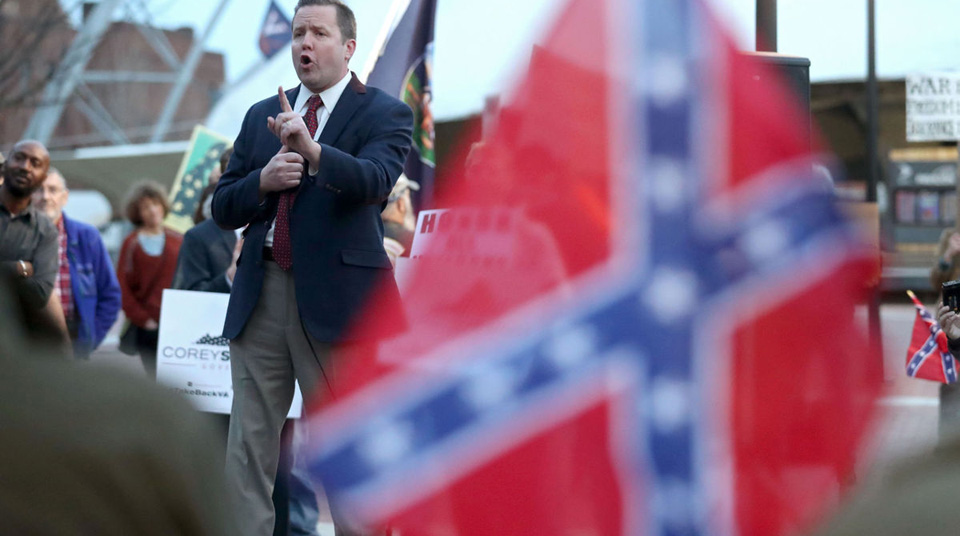 The crime and tragedy of Charlottesville is of national and even international importance, but its specific "Virginia" context is also important to understand, as is the role of Virginia politicians like Corey Stewart, who has announced his candidacy for the federal Senate seat now held by Tim Kaine in the 2018 midterm elections.
Virginia has elections this year for governor, lieutenant governor, and all 100 seats in the House of Delegates, which is the lower house of the state legislature.
Although historically the heart of the Confederacy and a bastion of racist Jim Crow politics, Virginia has in recent years been a swing state in elections. It went for Obama in 2008 and 2012, and for Clinton in 2016. Both current U.S. senators are Democrats (Mark Warner and Tim Kaine), and of the eleven federal House seats in Virginia, four are held by Democrats and seven by Republicans. The current elected state executive officers are all Democrats: Governor Terry McAuliffe, Lieutenant Governor Ralph Northam, and Attorney General Mark Herring. Yet the Republicans hold a slight majority in the state Senate (21 to 19), and a very large one in the House of Delegates (66 to 34).
How can that be? One important reason is that the election calendar in Virginia is staggered, so that federal, state executive, state Senate, and House of Delegates elections are not all held during the same year. So the excitement generated by a national presidential election, or even a federal midterm election, is absent during purely state elections. This affects turnout, to the detriment of the Democrats.
Nationally, the Republican game plan at present is to emphasize gerrymandering and vote suppression, which has a disproportionate impact on minority and low income working class people—the Democrats' natural base.
In this year's Republican primary for governor, the candidate of the extreme right was Corey Stewart, the head of the Prince William County Board of Supervisors. Stewart, who according to his own description was "Trump before Trump was Trump," relies on the same right-wing populist appeal as the current occupant of the White House.
As early as 2007, Stewart had targeted Prince William County's growing Latino immigrant population with false claims that they were the source of a mostly imaginary crime wave. He pioneered the idea of deputizing Prince William County Sheriff's Department police to demand proof of citizenship or legal residence from Latino people they contacted, for example, in traffic stops. Stewart falsely claimed that this had lowered the crime rate in his county.
In this year's election, he has continued to emphasize anti-immigrant themes such as denouncing sanctuary cities, but has also picked up on the issue of Confederate monuments.
This is where the Charlottesville events come in.
The South shall fall again
After the June  2015 massacre committed by Dylann Roof in the Emanuel African Methodist Episcopal Church in Charleston, South Carolina, a national movement began for the removal of monuments and place names which honor Confederate generals and politicians from public spaces around the South. In Virginia, this is a tall order because there are so many of them, but there has been some progress.
Roanoke, Arlington, and Alexandria, as well as Loudon County and the state capital, Richmond, are all communities where this issue has been raised and, in some cases, votes have been taken in local legislative bodies.
The statues of Confederate Generals Robert E. Lee and Thomas "Stonewall" Jackson in Charlottesville, in the parks respectively named for these two individuals, were targeted for removal, and in February, the Charlottesville City Council voted by three votes to two that they must go.
Statues of Lee, who commanded the Confederate Army of Northern Virginia in many Civil War battles, and who is considered a great hero by Southern white racists, are particularly offensive for many African Americans.
He was not a mild-mannered statesman who, after the war, worked for the unity of the nation, as some apologists claim.
When he was still a colonel in the federal army, Lee was the executor of the estate of his father-in-law, George Washington Parke Custis. Old Mr. Custis had told the slaves on his Arlington, Virginia, plantation that when he died, they would be free. But Lee, as executor, tried to delay their freedom and when some of them left the plantation anyway, he had them pursued, captured, brought back to Arlington, and whipped.
During the campaign of the Army of Northern Virginia that ended with its defeat at the Battle of Gettysburg, Lee's troops rounded up free African Americans, including children, in the Pennsylvania towns through which they marched and dragged them to slavery in the South.
So it was only a matter of time that in various Virginia communities, including Charlottesville, a university town that went for Hillary Clinton in the 2016 election, efforts to remove these racist monuments from public view would begin to move forward. For war monuments, however, the problem has arisen that Virginia law does not permit local governments to remove or modify them without the official permission of the state legislature.
But Lee, whose Charlottesville statue was erected in 1924 during the worst Jim Crow and lynch-law days, and his ilk were recognized traitors to the United States, which some people think should surely make a difference in whether their monuments go or stay.
Anyway, courts have temporarily blocked the statues' removal, but on June 5, Lee Park was renamed Emancipation Park and Jackson Park was renamed Justice Park.
Corey Stewart: Defender of the Confederate legacy
Corey Stewart, seeking to win the Republican primary by getting the fervent support of hardcore racists and Trump voters, began to target Charlottesville, Roanoke, and Richmond for grandstanding campaign events which heavily emphasized opposition to removing the statues.
Stewart visited Charlottesville to denounce the proposal to remove the statues in February and said on that occasion, "Nothing is worse than a Yankee telling a Southerner that his monuments don't matter."   Stewart evidently does not consider African Americans in the South to be "Southerners." He is, by the way, from Minnesota, a state whose soldiers were an important component of the Union victory in the Civil War.
Stewart ran for governor on the issue of the statues and "illegal immigration" and was considered to be too extreme to win votes beyond his hardcore racist basis. But in the Republican Primary on June 13,     he shocked many by coming within one percentage point of beating the "establishment" Republican candidate, Ed Gillespie, a long-time Republican Party operative. Gillespie has since mimicked Stewart on the immigration issue, while using more sedate language.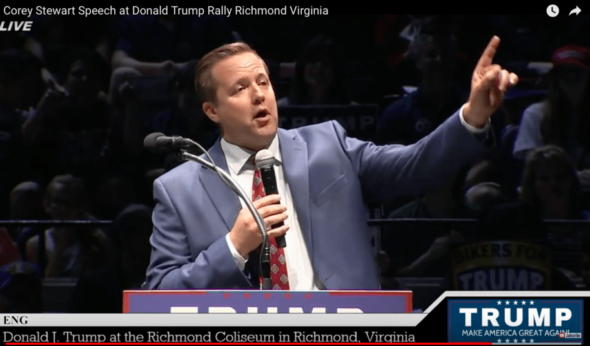 As of August 9, according to a Quinnipiac University Poll, the Democratic Party candidate for governor, Ralph Northam, is ahead of Gillespie 47 to 39 percent, but Democrats and progressive political organizations are taking no chances lest this advantage be negated by low turnout and vote suppression.
Meanwhile, Stewart has announced his candidacy to replace Democratic Senator Tim Kaine in next year's federal midterm elections. He says he will run a "vicious, ruthless" senatorial campaign. It's a safe bet that he will continue to use the demagogy about "our [white] Southern heritage" and the issues of the Confederate statues and "illegal immigrants" in that campaign as well.
The vote in Charlottesville to remove the statues and change the parks' names, plus Corey Stewart's demagogic agitation on the issue and focus on Charlottesville specifically, were a major motive for the ultra-right movement to target the city, specifically, for their "Unite the Right" rally on Saturday.
It is in this context that the tragedy and crime of Saturday, August 12 unfolded.
An earlier version of this article incorrectly stated that General Robert E. Lee commanded the Army of the Potomac. He led the Army of Northern Virginia. We thank our readers for catching the error.