European nations, including Germany, France, and Britain, are calling for a "credible investigation" of the disappearance of Washington Post columnist Jamal Khashoggi.
Khashoggi entered the Saudi consulate in Istanbul on October 2 and never came out. Turkey said he was tortured, killed, and dismembered by a Saudi hit squad that had entered their country. The reactionary Saudi government, of course, says the charges are false.
Germany, France, and Britain framed their response in the context of freedom of expression and the protection of the rights of journalists, which they said was the paramount issue. "We encourage joint Saudi-Turkish efforts (to investigate), and expect the Saudi government to provide a complete and detailed response," their joint statement added.
The outcome of this investigation doesn't look promising. Saudi Arabia and Turkey have formed a "working group" to investigate. Considering the human rights records of both countries, the only question to be settled here is what price the Saudis are willing to pay for a Turkish-endorsed finding of "inconclusive" or, better yet, a finding that the Saudis are innocent.
The world already knows, or at least that portion of the world that pays attention to things, that the killing of Khashoggi is part of an ongoing scandal that involves the Saudis, the United Arab Emirates, and the Trump administration. The only thing we don't know is the exact extent to which Trump himself was involved in or at least knowledgeable of the mechanics of the killing.
That this administration is culpable, however, we already know.
It goes back to a 2016 meeting at Trump Tower—not the meeting everyone has talked about for the last two years in relation to Russian election interference, however. The New York Times reported on May 19, 2018, that there was a second highly consequential meeting on August 3, 2016, three months before the 2016 election. That gathering involved Donald Trump Jr. meeting with George Nader, an emissary for the princes of Saudi Arabia and the United Arab Emirates, Joel Zamel, an Israeli specialist in social media manipulation, and Erik Prince, a Republican donor who had founded the Blackwater security firm.
After that August meeting, there were frequent and regular meetings between Nader on behalf of the Arab princes and Jared Kushner, Trump's son-in-law, and (now convicted felon) Michael Flynn on behalf of Trump. The Arab princes, through Nader, were pushing for a plan to destabilize Iran, the enemy of the Saudis. Since Nader is now cooperating with Special Counsel Robert Mueller, it is assumed Trump collusion with the Saudis to influence an American election is also a focus of the Mueller probe.
The Saudi Crown Prince, Mohammed bin Salman, backed Trump in part because of his unhappiness with then President Barack Obama's nuclear agreement with Iran and statements of support for the Arab Spring uprisings all over the Middle East. The prince wanted a U.S. president who would line up with him 100 percent against Iran.
Since he became president, Trump and his son-in-law have engineered a number of highly lucrative financial deals with the Saudis and the UAE. Whereas Qatar backed out on a multi-million dollar loan to the Kushner family, the Saudis granted Kushner more than $900 million to bail out his failing ventures. With the Saudis having backed Trump's campaign and continuing to pour tens of millions of dollars into his and his son-in-law's pockets, it is no wonder that the president has jumped through hoops to back the Saudis ever since he entered the White House.
It started with his first trip abroad when he flew to Saudi Arabia to eat and dance with the princes at several opulent balls. When Qatar refused a huge loan to Kushner after having had the audacity to back the Iran nuclear arms deal, Trump announced support for Saudi efforts to isolate that country. He did it over the objections of Rex Tillerson who was then his own Secretary of State. Qatar had served as a loyal ally to the U.S. and had long backed Exxon's plundering of the Middle East, the company from which Tillerson hailed.
After pleasing Mohammed bin Salman with his turnabout on Qatar, Trump then withdrew from the Obama administration's nuclear deal with Iran, giving the Saudi prince perhaps his biggest payoff up to that point.
It is not surprising then that MBS, as the Saudi prince is known, has become used to Trump doing his bidding any time he asks for something. MBS is getting what he expects from the hundreds of millions of dollars he has given the Trump family personally and from his promise to spend more than $100 billion on U.S. weapons—armaments he needs to continue his mass extermination of civilian populations in Yemen.
The president has made clear that canceling those arms deals and sacrificing the profits they bring to U.S. companies like Boeing, Lockheed, and Raytheon is not an option he's considering for punishing Saudi Arabia. "They are ordering military equipment. Everybody in the world wanted that order," Trump said this weekend. "We got it, and we got all of it, every bit of it."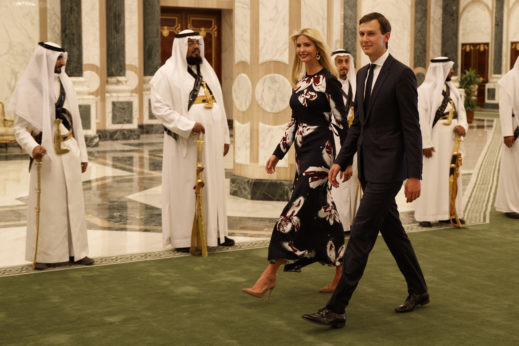 U.S. administrations have long preferred to remain silent when Saudi Arabia engaged in egregious human rights violations, brutal public executions, and the oppression of women. Trump departs from that tradition only in the extent to which he is prepared to brazenly declare that it is profit which determines his foreign policy.
As for MBS, killing a journalist here or there certainly would not be too much to ask the U.S. to put up with, he is likely to have thought, when he ordered the torture-murder of Khashoggi. Trump had shown he was already willing to back the blockade of a longtime ally and risk world peace by canceling a nuclear disarmament deal with Iran. Why wouldn't he look the other way when a journalist who was critical of MBS was tortured, killed, and chopped into pieces?
U.S. intelligence sources have already made it clear that they knew about the MBS plan to lure Khashoggi back to the Middle East to silence his criticisms of human rights by the Saudi government. It is impossible to believe then that Trump did not have this knowledge.
At the very least, Trump is guilty of condoning silence and not warning Khashoggi of what would happen to him if he stepped back onto Saudi territory or into a Saudi consulate or embassy.
At worst, the President of the United States is implicated in the actual murder of the journalist.
Given the history of his intimate collusion with international criminals and autocratic thugs who run some other countries, can anyone be blamed for thinking the worse when it comes to Donald Trump? All the more reason to wrest control of the House and the Senate from the GOP on November 6. That's Step 1 in ending the Trump's grip on the nation.