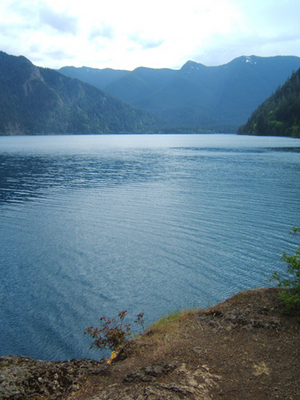 OLYMPIC NATIONAL PARK, Wash. — Nathan Goff, a house painter in Olympia, Wash., drove his wife, Missy, and 19-month-old daughter up to Hurricane Ridge here June 8. The ridge, just a few feet shy of one mile above sea level, is the crown jewel of Olympic National Park. It commands a stunning view of Mt. Olympus to the south and a breathtaking view of the Strait of Juan de Fuca and British Columbia to the north.
It was a chill spring day and the alpine meadows were still blanketed with snow. The young couple stood gazing down into the deep valley of the Elwha River. Directly across loomed the snowy crags of Bailey's Range. It was so silent and peaceful you could almost hear your heartbeat.
"I'm trying to figure out why anyone would want to carry handguns in a national park," Goff told a reporter. "To ward off cougar attacks? They are so rare.
Allowing people to carry guns in the parks just adds another element of danger. It's so totally unnecessary."
To bring home his point he introduced his little girl. "This is Lily Grace," he said. "She is not at all armed."
He was commenting on a change in federal firearms regulations proposed by the Bush administration that would lift a ban on carrying loaded, concealed weapons in all national parks. Instead, the rule would conform to the state firearm law in the state where the park is located. Several states including Florida, Texas and Wyoming now permit carrying handguns either openly or concealed. The Interior Department, which oversees the National Park Service, is in the midst of a 60-day comment period on the proposal to lift the general ban on carrying operable firearms in the parks that has been in effect since President Reagan signed it in 1982.
Bill and Nanette Londeree of Navato, Calif., echoed Goff's view. "This is a solution searching for a problem," Bill Londeree told the World. "There just isn't any big problem of crime in the national parks."
Standing nearby was retiree, Al Phillips of nearby Sequim. "What I'm afraid of is if somebody had a gun, they'd start firing away. I'd rather keep firearms out of the parks," he said. He glanced toward the mountain range in the distance. "It seems strange to have a natural setting like this and then introduce firearms into it. If we had guns in the parks we would have more problems. These parks are places where people are free to relax and not worry about guns and people who carry them."
Wendy Goldberg, a resident of Sequim, was stirred to write a letter to the Peninsula Daily News arguing, "A gun-free park enhances pubic safety and helps prevent poaching." She urged readers to send comments on the rule-change to the Interior Department by going to regulations.gov and locating Docket FWS-R9-NSR-2008-0062-0001. Goldberg said in a phone interview that she and her husband — a board member of Friends of Olympic National Park — are strongly opposed to the rule change. "When we read the Second Amendment, we read a 'well regulated militia' has the right to bear arms," not individuals spending recreation time in our nation's parks, she said.
Doug Pennington, spokesperson for the Brady Campaign to Prevent Gun Violence, told the World, "There is negligible crime in the national parks." The National Rifle Association, he added, "is trying to gin up as much fear as possible to push this rule through." He cited a flurry of statements by U.S. park rangers, both active and retired, arguing strongly against lifting the arms ban.
The Coalition of National Park Service Retirees blasted Sen. Tom Coburn (R-Okla.) for his amendment authorizing the rule change. "It is a hoax to suggest that there is some big demand for people to be able to tote semi-automatic weapons on the trails of Yellowstone or 9-millimeter pistols on the steps of the Lincoln Memorial," they wrote. A member of the group's executive council, Doug Morris, called Coburn's bill "an appalling pander to a powerful special interest group," the NRA.
Some see an ulterior motive in this "states' rights" gun campaign. Since he took office, George W. Bush has been determined to open the 636 million acres of federal lands to oil, gas, mining and timber exploitation. Mobilizing the ultra-right gun lobby in opposition to the federal ban on firearms in the national parks fits in with the corporate drive to privatize the federal lands. The Natural Resources Defense Council warns that with the Bush-Cheney tenure nearing its end, "federal officials across the West are redoubling their efforts to lease these areas for oil and gas development and to approve permits to drill them, virtually guaranteeing the industrialization of millions of acres of previously wild and open land. Already, almost 26 million acres of these lands have been leased."
It adds that corporate greed threatens even the most "iconic" wilderness areas. "The White House energy plan endangers the wildlife and resources of several of our nation's most celebrated wild regions including unspoiled stretches of the Greater Yellowstone ecosystem and Utah's Redrock Canyon country."
greenerpastures21212@yahoo.com