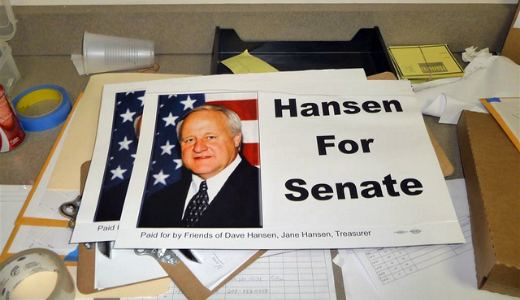 After sweeping away the Republican effort that ran fake Dems against them July 12, the recall fever got an enormous boost July 19 in state Senate District 30 when Democrat incumbent Dave Hansen easily crushed a legally challenged Republican challenger. David VanderLeest, 66 percent to 34 percent, with two-thirds of the nearly 31,000 turnout (early numbers).
That contrasted remarkably with the feebler numbers in Republican primaries that same day. The showing was best in neighboring Senate District 12, where the GOP launched an advertising blitz even before the polls closed, anticipating the edge for Kim Simac, a Vilas County tea party activist and riding club owner who has been working on Palin-like Twitter simplicities. Sure enough her modest 11,000 votes were several thousand ahead of traditional Republican Robert Lussow.
It's a victory that says more about today's confused Republican Party than about her chances August 16 against Democrat incumbent Jim Holperin, at one time thought to be the most threatened Democrat. It's time for the pundits to rethink, given the indifference of the Republican voters, given Simac's strange track record and measuring the Democrat enthusiasm in a nearby district for Hansen, who won't face the voters again until 2012. Granted, Hansen had a weak opponent, and Holperin will face a Northwoods Patriot whose mouth is her worst enemy, but it also says something about the scrambled eggs the GOP has whipped up these days.
The same date and the same positive feeling among the liberal activists surround incumbent Robert Wirch, the Democrat senator from Kenosha in District 22, who is also prepared for Aug. 16 with a mighty war chest. The Republican primary July 19 leaves him to face a Club for Growth funded conservative and Chicago corporate lawyer, Robert Sietz, rather than home-grown Republican Fred Ekornaas.
But the next really big game date is Aug. 9 when all six of the genuine Democrat challengers take on Republican incumbents.
That Election Day is already making news for the amount of advertising money pouring into Wisconsin's summer elections. Only out-of-state travelers will avoid them, and given the new voter bill they will also have to rush to figure out absentee balloting.
The intensity of all this ad money and the Madison Avenue thinking at work will take a separate column to explore. So for here and now, let's shape the battlefield and core strategies.
It will take only three Democrat wins to change the majority in the Senate – if the remaining two Democrats facing recall survive Aug. 16 – but organizers are aiming to advance all six Democrats.
They're not just relying on public feeling or even the truth that the wind is at they're back. They are actively engaging in "relational campaigning."
That means asking supporters of the recalls who may not live in these Republican incumbents' districts to reach out to those who do – friends, colleagues, family members and retirees, a potent source of votes given Wisconsin's affinity for enjoying the home state for summer homes, trips, vacations and family gatherings. Everyone knows someone who lives in a recall district.
The "Wisconsin Idea" progressive are also talking up the state's tradition of fair play and emphasizing how their candidates are more in keeping with the tenor and values of these districts than the Republican incumbents have demonstrated. If that sounds like a hard sell, just examine the personalities and backgrounds of the candidates.
For the Milwaukee area, Senate District 8, the Democrats have reasons to expect victory for Rep. Sandy Pasch, a Whitefish Bay mother, nurse, teacher of nurses and policy expert who turned to political office only after raising a family. Her resume alone deflects one of the major sharp knives the GOP is trying to put into play – dismissing all the Democrats as "tax and spend" power-grabbers, when the public knows where the power-grab has been.
It's a common tactic of the GOP and its allies in all the contests – what I described in an earlier column as the "vain attempt to paint all the Democrats as somewhere to the left of Sacco and Vanzetti."
But it's particularly ineffective this time. Pasch, for instance, may be progressive but she is also the a healthier mirror of the ever fuzzier Alberta Darling, the incumbent who abandoned the basic values of her constituents and is now ducking the debates that would reveal the opponent as pragmatic and sensible, not extreme.
Pasch not only fits the district like a glove, in Madison she gained a reputation as a conciliator, introducing bills in such areas as mental health that both sides have honored. The power of her ideas comes as much from the civil manner as the light needle, and the practical toughness behind her diminutive appearance recalls how she first campaigned in 2008 from a wheelchair and on crutches when she slipped on the ice. The less Darling has to face her, the more she hopes the GOP ads will sell a fabrication.
Senate District 8 – Democrat Pasch vs. incumbent Darling – includes Assembly Districts 22, 23 and 24, (a few wards of) the city of Milwaukee, then Shorewood, Whitefish Bay, Fox Point, River Hills, Bayside, Mequon, Brown Deer, Menomonee Falls, Thiensville, Germantown, Butler and portions of Richfield.
Senate District 2 – Incumbent Rob Cowles, R-Allouez, faces a veteran who actually first ran as a Republican and then served the nonpartisan role of Brown County executive. She is the highly regarded Nancy Nusbaum, who soundly whipped a fake Democrat July 12. Nusbaum's experience in handling budgets and government debts runs rings around her opponent. The district includes Assembly Districts 4, 5, 6, Oconto, Shawano, Brown and Outagamie counties.
Senate District 10 – Incumbent Sheila Harsdorf, R-River Falls, first expected to blow away a political newcomer, but teacher Shelly Moore is actually given the edge in polls, has a professional campaign team and a message of honesty and integrity while now Harsdorf keeps changing stripes to avoid defeat. Moore's experience with children and families and practical approach not only speaks to voters, but Harsdorf's willingness to play footsie to stay in office has hurt her badly. District includes Assembly Districts 28, 29, 30, Pierce, St. Croix, Polk and Burnett counties.
Senate District 14 Incumbent Luther Olsen, R-Ripon, also can't demean his opponent, because the community knows Rep. Fred Clark is in nobody's pocket. He ran a business, is a noted outdoorsman and is famous for speaking his mind and sticking to his guns. District includes Assembly Districts 40 41, 42, Waupaca, Waushara, Marquette and Green Lake counties.
Senate District 18 – Beyond his votes with Walker, incumbent Randy Hopper (R-Fond du Lac) has to combat his tax record, favoritism to rich friends and curious domestic situation, when his wife revealed during the recall petitioning that he was living in Madison with his young girl friend.
Worse for Randy, his opponent almost took him out in 2008, losing by only a few votes, and she is the highly regarded, knowledgeable deputy mayor of Oshkosh, Jessica King, who recently scored devastating points off Hopper in a League of Women Voters debate carried on the Internet. The region includes Assembly Districts 52, 53, 54, Fond du Lac County and such cities as Oshkosh, Algoma, Friendship, Taycheedah and Fond du Lac.
Senate District 32 – Well behind in the polls, incumbent Dan Kapanke, R-La Crosse, said aloud that he hoped all the public workers in his district would go to sleep Aug. 9. It's his voting record that keeps them awake plus the contrasting strong reputation for public service and open debate of his experienced opponent, Rep. Jennifer Shilling. Region includes Assembly Districts 94, 95, 96 counties Trempealeeau, La Crosse, Vernon and Crawford.
Dominique Paul Noth is editor of the Milwaukee Labor Press. This article was originally published on the website of the Milwaukee Area Labor Council. Photo via WisPolitics.com // CC 2.0