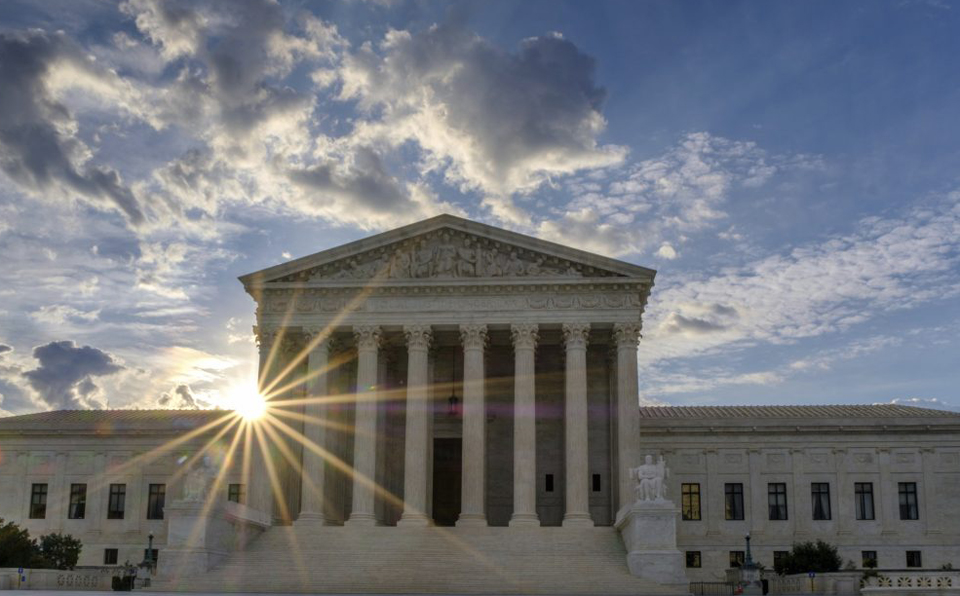 MILWAUKEE – Faced with what it acknowledged was a terrible flaw in constitutional fairness, the U.S. Supreme Court on June 18 nevertheless kicked to the future any finality on two gerrymander cases. By kicking the cases back to lower courts they assured, given the plodding pace of legal proceedings, that biased electoral maps here will still be employed in 2018 and probably again in 2020.
Normally this sidestep would be front page news. But timing was not on the side of fair electoral maps as the horror of children being ripped away from parents at the border overwhelmed the headlines
In Wisconsin, where the U.S. justices flatly denied legal standing for 12 plaintiffs to speak to statewide abuse, they kept open the door to district by district complaints.  Liberal members joined conservatives in the decision about jurisdictional standing, leading to the rare case of an agreeing concurrence that also read like a call to arms for Wisconsin plaintiffs to submit a stronger case.
"Because of the way this suit was litigated, I agree that the plaintiffs have so far failed to establish their standing to sue, and I fully concur in the Court's opinion," noted Justice Elena Kagan.  But then she pointedly added: "But of one thing we may unfortunately be sure. Courts — and in particular this Court — will again be called on to redress extreme partisan gerrymanders. I am hopeful we will then step up to our responsibility to vindicate the Constitution against a contrary law."
Wisconsin's next attorney general (if you listen to public sentiment), Democrat Josh Kaul, underlined Kagan's point: "The Court didn't rule on the constitutionality of the gerrymandered maps. Instead, the Court sent the case back to the three-judge district court to give the plaintiffs the opportunity to prove they have standing to sue," Kaul noted.
Technically, the court ruled that the plaintiffs did not prove or explore individual harm, which was a barrier to criticizing the state's entire district maps.
For many Wisconsin Democrats, though, SCOTUS seemed to suffer from cowardice.  Rep. Fred Kessler, a former judge and acknowledged election map expert, was proud of the lawsuit because it created what SCOTUS had long said it wanted – an objective academic standard of fairly reducing partisan politics in drawing maps and constitutional districts. It is clear that the lawsuit was aimed at one Justice, Antonin Kennedy, who had often said the absence of such a standard was the main blockade to dealing with overly partisan gerrymanders.
A national group led by former U.S. Attorney General Eric Holder, with President Obama cheering from the sidelines, has already stepped in to Wisconsin issues, but this time all the National Democratic Redistricting Committee would say for the record is that "our strategy for fair maps is not dependent upon a single court ruling — and our work is now more important than ever."
But what happens to elections under the existing warped maps?
Nationwide, pundits point out, the 60 plus percent of the American public that opposes Trump's policies are not heard at their full weight because of gerrymandered maps around the nation, not just in Wisconsin. It is hard for these citizens to win once they've been "packed" into strongly Democratic districts, diluting their impact, or "cracked" into becoming slivers of strongly GOP districts, which is how gerrymandering basically works.  It will take Herculean efforts to clean such stables, said several state Democrats contacted.
To some of them, SCOTUS has created a perfect Catch-22 (based on Joseph Heller's satirical novel about an impossible dilemma of opposing rules) – unlikely to win and yet destined to lose even if you win.  The Democrats will have to punch some 12 to 15 percent above their actual weight in numbers to flip conservatively drawn red legislative districts in November– but the circumstances may galvanize the Democrats.  They say they are determined in legislative elections and certainly in the governor's race — which is not conditioned by the district maps.
Flipping may be a big stretch, particularly in the Assembly where the Democrats are down by over 30 members while the state Senate is only a matter of two seats. The court decision, however, may have added to the turnout incentive because the only lasting way to get nonpartisan redistricting reform is to change the legislature.
For many Democrats contacted for this story, all SCOTUS did was stiffen spines and require a blue wave to "wash the scum out of office."
Martha Laning, chair of the state Democratic Party, said in an interview her team was looking at joining the continuing lawsuit.  "The fact that the Supreme Court kept the door open says it all.  We can still end partisan gerrymandering," she said.
"While we won't have new, fair maps for November, we will continue to focus our efforts on electing Democrats up and down the ballot."
But if the Democrats succeed at the ballot box despite the odds, expect conservative lawyers to argue that SCOTUS doesn't need to step in anyway.
It should be noted that Chief Justice John Roberts wrote a majority opinion that keeps the lawsuit alive to fight another day, though Neil Gorsuch and Clarence Thomas wanted to quash it.
Despite a lot of hemming and hawing within its decision, the court did not reject the larger principle of finding the right standard but decided the plaintiffs did not have standing to address the state's entire map of districts, suggesting this could be remedied in future actions.
"We're heading back to the courts," said Sachin Chhedda, a leading Democratic consultant involved in the redistricting efforts. "If anything, a big Blue win will make it clearer how gerrymandered things are."