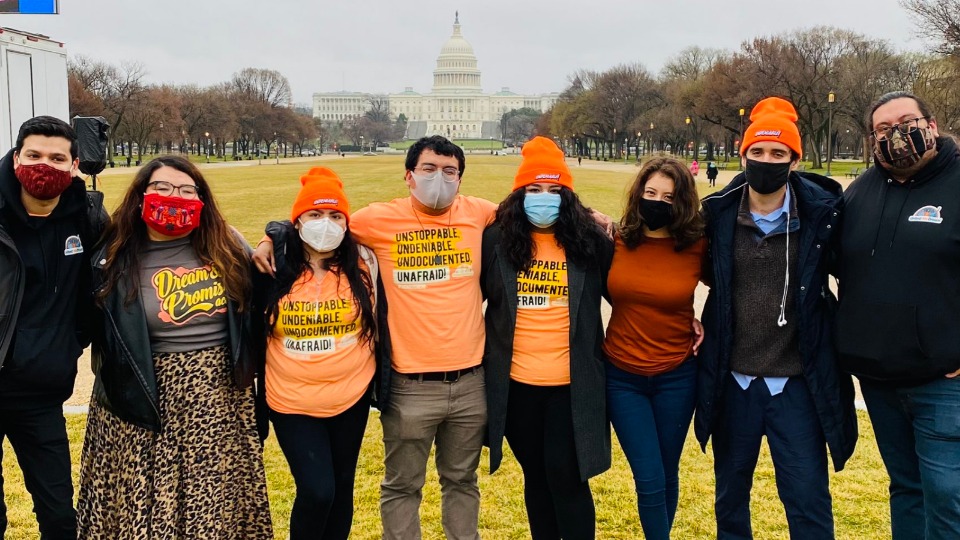 WASHINGTON—With renewed labor backing, this time from the Union Veterans Council, the House voted 227-197 at 6 p.m. on March 18 to pass the Dream Act, formally legalizing and providing an eventual path to citizenship for the 700,000 "Dreamers," undocumented people brought to the U.S. as kids, who are Americans in all but their papers.
The vote, with Democrats backing the Dreamers 218-0 and Republicans opposing them, 197-9, is important. It signals a renewed commitment to legalizing the Dreamers, who have grown up to be teachers, nurses, restaurant workers, building trades members, college graduates, and military service members.
With Senate GOP opposition expected, prospects are uncertain for Democratic President Joe Biden's comprehensive immigration reform legislation. So the Dreamers bill may be the sole measure to pass.
Organized labor has been in the forefront of Dreamers' supporters for years, and Will Attig, Veterans Council executive director, joined that parade March 18. He also made the point—without naming him—that former GOP Oval Office occupant Donald Trump delighted in deporting Dreamers, even those who served in the military.
The AFL-CIO said last year "our entire workforce has benefited from" President Barack Obama's pro-Dreamer Deferred Action for Childhood Arrivals (DACA) program. Trump tossed it and the Supreme Court reinstated it. "Those benefits will continue."
"This program helps to raise wages, support a stable workforce and reduce exploitation in our country.  The lessons of DACA make clear the right way to protect workers is by expanding rights and protections, rather than ramping up enforcement tactics that spread fear in our workplaces and communities." Attig agreed, insisting lawmakers OK the Dream Act.
The council "urges all true champions of veterans on both sides of the aisle to support this critical legislation, which would provide a well-earned path to citizenship to thousands of military veterans and their families and allow our nation to truly thank them for their service.
"Thousands of Dreamers have joined the military and served the United States, the only country they've ever known. Many, too, served in active combat roles and some made the ultimate sacrifice. Once these veterans return home, they help build, feed, serve, educate, and care for our nation…. This bill would finally provide permanent protections," for all Dreamers.
Then came Attig's veiled criticism of Trump: "All veterans deserve dignity when they transition from military to civilian life, both on the job and in their community. But many come home and don't receive equal treatment. Faced with a broken immigration system, far too many men and women have served our country only to be sent away once they come home."
Meanwhile, the Service Employees re-endorsed the Dream Act and also backed new legislation to eventually legalize 5.2 million undocumented adults. Union Executive Vice President Rocio Sáenz said on March 16 its passage would particularly recognize the sacrifices of essential, but undocumented, workers during the coronavirus pandemic.
"From housekeepers and janitors disinfecting our hospitals and office buildings, to health care professionals caring for patients who are sick with Covid-19, to farm workers picking our crops, essential immigrant workers have proven how valuable they are to all of us. They have earned peace of mind and the ability to plan their lives and care for their families without fear of deportation," Sáenz said.
"There's a huge contradiction happening right now. Our own government deems these workers as essential and at the same time deportable because of our broken and inhumane immigration system. That's why SEIU members and essential workers are demanding: 'Respect us, protect us, and pay us.' That includes immigrant workers having access to Covid-19 relief and a roadmap to citizenship, along with $15 an hour and the right to join a union."
That legislation may be more necessary after the latest Supreme Court ruling against undocumented people. The justices voted 5-3, on party lines on March 4, to force any who face minor misdemeanor charges to prove they have the moral character to stay in the U.S.
Justice Neil Gorsuch wrote undocumented migrant Clemente Pereida, and others, could avoid deportation for "moral turpitude" only by proving they "do not stand convicted of a disqualifying criminal offense" which would let the Homeland Security Department throw them out.