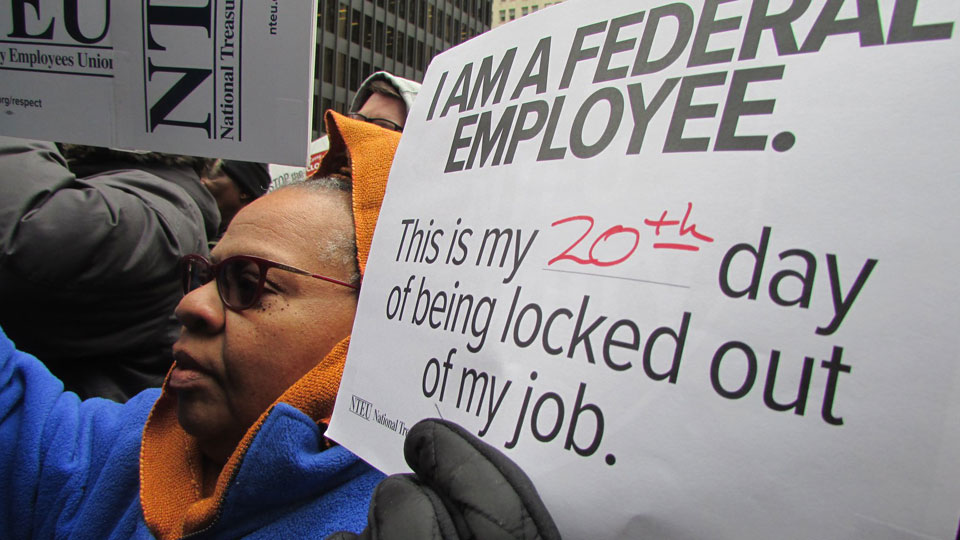 WASHINGTON—With denunciations ranging from "shutdown" to "lockout" to – one speaker in D.C. said – "shakedown," workers and their allies blasted GOP President Donald Trump's closure of a large part of the federal government and his denial of pay to 800,000 workers.
The sharp criticism in rallies during the evening of Jan. 9 in the D.C. suburb of Silver Spring, Md., two more in the capital city on Jan. 10 and elsewhere across the country that day – including in Chicago and Kansas City – came as Trump's lockout stretched into its 20th day, and after the petulant GOP President stormed out of a meeting with congressional leaders he called the day before to discuss the issue.
At that Jan. 9 session, Trump bluntly asked House Speaker Nancy Pelosi, D-Calif., if Democrats would agree to his $5.7 billion demand for money to build a Mexican Wall in return for ending the lockout/shutdown. She said "no," and he marched out. Senate Minority Leader Charles Schumer, D-N.Y., who also participated, called Trump's action "a temper tantrum."
Meanwhile, replying to Trump's prior claim that unpaid, locked-out workers could "make do" or ask their parents for money, Pelosi later retorted that, unlike Trump, their parents didn't have millions of dollars to lend. Trump's late father, Fred, gave him millions to get his development business going.
Speakers at the rallies, including several of the locked-out workers, made the point they want to go back to work for everyone in the country, in jobs ranging from meat inspection to airplane safety inspection to working at national parks to researching cases for U.S. Supreme Court briefs.
But they want respect, and they want to get paid. Trump, speakers said, refuses both.
"At age 71, I need a job," Lila Johnson, a 21-year contract worker at the Agriculture Department, told the D.C. crowd of several thousand gathered in front of the AFL-CIO building here before marching two blocks to the White House.
"But until we start fighting back, that won't get done. He don't want to do it," she added. Contract workers like Johnson – such as janitors and fast-food workers at malls in federal buildings – get no back pay even when the shutdown ends. In past GOP-caused shutdowns, regular workers later got back pay, though some had to sue for that, too.
"Until we do that" – fighting back – "this president will continue to act like a 6-year-old," Johnson said.
In Chicago some 100 members of the American Federation of Government Employees, District 7, gathered at Federal Plaza. The Rev. Jesse Jackson led the crowd in chanting, "We want jobs, not walls!"
Rally attendees in Chicago heard the issue of workers being forced to work without pay being addressed.
AFGE District 7 National Vice President Dorothy James condemned the Republican controlled Senate and the White House. Senate Majority Leader Mitch McConnell has abrogated that body's responsibility totally by refusing to consider anything not pre-approved by Trump. "Federal workers should not have to worry about how they will pay their bills, James said. "The public should not have to worry whether they will be able to rely on food inspection, a clean environment, well-guarded prisons, safe airports, stable housing, SNAP benefits and more."
Florence Cannon, a worker at the U.S. Department of Agriculture, said "things have gotten really scary." She said she had only 30 days of food left in her account. "We're not here to be used as political pawns. I only have so much money left in my account. People are tapping into their savings, people cannot barter for rent and it is not fair to assume otherwise. We need our money!"
Lawmakers appeared at some of the rallies to show their support. "Cut it out, open the government and end this unnecessary and shameful shutdown," Sen. Chris Von Hollen, D-Md., told the AFL-CIO crowd in D.C., after appearing at the prior rally the night before.
"Every federal employee has done their job, but the White House has not done its job," added Sen. Mark Warner, D-Va., one of a parade of lawmakers who alternated with union leaders and rank-and-file locked-out workers at the AFL-CIO podium.
At midnight Dec. 21, Trump shut the Interior, Justice, State, Treasury, Commerce, Housing and Agriculture Departments among others – plus the EPA and other key agencies — which lack money. He won't sign their money bills unless Congress kowtows to his Mexican Wall money demand.
As a result, some 800,000 federal workers, plus three times as many dependents, face payless weeks or months. But Trump forced about half of them to work, anyway. They're "essential," but their pay isn't.
The ejection of half of the workers led AFL-CIO President Richard Trumka, in his speech, to declare the shutdown was a management – Trump – lockout.
Trump wasn't in D.C. to hear the workers' chants and protests on Jan. 10. He spent part of the day visiting a section of the border in McAllen, Texas, for what even he called a "photo-op." The Texas ACLU and various local Latino groups mounted an anti-wall, anti-shutdown protest there.
Several speakers on Jan. 10 added Senate Majority Leader Mitch McConnell, R-Ken., to the list of culprits, citing his absolute refusal to even allow solons to vote on House-passed money bills to reopen the government while continuing talks about funding Trump's wall. Those money bills are identical to legislation bipartisan majorities approved just before Dec. 21. Trump agreed, then reneged.
"Senators, senators, do your damn job!" declared J. David Cox, president of the largest federal workers union, the Government Employees (AFGE). "Don't be scared by the president of the United States. You were elected in your own right."
"We're here to tell Mitch McConnell to stop hiding from reality," Cox added.
But Trump was the main target of the speeches, chants and signs, and not just from union leaders such as Cox, Trumka, Treasury Employees President Tony Reardon and AFSCME President Randi Weingarten. She called Trump's lockout "hostage taking."
Unionists chimed in with frequent chants. "We want to work," one went. "Now!" "We want our pay," followed that. "Now!" "Hey, hey, ho, ho, the shutdown has got to go," another chant sounded.
And both solons and leaders hit hard at Trump, who proudly takes responsibility for the shutdown/lockout.
"Stop making people work without pay," said Rep. Jamie Raskin, D-Md., who hosted the Jan. 9 rally. "Stop threatening food stamps for 38 million Americans!" USDA pays for food stamps; those funds will run out next month. USDA food inspectors have been sent home, too.
"We need a leader, not a demagogue," Rep. John Sarbanes, D-Md., said of Trump. "We need a president, not a grandstander."
But some of the sharpest words came from Jaime Contreras, a Service Employees vice president and president of its D.C.-Maryland-mid-Atlantic local of SEIU 32BJ, the janitors' union.
"From a military veteran who came here undocumented in 1998" – he's now a citizen – "this message goes to our draft-dodger, our liar, our cheater and our racist: Shame on you!" Contreras said. "And the same thing goes for Mitch McConnell."
The first round of checks since the shutdown began has been issued and thousands of employees collected pay stubs with an amount of zero dollars. Some 380,000 have been furloughed and are off the job, while another 420,000 are continuing to work as essential personnel but without pay.