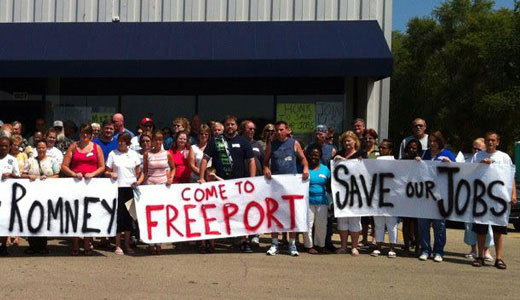 FREEPORT, Ill. – Workers at a Bain Capital-owned company here are demanding that Mitt Romney come to this town and stop the planned shipping of their jobs overseas.
Romney, the Republican presidential candidate, owns millions of dollars worth of Bain funds. Bain holds a controlling stake in Sensata Technologies, the Massachusetts-based company that is firing 170 workers at its plant here and shipping their jobs to China.
Determined to fight back, workers began this week unfurling signs and banners outside the plant demanding that Romney come to meet with them and stop the outsourcing of their jobs.
The workers' decision to publicly expose Romney's role in their pending layoffs could be the straw that breaks the camel's back for his presidential campaign, which is reeling under increasing attacks on him as an outsourcer of jobs and a tax evader.
The developments in Freeport confirm, workers here say, that Romney is a job-killer and out of touch with ordinary Americans.
"If Romney wanted to, all he would have to do is talk to the managers he put in at Bain and say, 'Don't do this,'" said Tom Gaulrapp, who has worked at the factory for 33 years. "This is really bad. Romney has major investments in Sensata and when they ship our jobs to China he is going to be making big money off of it, not 10 years ago, but now"
"This is a shame and it is totally unnecessary," Gaulrapp said. "They were making money before and they've always made a profit in Freeport. It's just that they are greedy and that by shipping our work overseas they can make even more."
"When does their duty to a community come into play?" he asked. "I'm 54 years old now – even if I went back to college who is going to hire me?"
"I am impressed with and proud of the workers at this plant," said Freeport Mayor George Gaulrapp, who is unrelated to the worker at the plant. "They are fighting back for their jobs on their own. They decided this week to come out and make the connection between the loss of their jobs and the candidate Romney."
The mayor said Romney should be targeted for what is happening to this town "because he created the model for this way to make money. Romney is the mastermind who built a model that takes apart people's lives and he is the one who can come in here and put the pieces back together."
"What's really outrageous," Shelly Griswold, Freeport's director of community development, said, "is that Bain had the people of our town dig their own graves. Those 170 workers had to train their own replacements."
The mayor commented, "They sent them in here from China to stay at a hotel and come every day to the plant to learn how to make sophisticated automotive sensors Now they went back home and when the plant leaves here it will hire them overseas for a lot less. "
"This could kill our town," plant worker Gaulrapp said.
"It means all those taxes paid by 170 well-paid workers are no longer available and a lot of small businesses here that exist on the ragged edge, whether it's the barber shop or the restaurants, can go under. Loss of that much more business can be the end for them and the loss of still more jobs."
Workers at the plant see what Romney's Bain is doing here as being worse than simply stashing money overseas to avoid taxes.
"He owns at least $8 million in Bain funds that hold more than half of Sensata's shares," said Freeport Mayor Tom Gaulrapp. That matches disclosure reports Romney himself released in June.
"There can be no clearer evidence," he said, "that Romney is profiting now from shipping our jobs out of the country. It is ludicrous for him to say he isn't responsible. The orders were given by people he put in at Bain and he is making money off the deal."
Photo: From the Save Our Jobs Facebook page.