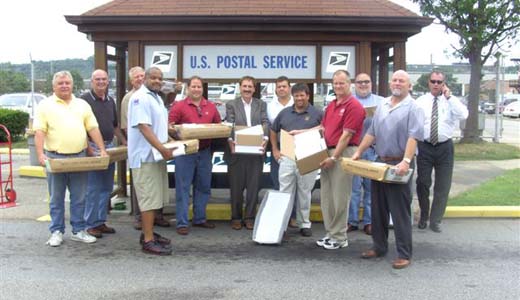 Postal Service employees say threats by the U.S. Postal Service to shut down this winter because of a $9.2 billion deficit are part of a "manufactured crisis" designed to privatize the world's largest mail delivery system.
"This crisis was created by Congress and the Postal Service back in 2006," said Jeff Levitt, an Albany, N.Y. postal worker. "Unlike any other corporate entity, the U.S. Postal service was then required to pre-fund future health care costs, forcing it to take $3 to $5 billion dollars a year out of receipts for stamps."
Levitt and others charge that the resulting artificial deficit has been, and is being used to cut back on days of delivery, length of time allowed for processing and delivery of mail and other services. They say that the government should be reimbursing the postal service but that Republican deficit hawks are opposed.
"Our situation is extremely serious," Postmaster General Patrick Donahue announced to the press today. Donahue was a leading advocate for cuts recently that would end Saturday mail delivery, close 3,700 post offices and lay off 120,000 employees, about 20 percent of the Postal Service workforce.
"The situation is dire," said Sen. Thomas R. Carper, D-Del., chairman of the Senate subcommittee that overseas the Postal Service. "If we do nothing, if we don't react in a smart, appropriate way, the postal service could literally close later this year. That's not the kind of development we need to inject into a weak, uneven economic recovery."
Without emergency congressional action, by early next year the agency could run out of money to pay workers and fill the gas tanks in its delivery vehicles.. That would halt the weekly delivery of three billion pieces of mail.
Republicans, as usual, are expected to make things even more difficult. While many of them would vote to cut Saturday delivery, for example, there are those in Congress who have resisted Postal Service management requests to do that.
The GOP is not expected to allow the Postal Service the same leeway it gives private corporations, for example, that are not required to pre-fund health care obligations to employees.
It is also not expected to grant federal funds to the service to keep it going.
Kaufmann, another Albany Postal Service worker, charged that management has already gone to the government, asking that the Postal Service be let off its contractual obligations so it can lay off those 125,000 workers. Donahue is claiming the contract should be nullified because it does not allow layoffs and that it does not provide relief when management has to pay higher labor costs. He said the Service is also suffering due to increased reliance on the Internet and because more people are paying bills on line.
"This is nothing more than a back door attempt to privatize," said Leavitt. "They have already tried to dismantle service, create private networks and contract out for substandard work for which they paid lousy wages."
In recent years the Postal Service turn over of Priority Mail to UPS, a private company, was a dismal failure, according to the Congressional Budget Office. Workers say the privatization schemes are beneficial only to a small group of investors, not to the general public.
Supporters of a government-run postal service argue that it should be run, not as a corporation but as a necessary public service. They note that Americans have been able to count on postal service since the founding of the nation.
The U.S. Postal Service traces its roots back to the U.S. constitution,, which provided for the creation of a national mail delivery system.
Photo:Creative Commons 2.0