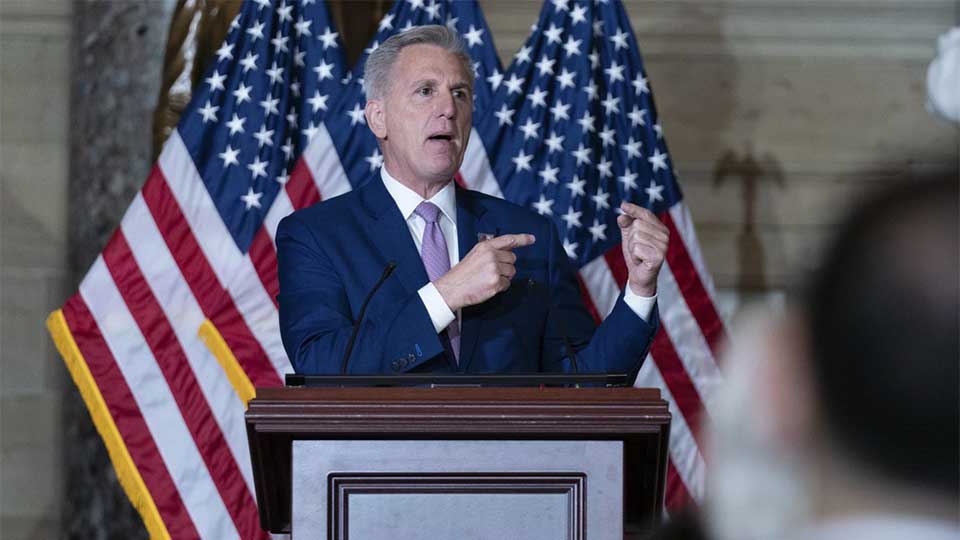 WASHINGTON—Hundreds of thousands of federal workers face a government shutdown at midnight on September 30—thanks to right-wing Trumpite Republican extremists—and the rest of the country should, too.
That's because, just to name two impacts if Congress forces the feds to close up shop, seven million babies and toddlers will lose federal women's, infants and children's program payments for food, and federal subsidies for child care centers will get cut off, too, Biden administration officials announced.
How bad will the impact be? Well, members of the Government Employees (AFGE) local in Oak Park, Ill., are trading tips about food banks, applying for jobless benefits, and carpooling to save on gasoline. But even if they get jobless benefits, if and when the government reopens and they get back pay, they'll have to pay the benefits back.
Social Security checks will be mailed, but new applications for benefits, including disability benefits, won't be processed. Some 8,500 of the Social Security Administration's 61,000 workers will be sent home unpaid. The rest will toil without pay.
Overall, the Biden administration calculates just over a third of the two-million-person federal workforce will be sent home, unsure of when they'll see their next checks. The rest—the exact percentage varies by agency and by types of job—will have to toil unpaid.
Air traffic controllers will keep planes flying and Transportation Security Officers will keep screening passengers and luggage. They're both "excepted" essential workers. But they won't get paid, either.
When former Oval Office denizen Donald Trump shut the government for 35 days more than four years ago, one depressed TSO, distraught that he still had to work but couldn't feed his family without any pay, climbed on a railing on the eighth floor of the Tampa Airport's interior hotel lobby—and jumped.
The shutdown will occur unless Congress rushes through a short-term spending bill, called a Continuing Resolution (CR) and it lands on Biden's desk before the start of the next fiscal year, October 1.
Tail wags the dog
But the so-called House Freedom Caucus, a phalanx of around 40 Trumpite right wingers whose tail wags the Republican dog, plans to vote against any spending measure—a CR or a regular money bill—unless the rest of Congress and Biden knuckle under to their extreme demands for severe cuts in the social safety net. And Trump, on his Truth Social Twitter feed, is egging his legions on.
Those demands include money to resume construction on Trump's racist Mexican Wall, bans on training in diversity and inclusion in all federal agencies, including those, such as the military, which are disproportionately composed of workers of color, and an 80% cut in federal aid to schools which serve low-income—read "minority"—kids.
The right wingers even oppose disaster relief for residents of Maui, whose homes, businesses, and entire towns were destroyed by wildfires a month ago. The extremists are also trying to divert attention from their shutdown crusade by opening a retaliatory impeachment investigation of Biden, without evidence, this week.
House Speaker Kevin McCarthy, R-Calif., who has been genuflecting to the right wingers, opposes a shutdown, nevertheless. "Think for one moment what a shutdown does. It stops paying our troops. How do you have more leverage in that situation? I've watched shutdown after shutdown, everybody loses," he said last week.
Not quite. The last shutdown hit packing plants—there were no food inspectors—and safety on the job, too, among other key functions. That's because there were no Occupational Safety and Health Administration enforcement personnel. Both groups were furloughed, without pay.
As federal worker unions keep lobbying for passage of a CR without Trumpite "poison pills," such as the Mexican Wall, the Biden administration issued general shutdown instructions to agencies and highlighted a shutdown's practical effects on the country.
"A government shutdown affects the entire country. It affects our communities. It affects our churches," Government Employees (AFGE) President Everett Kelley, who was a Black church pastor in his native Alabama for 31-1/2 years, along with military and union jobs, before moving to the D.C. area to become AFGE Secretary-Treasurer and then President, told CBS News.
"I'm telling them"—his members and other federal workers AFGE represent–"to prepare for the worst and save as much money as you can."
"While political chess reduces my pay, my expenses remain the same and my job is now at risk," an AFGE sample letter to lawmakers says. "I still have to pay the mortgage, the full cost of my health insurance, and put food on the table. If I am unable to pay my bills due to this new financial hardship, I could lose my security clearance and get fired. How does this keep our nation safe and secure?"
"1.3 million active-duty troops would be forced to work without getting paid under an Extreme Republican shutdown," the administration posted on its Facebook page. And it trotted out Agriculture Secretary Tom Vilsack, whose agency runs food stamps, to announce in a video they'd get cut, too.
Warns of childcare cuts
Senate Appropriations Committee Chair Patty Murray, D-Wash., warned of the childcare cuts.
"September 30. That's when funding that has saved our childcare system from collapse expires—bit by bit pushing child care even further out of reach for millions of families and jeopardizing our economic recovery. Congress should act TODAY to prevent this from happening," the one-time preschool teacher tweeted.
The nation's 45,000 Transportation Security Officers will still screen you and your luggage, and they just received a long overdue recent raise. That'll be gone and they won't get paid at all. They're "essential."
Besides the sample letters to lawmakers, unions prepared picket signs and other forms of protest, such as online petitions. And leaders took the shutdown's impact public, in statements in print and social media.
"Tell Congress to Fund Our Government, Stop A Shutdown Now!" the Machinists' letter to lawmakers, posted on the actionnetwork.org, headlines. The National Federation of Federal Employees is an IAM sector and IAM and NFFE crafted the missive.
"If Congress does not pass a continuing resolution government spending bill by Sunday, Oct.1, the federal government will shut down and cause a crisis for federal workers and federal contract workers…Tell Congress to do their job so that federal workers and federal contract workers, many of whom live paycheck to paycheck, can do theirs!
"Most of Congress and President Biden already agreed on federal spending levels, but a small group of House Republicans, unable to get their legislation passed through regular democratic means are demanding, by holding the country hostage, draconian spending cuts and a variety of poison pill policy riders, and threatening to shut down the government if they don't get their way," it declares.
"A government shutdown is not a harmless D.C., drama," said Doreen Greenwald, who took over only a few months ago as the Treasury Employees (NTEU) president. "Federal employees in every community will lose income, through no fault of their own, and in many cases, they will be locked out of doing the work they were hired to do for the American people."
And directly countering Republican myths about "Washington bureaucrats," Greenwald posted a recent Congressional Research Service report showing 96% of congressional districts host more than 4,000 civilian federal employees each, and the rest have between 2,600-4,000. Four states—California, Texas, Maryland, and Virginia—each have offices for more than 100,000 federal civilian workers, as does D.C.
More than one in ten of all civilian workers in six congressional districts, plus D.C., are federal employees: Two districts centered in Baltimore, one in its D.C. suburbs, and three in D.C.'s Virginia suburbs. Just short of the 10% figure are districts in Honolulu, Hampton Roads, Va., northern Alabama, and the Albuquerque-Santa Fe district in New Mexico. The first three have huge shares of civilian workers for the military.
Biden lays the blame for the looming shutdown where it belongs, on the right-wing Republicans.
"We made a deal, we shook hands" with House Speaker McCarthy "and said this is what we're going to do. Now, they're reneging on the deal," Biden said on September 25. "If Republicans in the House don't start doing their jobs, we should stop electing them."