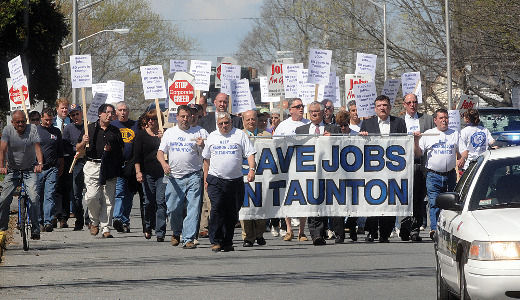 A group of workers in New England's economic rustbelt are battling an aerospace giant to preserve their livelihoods.
Late last year, Esterline Technologies, based in Bellevue, Wash., announced it would shut down its Taunton, Mass., Haskon Aerospace plant this October, throwing 100 employees out on the street. The plant makes silicone seals and gaskets for airplanes, supplying Boeing and other top aircraft companies. It has employed generations of Taunton workers since its beginnings as a General Electric plastics plant more than 80 years ago. Today, it is the only manufacturing facility left in a community that formerly teemed with industry providing thousands of good-paying jobs.
Since the closure announcement, the workers, represented by United Electrical Workers (UE) Local 204, have been pressing the company to cooperate in efforts to keep the plant open. The union obtained $25,000 in state funding to do a feasibility study, which showed that finding a local buyer to operate the plant or setting up an employee-owned business are both highly viable possibilities. The shop has always made money, has a good reputation in the industry, and its customer base, led by Boeing, has remained constant through multiple changes in the plant's ownership. The local has hired a former president and head of sales at Haskon to take the next step from the feasibility study and reach out to previously interested companies and others.
But the company has refused to cooperate. It has even reneged on earlier promises to provide an inventory of equipment in the plant and to give the workers first right of refusal on purchase of the equipment at fair market prices, the union charges.
"Esterline has rejected categorically all options that would keep the plant open," said Peter Knowlton, UE's northeast region president. Why? Well, the company has another, non-union, plant in California that makes the same products, and another one in Mexico. It is planning to shift all production to those non-union plants. And "they don't want any competition at all – not from this shop," said Knowlton.
Esterline is a major defense contractor, getting about 40 percent of its business from the federal government. The Haskon workers and their union believe this fact provides some leverage. Congressman Barney Frank, D-Mass., who represents the area, and the state's two senators, Democrat John Kerry and Republican Scott Brown, have sent two letters to Esterline executives asking them to cooperate in keeping the plant open. State Sen. Marc Pacheco, whose father worked in the boiler room at Haskon for 41 years, joined workers at a news conference outside the plant last month, and said he would press the state's congressional delegation and other officials to lobby Esterline "to do the right thing."
"Some corporations," Pacheco said, "unfortunately refuse to negotiate in a fair and equitable manner with the people who have given their lives to work and make a living here. And it's not fair."
He noted that the company could be vulnerable to pressure because of its many federal contracts, particularly its military contracts.
The union and community supporters are organizing a Sept. 28 evening "candlelight vigil for justice and jobs" in the Taunton Green, the park in the city's center. Among the participants will be Father Mark Cregan, president of Stonehill College, a Catholic college in nearby Easton, Mass.
Last week the workers scored a small step forward when management agreed to meet with union negotiators on Sept. 23, after refusing to do so for three months. For the first time, a federal mediator will be present in those talks, Knowlton said.
Photo: UE Local 204 members lead a march for jobs at Haskon with Congressman Barney Frank, state Sen. Marc Pacheco, Mayor Charles Crowley, City Council President Deborah Carr, Massachusetts AFL-CIO President Robert Haynes, UE Director Of Organization Bob Kingsley, Southeastern Massachusetts Central Labor Council President Cindy Rodrigues and area labor and Jobs with Justice leaders and activists, April 12 in Taunton, Mass. (Taunton Gazette/Mike Gay, via UE)