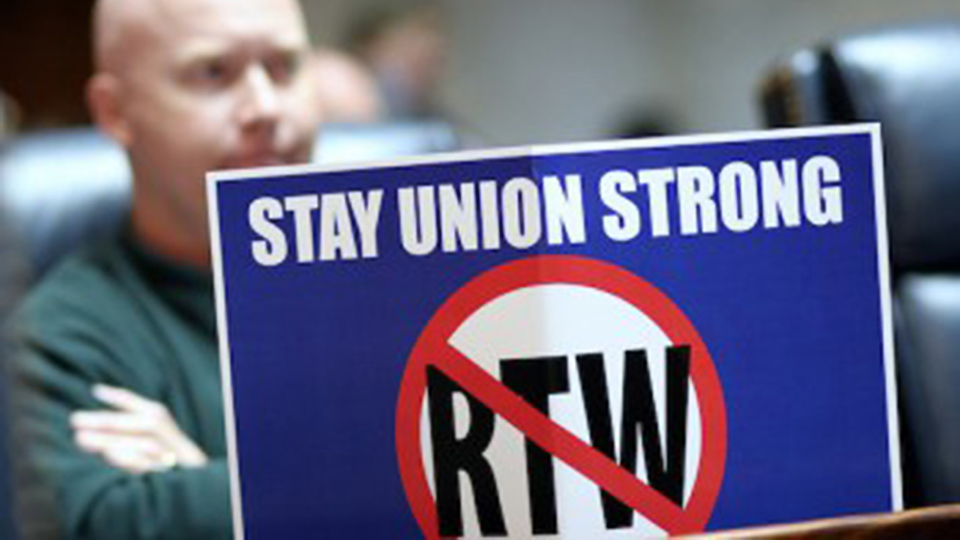 OLYMPIA, Wash. — Washington state senate Republicans knew one of their favorite schemes, a so-called "right to work" (RTW) bill, wouldn't be wildly popular among workers there. But they never expected anything like this.
More than 1,100 workers, union and non-union, overwhelmed the committee room in which the measure, SB5692, was being considered by the GOP-controlled Senate Labor and Industries Committee two weeks ago.
Not only that, but the workers filled two other overflow rooms and massed outside the state capitol building in Olympia in an enormous show of opposition to the legislation, the Washington State Labor Council's newsletter, The Stand, reported.
"Hands off our unions!" the crowd chanted while standing outside the capitol, in pouring rain.
All of that left the state senator pushing right to work, Labor and Industries Committee Chair Michael Baumgartner, R-Spokane, admitting he faces an uphill battle to even get it out of his own panel, much less any farther than that.
Like similar legislation nationwide, the Washington RTW bill outlaws union security clauses in all collective bargaining agreements. It also outlaws "agency fees," the fees unions can charge non-members whom they are required by law to represent.
Big business and the Radical Right have renewed their pro-RTW drive nationally ever since they took over Congress and many states after the 2010 elections. Given RTW's real impact on jobs and income, workers and their allies call such measures "right to work for less."
Most recently, new GOP governors and lopsided GOP legislatures in Kentucky and Missouri made those two states the 27th and 28th RTW states, over union and Democratic opposition, though Missouri unions will petition that state's new law to a referendum. Several congressional Republicans have reintroduced a national RTW bill. Workers and their organizations recently defeated a RTW bill proposed by New Hampshire Republicans.
"Under federal law no union member or agency fee payer can be forced to pay for union political activities," Washington State Labor Council President Jeff Johnson told the state senate panel.
"Under current federal law no worker is required to be a union member, to pay union dues—only agency fees—or to make political contributions to a union," he continued. But RTW dumps both, he pointed out.
"This amounts to allowing workers to choose between paying a fee for representation services or simply receiving these services for free. This undercuts the voice of workers at the workplace" thanks to workers "who receive the benefits of a union contract but choose not to pay their fair share for them.
"This is analogous to receiving full public services but not paying anything for them, while others pay taxes to support these services."
Johnson called RTW "a clever slogan purposely designed in the 1930's to misdirect and confuse people. RTW legislation never has and doesn't now have anything to do with creating or protecting jobs.
"The real intent of RTW legislation has always been to curb the power of workers and their union at the bargaining table as well as reducing their impact advocating for public policy in the best interests of working people," Johnson said
He also knocked down supporters' arguments that RTW attracts jobs by improving a state's business climate. Studies show, Johnson said, that the climate is worse in RTW states, due to lower wages and income, higher joblessness and poverty and lower spending on public services, including those business needs.
"There is nothing right about right to work," Washington State Council of Fire Fighters President Dennis Lawson told KUOW broadcasting during the rally in the rain.
Other unionists joined Johnson in testifying against RTW. "Being a dues-paying union member has afforded me and many others the opportunity to complete an apprenticeship, to learn a skilled trade, provide for my family, and plan for the future," said Christine Cole, a union Carpenter, according to The Stand.
"The true goal of this bill is to undermine labor organizations that promote living wages with family benefits, a safe work environment, and also a workplace free of discrimination and intimidation," Cole added.
Besides the worker protests, the Washington Senate's ruling Republicans face two political problems as they push RTW: Democrats control both the state House and the governor's chair, and their own senate majority is shaky.
The GOP owns a one-vote edge, but one of its senators now spends more time in D.C., helping the new GOP Trump administration trash the Environmental Protection Agency, so he's mostly absent from Olympia. That leaves the state senate in a flat tie, with the Democratic lieutenant governor casting tie-breaker votes.
No date was set for a committee vote on right to work.