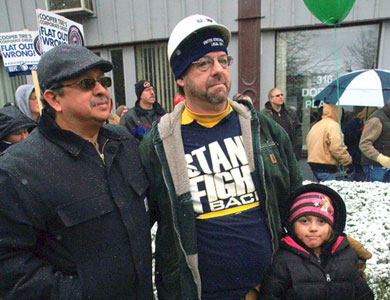 The membership of the United Steelworkers, Local 207L, by a 2-to-1 margin, ratified a new five-year contract with Cooper Tire and Rubber Company, ending an infamous three-month lockout at the company's Findlay, Ohio plant.
Workers were shut out just after Thanksgiving, on Nov.28, despite what the union considered a generous offer to continue working under terms of the old contract while bargaining continued.
"Cooper needs to admit that its loyal and productive union workforce is the company's most valuable asset in Findlay and treat them with the respect and dignity they have earned," said USW District 1 Director Dave McCall over the phone. He said that before the lockout, "Cooper was a good example of how workers and management could work toward common goals and the greater good of the community."
Eight Cooper Tire workers and Bakery, Confectionery, Tobacco Workers, and Grain Millers locked out by American Crystal Sugar Co. just ended a 1,00 mile Journey for justice. The group travelled from American Crystal headquarters in Fargo, N.D., to Cooper Tire headquarters in Findlay.
The purpose of the journey was to highlight the corporate greed that motivates a rash of lockouts across the country recently and the determination of corporations to push down wages and benefits so that CEO's can fill their own pockets.
"We wanted to spread the message that we must stand together to make a difference, and we sent that message loud and clear. Our fight and the fight for justice for thousands of other workers continues every day after this," said Teresa Brown, who has worked 12 years for Cooper Tire.
The sugar workers are encouraged by the victory of the Cooper Tire workers.
"The support we've received over the last five days has strengthened our intention to continue our fight for a fair contract," said Becki Jacobson, a 30-year employee of American Crystal who went to work for the company when she was only 18. She and her co-workers at American Crystal have been locked out for more than six months.
Photo: A rally of support for Cooper Tire workers in Findlay, Ohio, at the Hancock County Courthouse, Dec. 19, 2011. Occupy Detroit, Occupy Toledo, and Occupy Bowling Green were there. CC by-NC-ND 2.0.