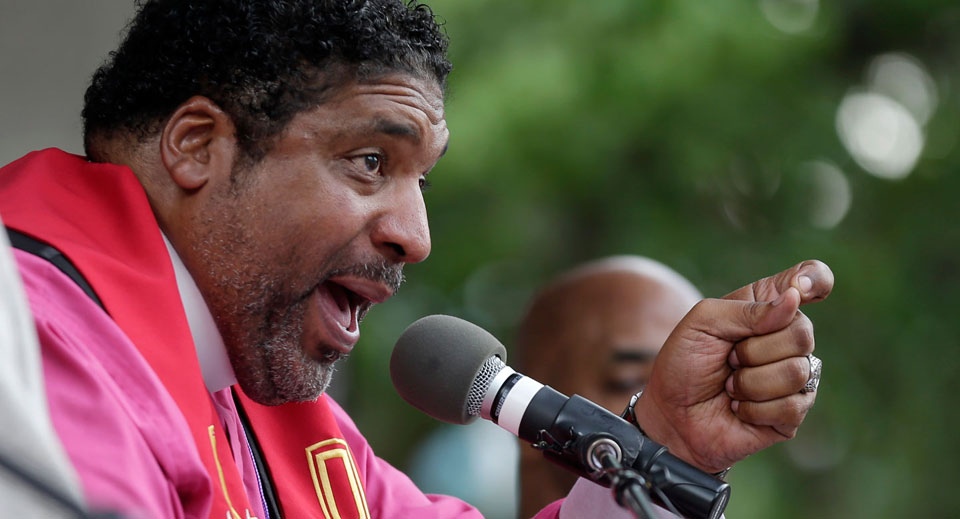 WASHINGTON (PAI)—The  New Poor People's Campaign and congressional progressives unveiled a "Third Reconstruction" measure to set poverty eradication as a top U.S. goal, plus a year-long drive to elevate the cause to the top of the national agenda.
One way to do so, their measure declares, is to guarantee and strengthen the right to organize and to join unions.
The resolution, discussed at a May 20 press conference, will kick-start the drive on May 23. It will culminate in a mass rally in D.C. in June 2022, assuming the coronavirus pandemic has been sufficiently beaten to allow such large crowds.
"If this nation is serious and wants to address poverty and low-wealth from the bottom up, we can't tinker around the edges," as presidents and Congresses have done in past decades, said NPPC founder and co-chair the Rev. William Barber II.
"No democracy can be strong when 42% of our people" are poor or just one catastrophe—from an illness to an auto accident—away from descending into poverty," he added.
"Eight million more people fell into poverty" from the coronavirus pandemic, Barber stated. "They were also the first to go back to work"—often forced to do so in "essential" front-line jobs—"the first to get sick, the first to be hospitalized and the first to die."
Defying stereotypes, one-third of white people—66 million—are poor, Barber noted. So are 74 million women, 59% of Indigenous people, and 64% of Spanish-speakers.
Those numbers understate the extent of poverty, too. The "Third Reconstruction" resolution starts by demanding a new and more accurate federal measure of who's poor. The current federal poverty line, even after adjustments for inflation, is just under $13,000. It's not even a living wage.
NPPC policy director Shailly Gupta Barnes said that sum does not capture the fact that 140 million of the nation's 330 million people are poor or near-poor. The average yearly cost for a family of four, including housing, food, and transportation, is $60,000, the resolution says.
And like the original Reconstruction, which began after defeat of the South in the Civil War and lasted through 1877, the Third Reconstruction demands the government  "expand and protect voting rights and save this democracy," Barnes added.
That goal flies directly against right-wing, corporate and white nationalist-backed GOP legislation from coast to coast designed to eradicate voting rights of people of color, students, the old, workers, and anyone who's not a die-hard right-wing "Christian."
The measure also demands workers' rights, by declaring that "raising the minimum wage to a living wage and guaranteeing the right to form and join unions for all workers" is a key anti-poverty measure.
And it advocates measures to confront and curb white nationalism, including religious nationalism.
The Reconstruction resolution also calls for establishing "a national commission on racial justice," she said, and demilitarizing U.S. foreign policy and border policy.
"And it would reverse decades of trickle-down economics" by, among other measures, repealing the Trump-GOP tax cuts for corporations and the rich and directing money repeal brings in to social programs to help lift the poor out of the abyss, Barnes said. Another source of new cash for social programs would be a $350 billion cut in military dollars.
"And systemic racism"—which the resolution also addresses—hurts whites as well as people of color, Barber said, as both a moral wrong and an economic drag.
NPPC co-chair the Rev. Liz Theoharis announced more than 2,000 clergy nationwide have signed onto the Third Reconstruction bid. While the first Reconstruction followed the Civil War, the NPPC considers the Civil Rights Era, starting in the late 1950s and lasting through the early 1970s, as the second.
Left unsaid: Both reconstructions were followed by long, sometimes violent white racist backlashes. And white nationalism has shadowed anti-racism and anti-poverty protests now.
One lawmaker who spoke, first-year Rep. Cori Bush, D-Mo., told the crowd what it's like to be poor. Bush, the first Black Lives Matter activist elected to Congress, represents a district dominated by the city of St. Louis.
"As a formerly unhoused person, as a nurse, from a district where one of six people live below the poverty line including one of four children, I know it is our responsibility to address the root cause of poverty—and root it out once and for all," Bush said.
"As a single mother of two making $7 an hour, I worried every day about the cost of food, the cost of clothes for my kids, and whether, the next time it came due, I had enough to pay the rent….Worry knocked on my door every day."
While Democratic President Joe Biden generally wants to rework society to raise low-income people out of the chasm, that hasn't always been the case among Democrats. Rep. Gwen Moore, D-Wis., who represents Milwaukee city, noted then-President Bill Clinton (D) signed the so-called "welfare reform" in 1996.
"It forced women into the low-wage workforce" or they'd lose aid, she said. "It put people into poverty."