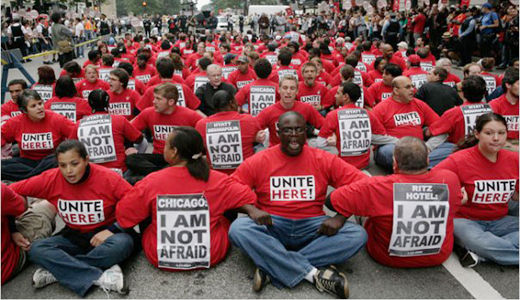 CHICAGO – After years of battling what it says are abusive working conditions at Hyatt hotels, housekeepers will convene here tonight to nominate one of their own to sit on the hotel's board of directors. The battles have included everything from picket lines and strikes to massive acts of peaceful civil disobedience that have resulted in hundreds of arrests.
Unite Here, a union representing 250,000 hospitality workers in the U.S. and Canada, says that Hyatt is the worst employer in the hotel industry. The union says that housekeepers are abused by imposition of life-threatening workloads and that the company has a habit of replacing longtime employees with minimum-wage temporary workers.
Workers at the world-wide chain's Chicago hotels now say that Hyatt would be better off if someone who actually serves hotel guests had a say in how the company is run. Chicago is Hyatt's hometown.
The gathering tonight will be at 5 p.m. at the city's Chicago Temple, 77 W. Washington Street with the public invited. Unions form all over Illinois say they will turn out in support. Hyatt workers battling the hotel giant have been championed not just by labor but by civil rights groups, including the National Organization of Women and the National Council of LaRaza.
People in the public relations department at Hyatt would not comment beyond standing by their statement, issued early in the day, that Cathy Youngblood, the housekeeper the workers want on the Hyatt board of directors, won't be considered for election this year because she hasn't filled out the appropriate paperwork and has therefore "missed the deadline."
"That doesn't matter," said Carly Karmel, Unite Here's Local 1 communications specialist. "What we are asking for is a structural change to Hyatt's board, one that always includes a worker involved in direct service to Hyatt customers."
Karmel said that tonight union members, hotel workers and supporters from the community will be getting together to endorse Hyatt housekeeper Cathy Youngblood for director.
"Tonight's gathering doesn't do anything to detract from what the Hyatt does in its own process of management," said Karmel. "We believe that Hyatt will be a lot better off if Hyatt has a worker on its board."
The Hyatt spokesman, while refusing to comment on whether a worker on its board was a good idea, reiterated only that the union "did not submit the required paperback on time so Youngblood's name won't appear on the ballot given to shareholders."
In January of this year Unite Here started a campaign it called Someone Like Me, with the purpose of getting a worker onto the Hyatt board.
None of the 12 who currently sit on Hyatt's board has experience as a hotel worker.
Tonight's event, the union says, will be a "nomination convention" to select Youngblood, who has been travelling across the U.S. meeting with legislators and organizations sharing her experiences as a housekeeper at Hyatt.
Photo: In their long battle with Hyatt, housekeepers have had strikes, picket lines, and even massive civil disobedience actions like the one pictured, in Chicago, where hundreds were arrested. UNITE HERE Local 1