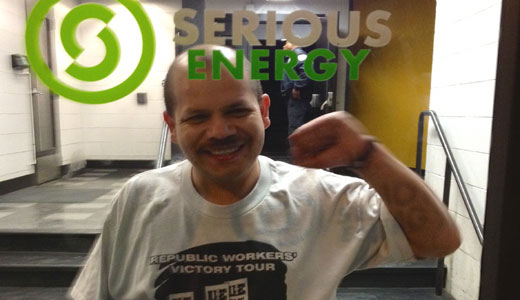 CHICAGO – In 2008, members of United Electrical Workers sat in at Republic Windows and Doors in Chicago. They did so in order to stop the company from closing the plant and shipping their jobs off to a non-union plant. The worker's sit-down not only stopped the company from cheating them out of back wages, but it stopped the company from illegally moving the machinery out of the plant. The action also gave the union time to find a new owner.
This past Thursday, the workers had to do it again. The new owner, Serious Energy, told the union that they were closing the plant right away and were not interested in finding a new buyer. When the president of the local union, Armando Robles, entered the plant at shift change to tell them, they unanimously decided to sit down again.
Alerted by social media over a hundred supporters from labor community and Occupy Chicago gathered in front of the plant in support of the workers.
As a result of the action, at 2:30 am the company gave in to the unions' demands. They agreed to keep the plant open for 90 days to give the union time to look for a new owner and/or to explore the possibility of creating a worker's cooperative to own and run the plant.
The fight now continues.
UE Occupy Chicago from Scott Marshall on Vimeo.
Photo: Scott Marshall/PW