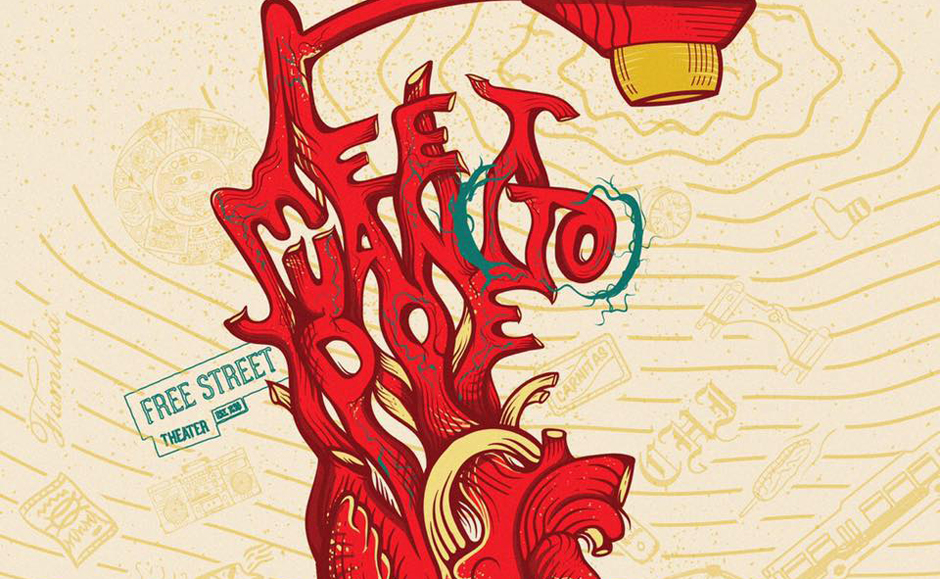 CHICAGO—On the south west side of Chicago right off the intersection of 43rd and Ashland sits a small storefront that is home to the bi-weekly local production of Meet Juan(ito) Doe. After selling out virtually every one of their initial showings, the MJD ensemble is back for a four-week limited engagement. The concept for the production was originally created by Free Street Resident Artist Ricardo Gamboa and co-directed by Ana Velazquez. The Chicago-based artists have put together an unbelievably talented group of up-and-coming Latinx, who have masterfully captured the working-class narratives of Mexican livelihood on the Southside of Chicago.
The cast boasts a plethora of fresh faces, many of whom are new to acting but can compare favorably to a Broadway veteran any day. The intimacy of the storefront setup allows each MJD cast member to shine in their own spotlight of brilliance and authenticity. Narratives in MJD center on some of the prevailing topics in Mexican culture, including masculinity, immigrant family struggles, womanhood, and queerness.
The stories Meet Juan(ito) Doe is based on were collected from a variety of sources across the city, including bar crawls, neighborhood writing events, karaoke nights, street fairs and drag lotería nights. The tales of the Mexican-American diaspora, however, could easily belong to each of the performers themselves. The raw charisma that the cast puts forth gives theater patrons a glimpse into some of the deepest, most uncomfortable parts of urban Chicanx upbringing.
The storefront was initially rented out by friends of Gamboa for only a dollar a month. The cast has since renovated it to create one of only three operating theaters on the entire Southside. Back of the Yards holds a rich history for Mexican working-class families; as early as the 1920s small pockets of Mexican immigrant communities began entering the neighborhood. It wasn't until the 1970s, however, that it gradually became a predominantly Chicano community. Having the theater located on the Southside was a deliberate effort to center the very community that inspired the production. A majority of Chicago's theater "culture" is located in the downtown area or Northside, where only a fraction of the city's population resides, and a majority of tourism is concentrated.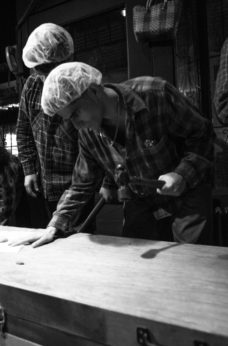 Though Mexican art has long been a staple of the culture, it has recently been celebrated in more mainstream mediums. Just this month The Shape of Water was crowned best picture at the 90th Annual Academy Awards, where Guillermo del Toro became the third Mexican-born filmmaker to win best director. Similarly, Pixar's box-office smash Coco, a film about a young Mexican boy who dreams of becoming a mariachi, was awarded Best Animated Feature Film.
Gamboa, however, believes that the necessity of representation comes not just in putting brown faces on the big screen, but in challenging mainstream consumption of Latinidad. "This is not Disney's Coco. It's Latino representation that's not commodified and packaged for mass consumption. It'll make you feel and think harder. It's not at a corporate chain movie theater."
Meet Juan(ito) Doe is everything theater should be: personal, captivating, interactive, and deeply connected to the roots of Mexican folklore traditions. Without the cultivation of community-based theater there is a perpetual erasure of the customs, heritage and traditions that the elders sustained to uphold. "This production is the first I've done in my five years of acting that uplifts and remembers bodies like mine," says Nicolas Del Valle Jr, one of several brilliant actors on set. To the cast, there is value in telling real stories about real people. "Although the show recalls Southside Mexican experiences, its entirety is devoted to empowering all Brown folk from Chicago, reclaiming time lost and stories untold."
Whether you're listening to tall tales of growing up on the block, or a heart-wrenching story of a turbulent relationship with immigrant parents, Meet Juan(ito) Doe perfectly encapsulates the heart and soul of the Chicanx community. As I sat and watched the collective narratives of strangers, I found myself filled with a sense of familiarity: MJD captures the nostalgia of rehashing old family fables with cousins on the front porch of a hot Chicago summer day. And what more could one truly want from theater other than to be embraced by the intimacy of a thriving community and their collective history?
Tickets for Meet Juan(ito) Doe are on sale now. It is playing for a four-week limited engagement on Mondays and Fridays at 7:30pm at 4346 S. Ashland Avenue.