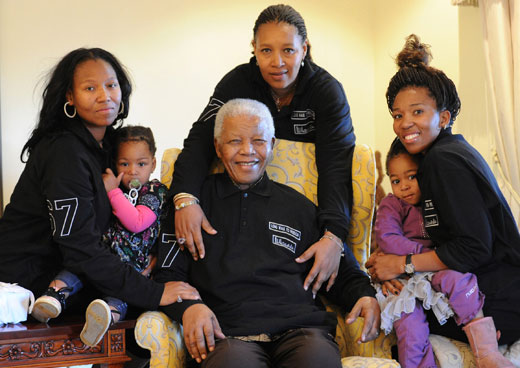 The 93rd birthday of Nelson Mandela was celebrated around the world July 18, paying tribute to the hero who spent 27 years in prison for his leading role in the fight against South Africa's apartheid regime.
Mandela was released in 1990. Just four years later, he was elected the first black president of the new multiracial South Africa, serving until 1999.
Affectionately known to millions in South Africa and around the world by his clan name – "Madiba" – Mandela spent the day with his extended family in his home village, Qunu, about 600 miles south of Johannesburg.
Before visiting Mandela, South African President Jacob Zuma vowed to increase the membership of the governing African National Congress to 1 million in the former president's honor. Speaking at Liliesleaf Farm, a historic site of the anti-apartheid struggle, Zuma said the ANC had grown by nearly 200,000 in less than a year.
"The ANC is immensely proud to have Madiba as its leader," Zuma said. "We are proud to share his legacy with all our people and the world today, on Nelson Mandela International Day."
The other member organizations of the country's Tripartite Alliance, the South African Communist Party (SACP) and the Congress of South African Trade Unions (COSATU), also sent warm greetings.
"For years as an ANC activist and leader, [Mandela] led and served with selfless dedication and embodied values that have been adored beyond the realms of our national liberation movement," the SACP said in a statement.
The trade union federation joined the tributes: "On this day COSATU remembers a devoted fighter against racial oppression, a champion of the Freedom Charter … a comrade whose life history is an epitome of selflessness and service to the people."
Since 1990 the three organizations have worked together to build a democratic and nonracial South Africa, and for a continued process of political and economic democratization.
Tributes poured in from around the world.
"Madiba continues to be a beacon for the global community, and for all who work for democracy, justice and reconciliation … we congratulate Nelson Mandela and honor his vision for a better world," said President Barack Obama.
At the United Nations, which has declared July 18 "International Nelson Mandela Day," leaders of regional groups in the General Assembly joined in sending their good wishes.
Just after 8 a.m. in South Africa, millions of school students simultaneously sang a special version of "Happy Birthday."
Around the country, and in many places around the world, people observed Mandela Day by giving 67 minutes to honor the anti-apartheid leader's 67 years of public service. Among service projects: bringing donated food, blankets and other supplies to the elderly, fixing potholes, giving books to schools, taking children on outings, tweeting inspiring Mandela quotes.
Dennis O'Donnell, station director at SAFM, a sponsor of Mandela Day activities, summed it up for a Los Angeles Times reporter: "There's a lot of healing that needs to take place in this country, and these acts of kindness will eventually break down the barriers and mistrust between the races in this country."
Born in 1918 into a junior branch of a traditional ruling family in the Transkei, Mandela became an attorney, practicing for several years in Johannesburg together with fellow anti-apartheid activist Oliver Tambo. Mandela later headed Umkhonto we Sizwe, the ANC's armed wing. He spent a major part of his 27-year imprisonment in the harsh, isolated Robben Island Prison.
Mandela has received over 250 awards, including the 1993 Nobel Peace Prize.
Since his retirement, one of Mandela's primary commitments has been to the fight against AIDS. His second son, Makgatho Mandela, died of the disease in 2005.
Photo: Nelson Mandela with family members at his hometown in Qunu, South Africa, July 17. (Peter Morey/AP)