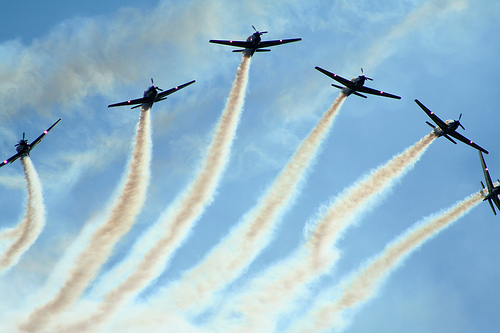 Brazil: U.S. plans another base

The Brazilian government has been negotiating with the U.S. Southern Command over a new "multinational and multifunctional" base in Río de Janeiro, directed at narco-trafficking, illegal arms, and terrorism, according to www.librered.net. U.S. Defense Secretary Robert Gates will visit in April. Meanwhile, the U.S aircraft carrier Carl Vinson entered Peruvian waters to join bilateral naval exercises beginning March 29. Two days later, De Telegraaf of Holland led with an article "Venezuela Threatens War," a reference to Venezuelan protests against naval and air force build-up at U.S. bases on offshore Dutch islands. In Caracas, Prime Minister Vladimir Putin of Russia, supplier of $4 billion worth of armaments, signed agreements with President Chavez, among them investment over ten years of $80 billion in oil extraction.
Sudan: Elections set to fail
The Umma party announced April 2 that unless eight conditions are met by April 6, the party of Ex-Prime Minister Sadiq al-Mahdi will skip legislative and presidential elections set for April 11, the country's first multi-party voting since 1986. Most parties opposing the National Congress Party of President Omar al – Bashir, who came to power in a 1989 coup, had already withdrawn, including NCP coalition partner the Sudan People's Liberation Movement, and the Sudanese Communist Party. Demands included an easing of security measures, equal access among parties to media coverage and public funding, and adequate representation for Darfur. The BBC cited a U.S. spokesperson who acknowledged "legitimate concerns" over elections mandated by the 2005 North – South peace deal.
Egypt: El Baradei speaks out
Back in Egypt after heading the International Atomic Energy Agency for a decade, Nobel Peace Prize winner Mohamed ElBaradei gave an interview March 31 with the UK Guardian, one ignored in the United States. "Are you ready every time you want to get rid of a dictator to sacrifice a million innocent civilians?" he wondered. He believes regime change violates international law, and asks, "Who is accountable?" The U.S. and UK's Middle Eastern policy is a "total failure…based on supporting authoritarian systems as long as the oil keeps pumping," he said. It bypasses "dialogue, understanding, supporting civil society, and empowering people." "If you bet on individuals, instead of the people, you are going to fail." El Baradei is seen as a possible successor to Egyptian President Hosni Mubarak.
Afghanistan: Cannabis production is up
UN Office on Drugs and Crime released a report March 31 establishing that Afghanistan, the world's principal source of opium, leads now in global production of cannabis. Some 25,000 to 60,000 acres of the crop are grown annually in half the country's provinces, most of them in the South, according to the United Nations News Service. Cannabis grown in Afghanistan produces an average of 58 Kilograms per acre of hashish, a yield high enough – Morocco produces 16 kilograms per acre, for example – to make Afghanistan the world's biggest producer. Gross income from cannabis exceeds that from opium, $1699 per acre annually compared to $1440, and costs of cultivation are far less. Trade routes follow those of opium.
Belarus: Executions return
For the first time ever, there was no execution last year in Europe. Beginning with Portugal in 1867, each European nation outlawed capital punishment, except for Latvia, which allows wartime executions, and Belarus. Executioners there shot two men convicted of murder in late March of this year, thereby spoiling the European record. Amnesty International, quoted by the EUObserver, criticized the EU for no longer issuing regular "high level political statements" against the death penalty and for its "deafening silence" following the executions. EU foreign policy chief Catherine Ashton promptly signaled EU displeasure with the executions, but only as part of a statement against harassment of opposition groups and journalists in Belarus. That prompted AI to condemn the EU for its "institutional confusion… leading to inaction."
Cuba: Remembering Chernobyl and the children

Beginning on March 29, the International Medical Conference on the Children of Chernobyl took place in Havana in recognition of care received in Cuba by 25,000 survivors of the 1986 Chernobyl nuclear disaster, mostly children. Seminars covered nuclear accidents, radiation protection, and community catastrophes. Attendees visited the Tarará complex, where Cuban health workers cared for people with radiation-related conditions at no charge, rehabilitation included. Cuban doctors provided kidney and bone marrow transplants, complex heart operations, and leukemia treatment. The "Declaration of the Ukrainian Mothers" read at Tarará, stated that, "There is no action more humane with respect to sick children than the Ukrainian-Cuban program." Representing President Víktor Yanukovich, former Ukrainian President Leonid Kuchma honored Fidel Castro for launching the project.
Photo: The Brazilian military's acrobatic team, called "Smoke Squadron," performs in Curitiba, Brazil. http://www.flickr.com/photos/mathieustruck/ / CC BY-NC-ND 2.0