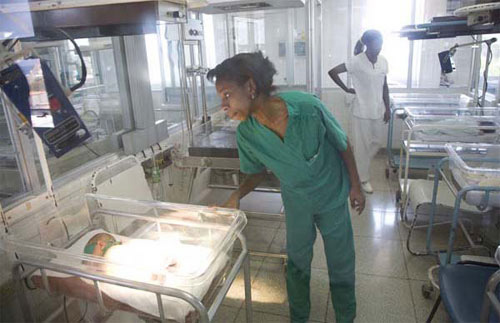 Cuba: Infant Mortality rate hits new low
The Cuban nation's infant mortality rate (IMR) last year was its lowest ever, and lowest in the western hemisphere: 4.5 first year deaths for every 1000 babies born. That skilled, specialty level health care played a role is illustrated by Villa Clara Province's experience last year. At 2.5, the IMR there was Cuba's most favorable. Of 8,083 babies born, 546 were diagnosed with serious medical problems, 75 of them requiring assisted respiration and 20 needing surgery. Remarkably, all but 16 of that group survived.
A report on Cubadebate.cu attributes the Cuban achievement to high educational levels, universal health care, an ethos of prevention and health education, blanket immunizations, and "the political will of the revolutionary government" to improve the health of all Cubans with special attention to women and children.
Spain: An end to armed conflict by Basque separatists?
After 50 years of violent conflict and a four month cease fire, the Basque separatist group ETA on January 10 declared the cease fire permanent. Press conference spokespersons invited international verification. One quoted by the UK Guardian promised a "firm commitment towards a process to achieve a lasting resolution and towards an end to armed confrontation."
As its price for a ceasefire, the clandestine group is demanding negotiations and recognition of Basque self determination in Spanish and French territories. Spain's government rejected the proposal, calling upon ETA to "lay down arms definitively." Any verification would be carried out by state security forces, the government said.
Observers say that with 550 members in Spanish and French jails including recently arrested leaders, ETA was responding to pressures from within its formations by announcing the cease fire.
Palestine: Civilians under siege
On January 7, Israeli settlers uprooted 100 olive saplings belonging to residents of a West Bank village near Nablus. The day before, they took 16 acres of land belonging to residents of nearby Ein Jaloud.
But assaults on the West Bank food supply are dwarfed by war and blockade effects in Gaza. According to the group Physicians for Human Rights, 17 percent of Gaza's agricultural lands have been rendered unusable, 61 percent of the population experience food shortages, and 71 percent depend upon international humanitarian aid. Its 87-page report, says food insecurity is "compounded by the severe infrastructural damage to the water purification and sewerage systems: 90-95 percent of the water provided by Gaza's coastal aquifer is unfit for human consumption."
Afghanistan: Grim death toll statistics
After nine years of war in and around Afghanistan death toll statistics are as bleak as ever. Official Afghan figures indicate 2,043 civilians, 1,292 police, and 5,225 Taliban combatants died during 2010. The 10,081 total of deaths last year also included 810 Afghan soldiers and 711 international troops – for the latter, the war's heaviest annual toll to date.
Global Research cites the Pakistan-based Conflict Monitoring Center to report that CIA drone attacks over Pakistan's tribal areas killed 938 people in 2010. Last year's 132 drone attacks exceeded the total of the previous five years.
Meanwhile, Afghanistan's Human Development Index ranks in 181st place in world rankings. In 2007 Afghanistan ranked in 176th place, with a life expectancy at 43.6 years.
Tunisia: Protests continue, spread to neighboring Algeria
Weeks of demonstrations in several Tunisian cities left at least 20 protesters dead and dozens wounded due to police actions. On January 9, thousands of unionists belonging to the UGTT, the country's main labor confederation, gathered in the capital city Tunis to condemn repression. Protests have centered on extreme poverty in interior sections of the country and youth unemployment.
Spokespersons for a government much praised in the West for its moderation inveighed against "turbulence" threatening to scare off investors and tourists. The mainstream European and U.S. media stepped up news coverage once unrest spilled over into neighboring Algeria. Although protesters have similar issues in both countries, Algerian demonstrators point also to official corruption and rising prices in their country.
South Africa: Zuma speech has unifying effect
After helping to bring about Jacob Zuma's election to the presidency, the COSATU labor federation, concerned about rising unemployment and slow progress in social programs, has criticized Zuma, leader of the ruling African National Congress . Zuma's speech January 8 at the ANC's 99th birthday celebration, attended by 45,000, did, however, draw praise from COSATU spokesman Patrick Cravan who called it "one of [his] best ever." Zuma's call for job creation was well received as was his insistence on unity within the ANC, COSATU, and Communist Party tripartite alliance.
Extolling the ANC, Communist Party General Secretary Blade Nzimande pointed to "the single biggest threat that faces our revolution today, the politics of money, the politics of selfishness, the politics of greed." He warned against "full ideological assault by liberals on our movement," according to timeslive.co.za.
Photo: Cuba reduces infant mortality rate to 4.7, www.juventudrebelde.co.cu