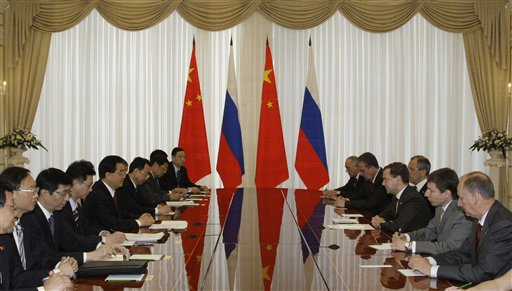 Palestine: Amnesty International diagnoses collective punishment
Amnesty International reacted to Israel's decision June 17 to allow more civilian goods into Gaza by condemning that nation's continuing siege of 1.4 million Gazans as collective punishment. Quoted by IMEMC News, Amnesty spokesperson Malcolm Smart called upon Israel to "comply with its obligations as the occupying power under international law." He criticized Israel also for destroying Gaza's economy through barriers placed on exports of goods and free movement of residents. Interference with Gazans seeking medical care outside the enclave was seen as particularly odious, a point reinforced by the World Health Organization's condemnation the next day of non-functioning medical equipment at Gaza City's Ash-Shifa Hospital. The blockade excludes spare parts and servicing engineers.
Cambodia: Garment workers plan big strike
Despite Labor Minister Vong Soth's plea two weeks earlier to delay strike action pending completion of negotiations, the Free Trade Union of Workers, representing 86,000 garment workers, on June 15 announced a three-day strike in mid-July. The union is demanding a monthly minimum wage increase from $50 to $70, according to phnompenhpost.com. Union head Chea Mony asserted, "All the workers should raise their voices in order to achieve a reasonable salary and better conditions for work." An Interior Ministry spokesperson warned of legal consequences if the strike leads to violence. The potential strike is also aimed at supporting 87 workers unable to work at the Tack Fat garment factory following their refusal to accept in-factory job transfers.
Uzbekistan: Summit promotes Russia-China cooperation
The June 11 summit meeting in Tashkent of the Shanghai Cooperation Organization (SCO) was the occasion for solidifying relations between Russia and China. In their third encounter this year, Presidents Hu Jintao and Dmitri Medvedev reaffirmed plans for humanitarian and cultural exchanges, widened commercial ties, and Medvedev's upcoming visit to China. SCO member nations China, Russia, Kyrgyzstan, Kazakhstan, Tajikistan and Uzbekistan agreed to new internal administrative measures and to procedures for admitting new member states. The summit reaffirmed collective efforts aimed at dealing with the world economic crisis and promoting regional stability and economic development. Representatives of Mongolia, India, Pakistan and Iran attended as observers. Afghan President Hamid Karzai was an invited guest.
Angola: Oil riches fuel social gains
A recent nationwide survey, undertaken by the government and UNICEF and reported by Afrol News on June 15, showed progress toward five of eight Millennium Development Goals: malnutrition; education; gender balance; child survival and malaria; and HIV/AIDS. Since 2002, malnutrition is down 12 points to 23 percent, and 76 percent of age-appropriate children attend school, although primary school completion rates lag. Maternal mortality remains high, and only 42 percent of people have access to safe drinking water, a backward step. Angola, ranking 143rd out of 158 nations in the UN 2009 Human Development Report is criticized for corruption in oil income distribution. Some 30 percent of governmental spending, derived overwhelmingly from oil exports, is now dedicated to social programs.
Honduras: Violence mounts
Outside Tegucigalpa on June 14, gunmen killed television reporter Luis Arturo Mondragon, the ninth journalist killed this year. Attempts on her life forced television journalist Karol Cabrera to escape to Canada a week earlier. Amidst agitation by public sector workers for wage increases and a national minimum wage, two men gunned down Oscar Molina, a beverage union leader's brother-in-law, on June 10. In mid-June, gunfire spared labor leaders Carolina Pineda and José Luis Baquedano, the latter active with the National Resistance Front. Secretary of State Hillary Clinton earlier in June had urged Latin American leaders to accept the present government, successor to that of coup-deposed Manuel Zaleya, a "left-leaning president," according to The New York Times.
Iceland: Fraud investigators have worldwide beat
Following collapse of the Icelandic Banks Kaupthing, Landsbanki and Glitnir in 2008, proprietors and directors have lived abroad. Parliament last month blamed them for extracting "inappropriate loans from the banks," reported estrategumtrading.com on June 14. Alleging theft of $2 billion, Glitner Bank liquidation overseers are suing former bank officers for fraud in a New York court. They are also targeting auditing firm PricewaterhouseCoopers for obscuring fraudulent transactions. The worldwide assets of former bank director Jon Asgeir Johannesson have been frozen, among them two top-end New York City condominiums worth $25 million. And former President Sigurdur Einarsson of Kaupthing Bank "does not intend to return to Iceland so they can arrest him," preferring instead to reply on rights afforded him in Great Britain.
Photo: Chinese President Hu Jintao, fifth left, and Russian President Dmitry Medvedev, third right, meet on the sidelines of the summit of the Shanghai Cooperation Organization in Tashkent, Uzbekistan, June 10. (AP/RIA Novosti, Vladimir Rodionov, Presidential Press Service)