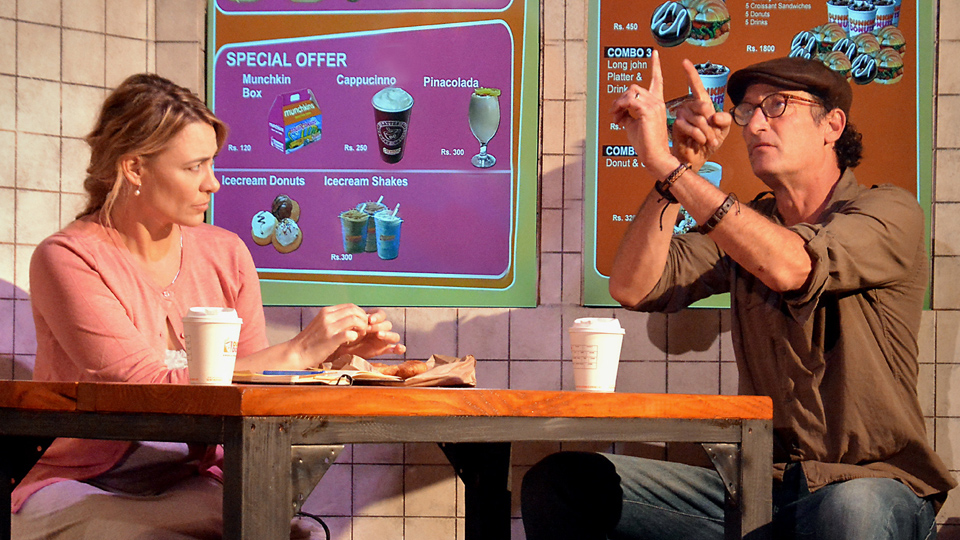 LOS ANGELES—Many film enthusiasts recall the 1945 classic Brief Encounter, directed by David Lean with a screenplay by Noël Coward, starring Celia Johnson and Trevor Howard. It was named "the most romantic film ever made" according to experts polled by Time Out London. The Film Society of Lincoln Center named it "one of the most achingly romantic films ever made."
Its two lead characters cross paths at a British rail station and improbably connect as soul mates—except they already had other commitments. Eventually they bid one another farewell, but the memory of that unconsummated affair would clearly always stay with them as a reminder forever of what might have been.
Brief Encounter was one of the first signs of rebirth in the film industry in Britain, which had just heroically pulled through World War II. With all the people coming and going during wartime, including soldiers from the various Allied nations, and not forgetting the frequent blackouts and evacuations into London's deep tunnels for its Tube network, one can only imagine how many hundreds of thousands of casual meetings took place at a time when there was just here and now and tomorrow might never be.
That shared experience, true for homosexuals as well as heterosexuals, was the muse that inspired Coward, who was not publicly queer but was not secretive about it either. A few of those encounters led to lasting romantic relationships, and most were probably soon forgotten, while others lingered in the mind as fated casualties of moment and circumstance.
Brief Encounter had an impressive theatrical run at the Wallis Annenberg Center for the Performing Arts here in Beverly Hills back in 2014 in a marvel of invention by the British Kneehigh Theatre Company.
Now this memorable love story hits the stage again, in Arrival & Departure, written and directed by Stephen Sachs, a founder of the almost three-decade-old Fountain Theatre. But Sachs has taken the story to new, revelatory levels. In his reinterpretation, Sam, a Deaf man (Troy Kotsur), and Emily, a hard-of-hearing woman (Deanne Bray), two married strangers, meet by chance in a New York City subway station. Their casual friendship evolves over the course of several "same time next week" meetings at a table in front of the donut shop at the 59th St. station. As they realize that the fates truly destined them for each other, they also have to face the changes in their lives that would ensue if they pursued this any further, not to mention the impact on their families.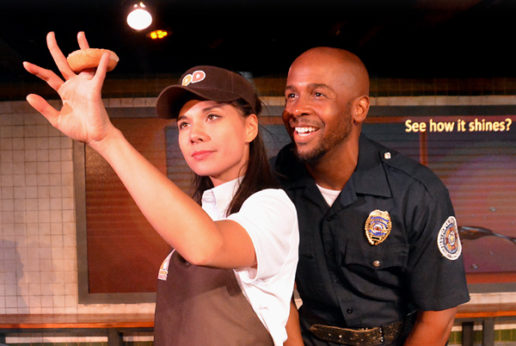 In addition, Sachs folds in a couple of parallel love stories: One between Russell, the Metropolitan Transit Authority (MTA) cop (Shon Fuller) and the part-Filipina donut shop counter lady Mya (Jessica Jade Andres). We see nothing of Sam's private life, but we do see a great deal of Emily's, and we meet her husband of 13 years, Doug (Brian Robert Burns). A real estate agent, Doug is not so scintillating a person, but is trying earnestly as a sincere practicing Christian to do the right thing by Emily and their lacking-in-confidence 13-year-old daughter Jule (yes, the parents married because Emily was pregnant), played by Aurelia Myers. So there's that love story, too, now rather frayed around the edges and vulnerable to unfavorable comparison with the charming, quirky Sam.
Finally, there's Jule and her explorations on teen meetup sites, where she has fallen hard for someone by the name Sweetboy16. Sachs sets up parallel tracks between mother Emily's and daughter Jule's forbidden romantic infatuations.
In yet another level of complication, Sachs wrote this play specifically to feature two actors in the lead roles, Kotsur and Bray, who are themselves married to one another! And as an alternate for the daughter Jule, the couple's own daughter Kyra Kotsur will play in some performances; she is scheduled for Sept. 7-10.
"A train station is a place of transition, a place people go when they're on their way to someplace else," notes Sachs. "Arrival & Departure is not only a travel term. It expresses the journey of change that the people in this play are experiencing. What happens when you find your soul mate, but the circumstances of life get in the way?"
Tension is heightened by Emily's forthcoming baptism, which will theologically start her off on a new course in life, one devoted to following the teachings of Christ, all the while she is compromising her marital promise to Doug by testing how far she will go with Sam. In one stand-out scene, Emily and Sam take a hot summer's day walk in Central Park, effectively rendered by lovely video projections, where at Sam's urging they remove their shoes and wade in the lake—No Swimming, the sign says, but it doesn't say anything about wading, he says. The scene reveals how ordered and confined Emily's life has been, and how liberating Sam could be for her—a different kind of "baptism," if you will, a "wade in the water" leading to a different kind of freedom.
The entire production is accessible to both deaf and hearing audiences. The romantic couple's exchanges in American Sign Language (ASL) are voiced by two actors (Adam Burch and Stasha Surdyke) more or less embedded in the urban crowd, and other spoken passages are displayed on open captioning screens. The ingenious stage set (Matthew G. Hill) and video design (Nicholas E. Santiago) make it a breeze to follow the dialogue in a supplementary modality. Members of the audience who could be seen signing with one another seemed to have no difficulty following the action.
The emergence of theatre by and for the Deaf community can be traced to the National Theatre of the Deaf, with which Kotsur has been associated for half his life. In 1994, he moved to Los Angeles and joined the company of Deaf West Theatre, where he has appeared in countless productions. We saw him in 2017 in Edward Albee's At Home at the Zoo. Deanne Bray was born deaf and has been bilingual in ASL and English since the age of two. She kicked off her acting career in 1991 at the Fountain Theatre, where Stephen Sachs directed her in One Flew Over the Cuckoo's Nest. The pioneering work of Marlee Beth Matlin must also be recognized—winner of the Academy Award for Best Actress for Children of a Lesser God and to date the only Deaf performer to have won this award.
The writer/director and the actors, who also have extensive credits in TV and film, go back a long time together. Kotsur directed the award-winning independent film No Ordinary Hero: The Superdeafy Movie, the first film in the history of Screen Actors Guild commercial feature films to be directed by a Deaf director and to be executive-produced exclusively by Deaf executive producers.
Readers might be confused if they notice the usage here of both "deaf" and Deaf." The lower-case term simply refers to the medical condition of hearing loss, whereas the upper-case word refers to a person's cultural and community identity. Most Deaf people communicate with sign language, which of course is as unintelligible to the non-signer as any foreign language is if you don't know it.
The character Bray plays falls somewhere between lower- and upper-case, in that she is "hard of hearing" and uses hearing aids, and thus is able to communicate with her family members and others in quite articulate English. But she also knows ASL and feels a unique affinity with other users of it, who may have no hearing at all, resenting to a degree her husband's so-far unfulfilled promise to learn ASL. At certain points she removes her hearing aids in an act both of protest against those who refuse to accommodate to her and as an act of solidarity with those who rely exclusively on ASL. Sam, who is 100 percent Deaf and teaches filmmaking at a school for the Deaf, is definitely on the Deaf identity track. That is yet another facet of the "arrival and departure" theme of the play.
So many kind of dualities are explored here. Perhaps the biggest challenge is to balance the responsibility of duty against the impulsive risks of passion. Which course is the right one to follow? With many of its scenes set in a subway station, there are implicit allusions to the doomed Anna Karenina story.
Those playgoers who already know the film Brief Encounter will anticipate how this 90-minute one-act work will end, but either way, the getting there is an entrancing and uplifting ride. And such a gift to be able to enter the non-hearing world in this inviting piece of theatre.
Although, you will soon realize, it's not just about deaf (or Deaf) people, but about the larger human condition to which we can all relate. People come and go in our lives, some of whom we will never forget. But in the end, as with other characteristics such as race, age, religion, language, as Russell observes to Mya, what's most important is not what you see on the outside, but who you are on the inside. Where's our ticket to that place? Maybe at the Fountain Theatre box office.
Arrival & Departure runs through Sept. 30, with performances on Fri. and Sat. at 8 pm, Sun. at 2 pm, and Mon. at 8 pm (dark July 16, Aug. 4 and 27, and Sept. 3). The air-conditioned and wheelchair accessible Fountain Theatre is located at 5060 Fountain Ave. (at Normandie) in Los Angeles. For tickets and other information call (323) 663-1525 or go to the Fountain website. Parking can be tight in the area; secure, on-site parking is available for $5.
Like free stuff? So do we. Here at People's World, we believe strongly in the mission of keeping the labor and democratic movements informed so they are prepared for the struggle. But we need your help. While our content is free for readers (something we are proud of) it takes money — a lot of it — to produce and cover the stories you see in our pages. Only you, our readers and supporters, can keep us going. Only you can make sure we keep the news that matters free of paywalls and advertisements. If you enjoy reading People's World and the stories we bring you, support our work by becoming a $5 monthly sustainer today.